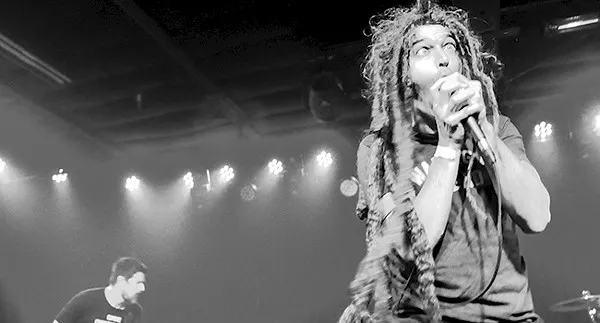 DANIEL HILL
Hell Night will release its new album Unlimited Destruction on Friday at the Ready Room.
Hell Night Record Release
8 p.m. Friday, March 1. Ready Room, 4195 Manchester Avenue. $10. 314-833-3929.
On Hell Night's Bandcamp page, in the "tags" field where musicians typically list the genre labels that apply to their sound, the following line appears: "I'd fight your dad to that song." It's as apt a description of the local metal act's heavily punk-indebted music, replete with buzzsaw guitar riffs, pummeling drums and piercing vocals, as you could possibly imagine. And though the last few years have seen the band consistently push out a steady stream of dad-fighting music, the release of
Unlimited Destruction
marks the first time that music can be found on a twelve-inch slab of vinyl. Hell Night's debut LP is being released by Maplewood record store Planet Score Records — a first for the shop — and features sixteen tracks, five of them brand new. This show celebrates the achievement. Maybe leave your dad at home.
Birds of Feathers:
Hardcore punk-scene vets Ultraman and horror-metal masters the Lion's Daughter open the show.
—Daniel Hill
Pinegrove
8 p.m. Saturday, March 2. Delmar Hall, 6133 Delmar Boulevard. $20 to $24. 314-726-6161.
Pinegrove never set out to be a band for all seasons, a band that could be all things to all indie-rock fans — whether Americana leaning, lo-fi friendly or emo curious. But with the surprise success of its sophomore album
Cardinal
in 2016, the Montclair, New Jersey, band found itself saddled with the absurd expectation that they would unite No Depression subscribers and whoever buys Death Cab for Cutie records. The band's new release
Skylight
defies all expectations. Brightly melodic, purely harmonized and earnestly confessional, the album floats above the fray and glows like treasure — a box of love letters, a Kodachrome photo of a kiss, a perfect folk-rock record — in a dark that's as deep as it is forgiving.
Regret and Return:
Last year, lead singer and songwriter Evan Stephens Hall revealed he'd been accused of "sexual coercion." Ambiguity swirled around the story (to understate matters), the band went on hiatus, and Hall sought therapy. Somehow Pinegrove has gone on.
—Roy Kasten
Aaron Neville
8 p.m. Sunday, March 3. The Sheldon Concert Hall, 3648 Washington Boulevard. $45 to $150. 314-533-9900.
It may just be a trick of the calendar that Aaron Neville is visiting St. Louis so close to Mardi Gras, but as this river city gives its own spin on New Orleans' biggest party, hosting one of that city's finest exports is a fitting tie-in. Neville and his brothers came up through the channels of NOLA soul and funk, but something about Aaron's emotive, trilling voice soared higher and sweeter than most other R&B singers. He's kept a toe in the music of his hometown while crossing over into adult contemporary charts, and at this point in his career he can more ably fill a retrospective set with songs from across his five decades making music.
Jump On It:
Neville's last few releases have included selections of gospel, soul and, on 2016's
Apache
, a return to the refined funk and R&B that made him a star.
—Christian Schaeffer
Sign up for our weekly newsletters to get the latest on the news, things to do and places to eat delivered right to your inbox.