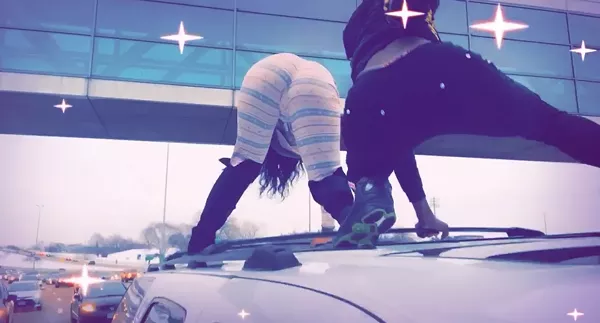 COURTESY OF GANGO
St. Louis' wildness cannot be disputed.
A pair of St. Louis women became overnight sensations last week when a motorist on I-64 captured them
twerking on the roof of an SUV as it traveled down the highway
in frigid January weather.
The women tell the
RFT
they're part of a rap group, and that they were shooting a music video for an original song called "Twerk Sum." But for these dancers, twerking is more than just a visual backdrop for their beats. Simply put, the girls can't help it.
"I got a twerk addiction," jokes one of the members of the
group, known as Gango
. Although she declined to give her real name, she identifies herself as the dancer in the black jeans in the video, making her one half of a two-woman automotive twerk machine.
First
publicized by the RFT
, and then picked up by countless news outlets,
the Facebook videos
of that machine in action have racked up more than 400,000 views. So great was the rump-related impact that even the St. Louis County Police Department found it necessary to tweet that such behavior is "frowned upon in the law enforcement community."
According to two Gango members who agreed to speak with
RFT
on condition of anonymity, the group comprises several friends who have been dancing and making music together for years. Within the group, they say, twerk addiction has proven highly contagious.
"It doesn't matter where we at, we can't stop twerking," says a second Gango member, who identifies herself as the woman in pink tights twerking in the video.
"We could be outside, and we could just be walking and twerking," she adds. "It could be in the store, in the grocery store, it doesn't matter as long as we're having fun."
Such was the scenario last Monday. The Gango squad was driving west on I-64 and discussing the production of the new music video; members had decided it should include a scene of SUV-assisted twerking. When traffic slowed, the moment presented itself to the two fearless dancers as an unmissable booty-shaking opportunity.
"It was cold, but it was fun," one says. "I saw people with their phones up, it wasn't no negativity, because we wasn't going fast. We saw a lot of thumbs up from people in their cars; no one called the police."
Granted, it was a stunt they'd pulled before. The difference is that this time, a Washington University employee filmed them workin' it as they passed beneath the St. Louis Science Center's pedestrian bridge at Kingshighway. The Facebook Live videos quickly drew wide attention — and then media coverage.
St. Louis Magazine
even felt the need to chide the city
, "Please don't twerk and drive."
According to the Gango members interviewed, the scene wasn't as dangerous as it may have looked in the videos. They note that rush hour had slowed traffic to 10 to 15 mph.
Oh, and their SUV included features virtually designed to provide a safe twerk space, the women note.
"I wouldn't do this on any type of car," one says, noting that she and her twerk partner used the roof's storage racks to anchor themselves while they shook their respective thangs in the 30-degree weather.
Still, they never expected their booty wurk to attain viral status. Nothing of the sort had come from their previous stunts, like the incident in the below video showing a Gango member doing some stationary twerking atop a car hood.
"We didn't try to turn the city up," one noted in an email to the
RFT
. "We was just enjoying ourselves."
But turn it up they did. And now the group hopes to capitalize on its recent fame. They plan to release a video soon.
"Gango's a family," says the twerk addict in the black jeans. "We enjoy ourselves. We twerk, we have fun. We don't let anyone judge nobody's character."


Follow Danny Wicentowski on Twitter at @D_Towski. E-mail the author at [email protected]