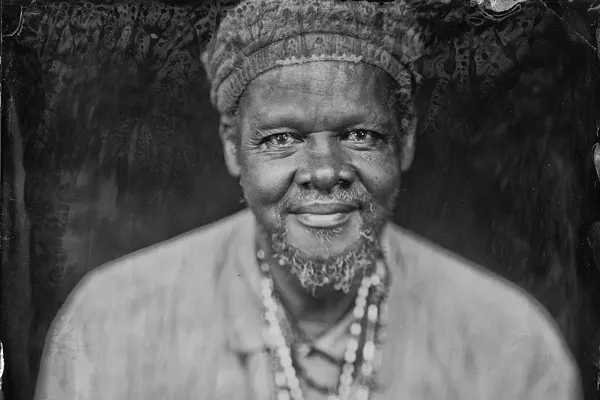 VIA PITCH PERFECT PR
Lonnie Holley will perform at Off Broadway on Saturday.
Each week we bring you our picks for the best shows of the weekend! To submit your show for consideration, click here. All events subject to change; check with the venue for the most up-to-date information.

FRIDAY, NOVEMBER 30
Zach Rhea Trio w/ Ex Salis, Sloopy McCoy, Ellen Cook, Mother Meat
9 p.m. El Lenador Bar & Grill, 3124 Cherokee Street. $5 to $7. 314-875-9955.
Drummer and composer Zach Rhea leads a collective of Louisiana-based musicians down winding trails of heady jazz, with plenty of forks in the path. There's a buoyancy reminiscent of New Orleans jazz, but the vertigo going on here slots the band nicely beside New York avant-garde. The stripped-down trio chews through melody like taffy, offering a laser-focused set of songs loosely glued together by improvisations, giving ample room for each player to stretch. This show in general feels like a south side variety hour with the lounge mutants of Mother Meat leading the pack of performers — all the while baking in the projections of Jim McGowin.
SATURDAY, DECEMBER 1
Lonnie Holley
8 p.m. Off Broadway, 3509 Lemp Avenue. $10 to $20, 314-498-6989.
"I Woke Up in a Fucked Up America" is both a song and a seminal line from Lonnie Holley's
MITH
, which just dropped in September. Those words hit even harder when you know that they come from a sculptor whose work has been displayed in the White House Rose Garden, the United Nations and many museums throughout the United States. Holley's history as a visual artist is well documented, but his musical career has really came to the forefront in recent years with 2013's
Keeping a Record Of It
, which also marked his start as a touring musician. With the release of
MITH
, 2018 has been a banner year for Holley, who comes to St. Louis mere months after supporting Animal Collective on a national tour.
The Smashing Pumpkins
7 p.m. Stifel Theatre, 1400 Market Street. $35. 314-499-7600.
The Smashing Pumpkins really do incite the two poles of music fandom — fanboyism and Nickelback levels of disgust.
Shiny and Oh So Bright
dropped just weeks ago after a full year of reluctant hype even amid the announcement of legendary producer Rick Rubin's involvement. The reaction has been, at least early in the game, mixed. But the album itself really does listen like a Rorschach test for lapsed Smashing Pumpkins fans. Those wanting to hear a return to form will absorb the tiny bits of past glory sprinkled throughout, and those looking for reasons to hate the record will find that, too. Regardless, you have to appreciate that a band this big warmed up for its latest tour with a house show in LA.
SUNDAY, DECEMBER 2
Shana Falana w/ David Beeman, Essential Knots
8 p.m. Foam Coffee and Beer, 3359 South Jefferson Avenue. $7. 314-772-2100.
New York's Shana Falana comes at you from the bottom of a deep well, bellowing full-bodied vocals over a fuzzy blanket of riffs. There's a certain magnetism to the veteran artist's shady brand of pop that is instantly inclusive, and rarely obtuse. Shoegaze, goth and post-punk all pop up in her sinewy sound, but the influence here is more subtle, owing to Falana's lyrics landing front and center. The songs are solely carried out by Falana and drummer Michael Amari, who carefully lay out dense, dark and psychedelic compositions.
Yo Gotti
8 p.m. The Pageant, 6161 Delmar Boulevard, University City. $45 to $65. 314-726-6161.
Between the full-on social media reset this past summer (deleting all Instagram posts back in August) and the posi-vibes he's been pushing in recent months, rapper Yo Gotti has flipped the script on the seemingly constant sense of controversy surrounding him. Maybe this fresh focus will leak into a new record in 2019, but for now fans will drink from the cup of nearly two decades of music dating back to the mid '90s. And that's no consolation prize, what with last year's "Rake It Up" still in regular rotation (with well over 180 million views on YouTube alone).