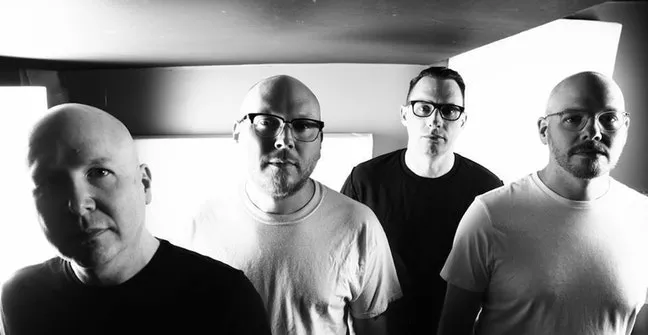 VIA ARTIST WEBSITE
Smoking Popes will perform at the Firebird on Saturday.
Each week we bring you our picks for the best shows of the weekend! To submit your show for consideration, click here. All events subject to change; check with the venue for the most up-to-date information.
FRIDAY, NOVEMBER 16
B|_ank w/ Syna So Pro, Body Leash
9:30 p.m. Foam Coffee & Beer, 3359 Jefferson Avenue. $5. 314-772-2100.
Drummer Will Hicks has the Visa Platinum Card of street cred. In the last two years alone, he's backed up indie legend R. Stevie Moore, worked with members of Deerhoof and booked a ton of DIY shows in Nashville's music scene. But as a solo artist, he works under the name B|_ank (pronounced "blank") to explore a fusion of polyrhythmic beats, blissful noise and straight-up shredding around the drumset. Earlier this year he found himself on the big stage, supporting the Flaming Lips on a short stint of tour dates through the country. Foam is an intimate yet eminently suitable setting to see the drummer's electro-acoustic body of sound and be engulfed in a pulsing and percussive performance.
Let's Not Release Show w/ Mammoth Piano, the Defeated County
8 p.m. Off Broadway, 3509 Lemp Avenue. Free. 314-498-6989.
Between his comedy label Helium Records, running a studio at Listless Sound and touring the country as a standup comic, St. Louis supernova Jeremy Essig (also an occasional
RFT
contributor) somehow still finds time to play in Shark Dad, the Defeated County and other bands. One of his more recent endeavors is Let's Not, a power-pop trio that he's deemed too personal to let anyone else front. With a revolving cast of players sourced from the Fade and Other People, the band combines sharp musicianship with an unyielding sense of melody. Tonight's Off Broadway show celebrates the release of the group's latest single — a precursor of the full-length to come in early 2019.
Queen Naija
8 p.m. The Ready Room, 4195 Manchester Avenue. $20 to $65. 314-833-3929.
Ever wonder what happens when a famous YouTube couple has a public and very messy split? Sure, fans of the Chris side of the former "Chris and Queen" channel might cry foul at Queen Naija's apparent airing of the pair's dirty laundry, but her output since the breakup has been artful if not savage. Dropped back in March, the video for "Medicine" features a lookalike of her ex, who has since taken over their joint account with all the followers they accrued together. Yet Queen Naija is better off, as she's broken out as a YouTuber-turned-R&B star with half a million more subscribers than her beleaguered ex, who can't seem to stay out of legal trouble. Her self-titled EP dropped this summer to critical acclaim, gaining well-deserved accolades, all controversies aside.
SATURDAY, NOVEMBER 17
One Warm Coat Benefit Show w/ Outcast, the Midlife, Brief, Tensions Rising, Arm's Length
7 p.m. The Sinkhole, 7423 South Broadway. $7. 314-328-2309.
Richmond, Kentucky's Outcast bills itself online as "Heavy Dudes, Heavy Tunes." While that descriptor is all most people interested in this headbangable brand of hardcore would need to hear, it downplays the band's activist overtones. For instance, the cover for last fall's single "No Justice" shows a protester with a gas mask standing tall amid a wall of armored officers. We've all heard the old cliché "put your money where your mouth is," and Outcast will do just that by traveling to St. Louis to play a benefit show — a guarantee of little to no money for the band itself. Presented by Gateway City Hardcore, proceeds from the show go to benefit One Warm Coat, a nonprofit organization that provides free coats to people in need.
Smoking Popes w/ Amuse
8 p.m. The Firebird, 2706 Olive Street. $15 to $18. 314-535-0353.
That Smoking Popes just dropped
Into The Agony
, the first full-length with its original lineup in two decades, is both a blessing and a curse. For a group that's been around for nearly 30 years, there's bound to be expectations, especially when the bulk of its fanbase was formed in the '90s. Fret not. The new record dropped last month to much critical acclaim, attaining those precious words most diehards will want to hear: return to form. If anything, this tour with an original lineup in tow just ups the chances that the group will fill the set list with tried and true classics.