Since late last week, the internet has been having a grand old time laughing at the expense of a man calling himself "Jered Threatin," whose complicated scheme to present his metal band as a hugely successful act by means of deception backfired in spectacular fashion .... when the LA-based group booked a European tour attended by no one.
Now, in a new wrinkle to the bizarre tale, Jered Threatin's real identity has
been unearthed by MetalSucks.com
, and wouldn't you know it: He's a Missouri boy. The 29-year-old frontman of the metal band Threatin was born Jered Eames of Moberly, Missouri, 40 miles outside of Columbia.
In a new twist on the old phrase "fake it 'til you make it," Eames allegedly built up his band's web presence by purchasing thousands of likes on social media and YouTube and making websites for a series of completely made-up companies — including a
record label
, a
news outlet
and a
booking agency
, all 100 percent falsified — with the goal of making Threatin appear to be far more popular than it actually was.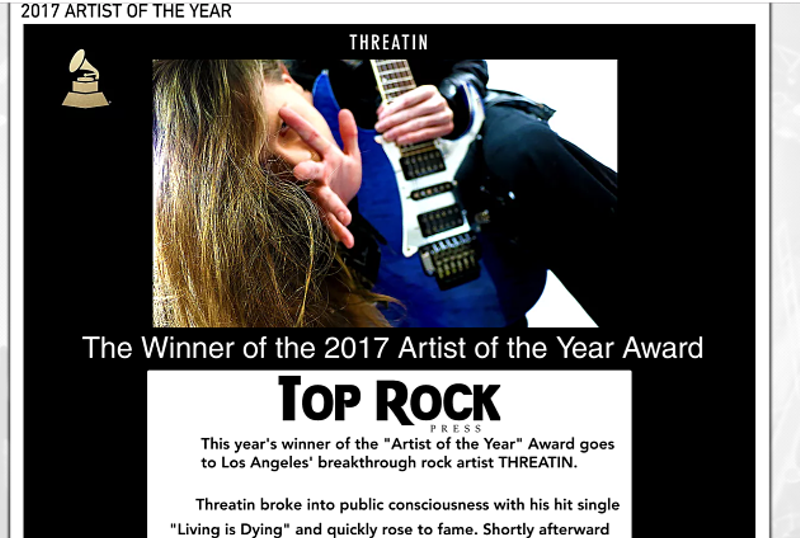 SCREENSHOT
Eames' fake news outlet, Top Rock Press, naturally named Threatin its 2017 Artist of the Year. What an honor!
And the plan worked — to a point. Threatin was able to get itself booked on a European tour. The problem is, of course, that when Eames and his band of hired touring musicians actually traveled across the pond to perform, their shows were (predictably) bereft of actual fans.
On November 6, for example, Threatin was slated to play the Exchange in Bristol. According to
a Facebook post from the venue's page
, the booking company for the show, Stage Right Bookings — which again, has been revealed to be completely fake — claimed that it had already sold 180 advance tickets for the night's show.
But when the doors opened, staff quickly figured out something was wrong.
"Fast forward to the night and there is no sign of the promoter,"
the post reads
. "The singer tells us that she is not here and in Hollywood. This means we don't have a ticket list and the venue hire hasn't been paid. The singer and tour manager aren't here at the time we open doors, so we just have to wing it, only an hour after doors not one ticket holder has turned up. We can't reach the promoter to discuss."
The venue's management then approached Eames and his tour manager and told them the show was cancelled unless they handed over the money for the venue hire. After disappearing for a short time, the two returned and paid the fee in full.
When Threatin took the stage, the crowd consisted of only four people — the band's tour manager, the sound engineer and two members of the opening act.
"At this point we immediately contact the Birmingham and Manchester venues to make them aware of what has happened, and they inform us that Stage Right Bookings are the promoter's for their event as well, and they have also been told that around 200 tickets have been sold," the Exchange's
post
continues. "Upon challenging them, the Manchester venue are told that the reason Bristol was a bad show was because 'the venue hadn't promoted the gig properly' (this would be the promoter's job) and that 'the tickets updates we sent were just estimates'.
"In all fairness we can understand that it's easy to get confused between 180 sales and 0," the venue adds cheekily.
The Bristol gig wasn't even the first date of the tour that went down that way.
NME reports
that Threatin played at the Underground in Camden just days before on November 1 — and the same situation played out there.
"What happened to the 291 advanced ticket sales your agent said you'd sold? THREE PEOPLE turned up," the venue wrote on Threatin's Facebook page. "Please don't lie about ticket sales, and please don't contact us again for a show."
According to Underworld booking manager Jon Vyner, though, Eames seemed perfectly happy to pay out the nose to perform to no one.
"They played the full show. If they've paid the hire fee upfront, we're obliged to see the thing through," he
told BBC Newsbeat
. "The most remarkable thing is that it didn't seem to bother Threatin. He seemed quite happy to give it his all without an audience."
Before long, even Eames' hired-gun bandmates realized something was very wrong. In
an interview with Classic Rock
, drummer Dane Davis says it was at the Underworld show that he began to get suspicious. Within a few days, Davis began to see the news articles proclaiming that everything about the act was a hoax. He huddled with the other two hired musicians, and all three promptly quit the tour.
"I think he genuinely thought it could happen and that there wouldn't be any backlash if he did orchestrate a lot of this stuff,"
Davis told Classic Rock
. "But that's just speculation. I can't say for sure.
"I just want clear this up," he adds. "We had no idea about any of this."
Oddly, Eames does have experience performing in acts with actual fans. In addition to playing bass and keys with black/death metal act Saetith, which released EPs in 2007 and 2010, Eames played briefly with well known Phoenix metal act Abigail Williams for a short period in 2010, as the band's frontman, Ken Sorceron, confirmed in
a Facebook post
.
"This guy was in Abigail Williams for like a week in 2010," Sorceron
writes
. "The other day I literally thought to myself that he looked suspiciously a lot like the dude but then I thought there was no way that was him, but it's actually him. I feel like I won the lottery or something."
In a classic case of the self-owned man absolutely refusing to admit he has owned himself, Eames took to Twitter on Wednesday and released a statement on the matter (and naturally tagged Joe Rogan, because of course).
"What is Fake News? I turned an empty room into an international headline," he writes. "If you are reading this, you are part of the illusion."
Sure thing, man, whatever you say. But good luck getting booked anywhere ever again. You might have played Europe, but go ahead and stick a quarter in your ass, because the thing you most played was yourself.