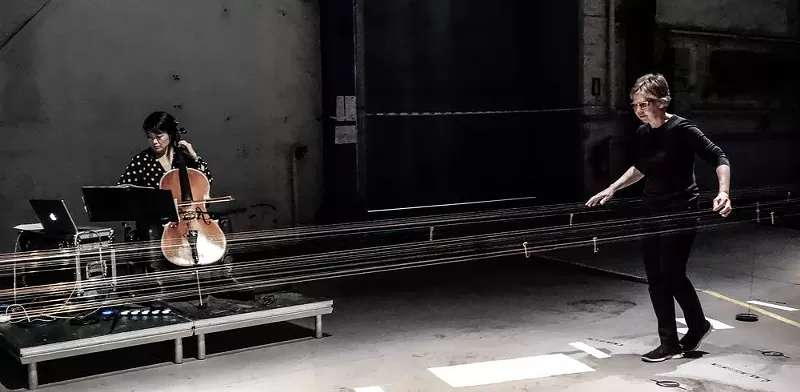 KJELDO
Ellen Fullman will play her Long String Instrument at the 560 Music Center on Friday.
Each week we bring you our picks for the best shows of the weekend! To submit your show for consideration, click here. All events subject to change; check with the venue for the most up-to-date information.
FRIDAY, NOVEMBER 9
Ellen Fullman
8 p.m. 560 Music Center, 560 Trinity Avenue, University City. $10-$20. 314-935-9231.
Memphis-born, Kansas City Art Institute-educated Ellen Fullman reaches beyond the mantle of performer — but just how far? We reckon 90 feet, the approximate length of her signature Long String Instrument. Played with rosin-coated fingers, this device is a large-scale installation that explores the sonic qualities of the space that it fills. (As Fullman once explained, "My whole body is a finger moving along a fretboard.") While Fullman has recorded her work, namely on 1985's
The Long String Instrument
, seeing and hearing her perform live is an entirely different experience. Presented by New Music Circle, the event at 560 Music Center continues the organization's 60th year, which has already featured Anthony Braxton and Joe McPhee. A show from Lonnie Holley is still to come.
Keith Sweat & Blackstreet
7 p.m. Chaifetz Arena, 1 South Compton Avenue. $45-$75. 314-977-5000.
A forefather of modern R&B and a legend in his own right, Keith Sweat continues to pump out new music while retaining the timeless sound he established in the '80s. Released just weeks ago,
Playing For Keeps
is a rather fast follow-up to 2016's
Dress to Impress
, a record that still feels fresh from the oven. Sweat's constant and consistent output shows an artist still in his prime.
Kinesis Afterparty 2018 w/ Alexis Langevin-Tétrault, Pamela Z, Head Dress
10 p.m. Innovation Hall STL, 4220 Duncan Avenue. $35.
While Venture Café fundraiser Kinesis is an exclusive event — an invite-only dinner with an awards ceremony — the after-party is a public and much more raucous affair. Montreal native Alexis Langevin-Tétrault headlines the full-on sensory overload with a string-based installation and a light show that reacts to its sound. Pamela Z and Head Dress each offer their own explorations of electro-acoustic music, while Matt Hope, Disnovation, #NewPalmyra, Evan T. & Stacy Smith and Ian Patrick Cunningham offer an immersive art-tech exhibit. The night is also a ribbon-cutting of sorts for Innovation Hall STL, a new workspace and programming hub.
SATURDAY, NOVEMBER 10
Buildings w/ the Conformists, Maximum Effort
9 p.m. Schlafly Tap Room, 2100 Locust Street. Free. 314-241-2337.
Buildings' gut-wrenching guitar howls atop bass lines that carry its dissonant rip. The vocals here are half-sung, half-spoken from behind gritted teeth, and they offer a tense undercurrent that ultimately results in an aggressive release. While each song differs in terms of tempo, timing and dynamics, this crew from Minneapolis rarely veers off the noise-rock path paved by aluminum guitars. The vibe is fierce, but it never feels overbearing or too performative. Sure, the bass drum fires off like an old, untended cannon, but it does so with a purpose — to serve every shredded and angular song.
SUNDAY, NOVEMBER 11
The Reputations w/ Mammoth Piano, The Native Sons
7:30 p.m. Foam, 3359 South Jefferson Avenue. $7. 314-772-2100.
Only days removed from the release of
Electric Power
, the Reputations should be at the top of the AM pop game. The Austin-based neo-soul collective feels plucked out of the '60s and dropped into 2018 — perfect for Foam's cozy club vibe. St. Louis' Mammoth Piano provides a bold foil with its own noisy collision of blues and funk. It's an underrated fusion that feels like it was founded on the banks of the Mississippi, beached and thirsty for Stag
and/or PBR.