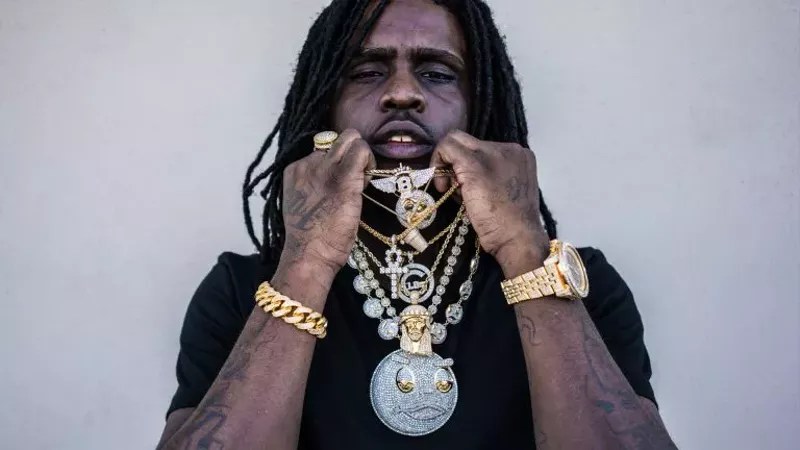 VIA ARTIST WEBSITE
Chief Keef will perform at the Pageant on Friday.
Each week we bring you our picks for the best shows of the weekend! To submit your show for consideration, click here. All events subject to change; check with the venue for the most up-to-date information.
FRIDAY, OCTOBER 26
Breakmouth Annie EP Release Show w/ 33 on the Needle, Carondelet Guy
9 p.m. RKDE, 2847 Cherokee Street. $5. No phone
.
When people talk about the music scene, they don't always give enough fanfare to the bands who make up the building blocks of the community. Breakmouth Annie feels like the mortar between the red bricks of St. Louis punk, consistently playing benefit shows and opening for touring acts between a steady output of split records and EPs. Drummer Josh Van Hoorebeke is one of the best beat-smiths in town, gluing Josh Edwards' wiry bass riffs to an urgent and immersive set of guitar-driven songs. Both pop-sensible and raw, the band toes the line with a vibe that's equally fit for the side stage at Warped Tour or a grimy south-city basement.
Chief Keef
8 p.m. October 26. The Pageant, 6161 Delmar Boulevard. $30 to $35. 314-726-6161.
The fact that rapper Chief Keef isn't about putting his face all over the internet 24 hours a day doesn't make him an introvert, contrary to popular belief. It just means that his head is in the studio and he puts his product over his promo. At 23 years young, the Chief is already cited as an influence across the board, and he has worked with the likes of Kanye West — quite a feat, even if that's not an association he's trumpeting these days. Most fans will come to the rapper's Pageant show to see his seedier side, represented by the 2017 release
Thot Breaker
and the infamous video with a fan that got him banned from Instagram back in 2012. (You can Google it, but don't say we didn't warn you.)
Death Bells w/ Ex Salis, Abi Ooze
9 p.m. Foam Coffee and Beer, 3359 South Jefferson Avenue. $7 to $10. 314-772-2100.
Sydney-based Death Bells could be a genuine article torn right out of the mid-'80s, but its retro feel isn't a facsimile of the bands that flourished then or even a half-hearted attempt at hero worship. With clean, understated bass lines and resonant riffs, the band takes to post-punk as if its members were the very first to find the sound. What sets Death Bells apart, aside from its airtight execution, is how the songs revel in repetition without wearing out their welcome. St. Louis own Ex Salis provides local support for Friday's show at Foam, bending angular melodies to a forceful, almost no-wave approach to the rhythm section. Highly recommended.
SATURDAY, OCTOBER 27
Max w/ Nina Nesbitt, Ezi
8 p.m. Delmar Hall, 6133 Delmar Boulevard, University City. $20 to $25. 314-726-6161.
Much of the pop and, for that matter, the R&B crowding the Top 40 right now seems like musical smoke and mirrors packed with every studio trick out there. Yet Max's YouTube channel (which boasts 200 million views and counting) shows that people still value a strong voice above 70 layers of synths and special guests. It's backed up by what feels almost like a minimalist approach to songwriting. "Worship," released earlier this month, is the latest proof-of-concept, with a few warbling keys wrapping around a sparse beat. It gives Max all the space he needs to do his thing.
Ludo
7 p.m. and 11 p.m. The Pageant, 6161 Delmar Boulevard. $25 to $35. 314-726-6161.
Once poised for breakout success, signed to Island Records and able to sell out the Pageant, St. Louis alternative-rock band Ludo fizzled out of existence right at the top of its game. The band went on hiatus after recording just two albums of a five-record deal for Island, and was subsequently dropped from the label. But fret not, Ludo fans, because the band is back, at least for one night. Still able to pack 'em in, Ludo saw its 7 p.m. show sell out so quickly, a late 11 p.m. show was added. Like-minded St. Louis rock band Tidal Volume will open both.