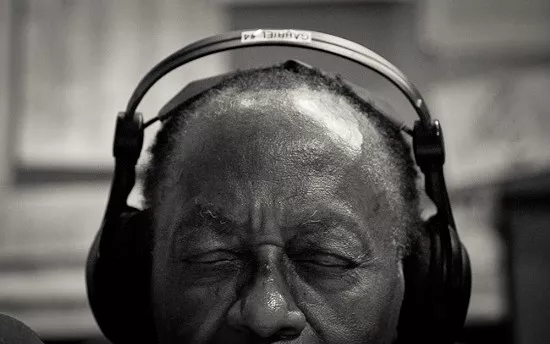 BRIAN HEFFERNAN
R.I.P.
Gabriel, a beloved and influential St. Louis disc jockey whose exuberant personality and passion for blues and gospel entertained radio audiences from the 1950s to the present, died at Mercy Hospital South (formerly St. Anthony's) on October 19. He was 88.
A mainstay on KDHX (88.1 FM), he hosted
Gabriel's Tin Pan Alley
every late-night Sunday (technically midnight to 3 a.m. on Monday mornings) for decades. The program began each week with the strains of Strauss's "Also sprach Zarathustra" and a sampled voice declaring, "The man. I mean the man! The sensational! The incomparable! The king of the blues! The dynamic! Gabriel!" His playlists knew no bounds save those of the soul. He segued effortlessly (and sometimes perversely) from James Brown into Sunnyland Slim into Roy Acuff. Doo-wop? Boogie-woogie? Rock & roll? Western swing? Swamp pop? TV sitcom novelties? The holy blues (as he memorably called gospel music)? He played it all. His knowledge of American music was encyclopedic and his joy in sharing it irrepressible.
See also: MP3 Stands for Monkey Paws: In the Studio with Gabriel
Gabriel was born Mitchell Hearns in Louisiana in 1930, but grew up in East St. Louis, where he attended Lincoln High School at the same time as Miles Davis. Both learned to play the trumpet there. In East St. Louis, he came to know and worked with many of the legends of rhythm and blues, both regional and national, including a significant relationship with Ike Turner. In 1958, he released "Boxtop" by Turner on his own Tune Town label. Copies are among the holy grails of rhythm and blues, as it was the first recording of Tina Turner (under the name Little Ann).
"Ike would ask me to pick [Tina] up and take her to the gig or the studio or whatever," he
once recalled
. "I was the only one he trusted to pick her up. He knew I wouldn't try to hit on her."
Gabriel owned a record store in St. Louis called the House of the Blues and had his own recording and performing career, releasing singles under various names — "The Flock-Rocker," "Gabriel, His Trumpet and Band of Angels," and "Gabriel & the Angels" — on which he often played trumpet and was sometimes backed by Ike Turner's band and legendary St. Louis guitarist Bennie Smith.
According to the St. Louis Radio Hall of Fame
, his career in radio began in 1952 with WOKZ in Alton, Illinois, and then WTMV in East St. Louis and KATZ, where he held down a five-hour Sunday night/Monday morning slot through the late '60s. He loved to joke with and quiz his audience. ("I don't want to know the name of the song," he'd say. "I want to know the singer.") In 1969, he quit the station after a programming change.
"I can no longer with a clear conscience play the music which you have selected me to play," he said in his resignation letter. "Radio stations are not the only ones to blame for this garbage, sharing the blame equally are record companies that take noise, distortion and in most cases people with little or no talent, make recordings and in turn the radio stations (including KATZ) play this so-called music 24 hours a day on the minds of the young."
In the early '70s, Gabriel was part of KDNA, the short-lived, community-supported precursor to KDHX, and began broadcasting on 88.1 FM in 1989, two years after its launch. He influenced every DJ on the station (including this writer), many of whom remember him fondly.
In a message to a KDHX DJ email group, Dennis Clancy (former co-host of the blues show
Blursday
) wrote, "Gabriel never changed. He really was one of a kind. He loved music and shared it with all of us. He also kept in touch with his friends and never forgot where he came from. Ordering White Castles from the booth, having a cab driver bring them by the station. KDHX has done a service to the community by having people like Lou 'Fatha' Thimes, Bernie Hayes and Gabriel on our station."
A June 2010 fire ravaged his East St. Louis home, destroying many irreplaceable records from the collection that formed the basis for his radio show. A benefit that summer at BB's Jazz, Blues and Soups featured local blues legends Marquise Knox, the Arthur Williams Band and Silver Cloud. He continued spinning delightfully unpredictable music on
Gabriel's Tin Pan Alley
right up until the weeks before his passing, but it was the force of his spirit, his way of connecting with an audience that kept listeners returning. On-air he would read letters written by prisoners, recognize births and deaths, and give shout-outs by name to all-night truck drivers, cabbies and veterans.
Hound Dog Brown, host of
Boogie on Down
on KDHX, often subbed for Gabriel over the years. "I was part of the team that filled in for his time slot this past week," he says. "Josh Weinstein [the KDHX DJ whose jazz show aired just prior to Gabriel's], summed it up this way: 'Gabriel was always there.' It didn't matter if you listened a little or lot. You'd turn on the radio and he was there. He was like a friend on the air. He was a constant in St. Louis. It didn't matter what the year was. Gabriel was Gabriel. Some things in this world don't change."
"Gabriel was a shining example of something no longer heard on commercial radio," says Tom Ray, host of the long-running
Soul Selector
program on KDHX. "He was a singular, regional eccentric personality, given to free-form programming, instead of rigid playlists with no more than 70 or 80 songs for an entire week. Gabriel's roots go back to the 1950s and even before that; he was witness to the sort of rhythm and blues music in the late '40s that a few years later was tagged 'rock & roll.' For Mr. Hearns, the likes of Motown was too pop, a shiny product with the raw blues and gospel rinsed away. Gabriel pre-dated black radio's ascendancy in the 1960s, harking back to when a strict playbook had not been written.
"The mold that gave us Gabriel has been broken," he adds, "and we won't see his like again."