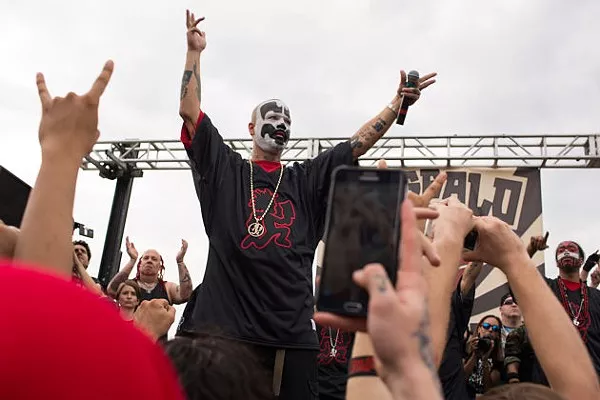 My new hero, Shaggy 2 Dope.
To tell you the truth: I fucking love Juggalos. Truly.
Love
them. But it wasn't always this way. I used to think that Insane Clown Posse fans (who self-identify as "juggalos" or the feminine version, "juggalettes") were generally white-trash weirdos who had odd taste in music and were usually problematic to society.
Now I know all this is true, but that's exactly why I love them.
As a music writer with a special interest in sociology and musical subcultures, I'd kept an eye on the juggalos for more than a decade before I saw my first (and only) ICP show in 2010, when some friends and questionable friends-of-friends decided to go as a group to see the Posse perform in the parking lot outside Pop's —
the club that's open 24 hours a day
on the edge of East St. Louis.
Though I doubt that any of us could've been considered true ICP fans, we were all interested in juggalo society for one reason or another and wanted to see the spectacle. We met up before the show for a bit of pregaming and face-painting. One friend painted himself as a mime. Another's face was painted like Paul Stanley from Kiss, with a big black star covering one eye. We were all laughing, all in on this joke where we were basically "clowning" on clown culture.
We squished ourselves into one big vehicle and headed across the river into East St. Louis. ICP outdoor shows frequently
happen in remote locations
out of reach of the law, but this show was happening in the land the law forgot — Sauget, Illinois.
We traveled together not just for road-trip camaraderie, but because we were sure we should stick together as we were courting danger with our choice of face paint. Most juggalos paint themselves in the same style as ICP members Violent J or Shaggy 2 Dope, or one of many other artists on the Psychopathic Records roster. We were rolling up to the show looking like Lindsay Kemp and The Starchild, practically begging to be mocked or worse. I wasn't sure we were going to get out of there without receiving an ass-kicking.
Right away, we knew that our plan to be outsiders at a convention of outsiders wasn't going to work. As we were going through security, one guard spotted my Kiss friend and pulled up his own work shirt to reveal a Kiss tour t-shirt in solidarity. Before we even entered, we'd made a new friend. And once we got through the gates, something even more unpredictable happened: All the juggalos fucking loved us.
Juggalo culture is famous for being unfailingly, entirely inclusive. Society's arbitrary rules about what is "good" don't apply here. It doesn't matter what fringe lifestyle you embody, juggalo culture will welcome you as family. And when they say "family" they mean
really
family. They'll embrace you and love you and fight for you as if you are a blood relative. Anyone who wishes to be included is ushered into the herd without question. (With
the notable exception of Tila Tequila
.)
And that's exactly what they did with us, the people who showed up to basically gawk at them. They saw us in our bad paint and thought we were adorably clueless new juggalos who needed to be shown the way. All day we were adopted by various ICP fans who thought we were "virgins" who needed to be taken under their wing, not shunned. They tried to include us, they watched out for us and they kindly, and repeatedly, asked if we were having a good time while giving us thumbs up and high fives.
More than a few offered us sips from their flasks; one even stealthily offered hits off of his glass pipe packed with definitely-not-tobacco. We all declined his attempt at hospitality and he shrugged and tucked it away in his oversized shants. It was then that I realized that juggalos were just hippies in scary black and white camouflage.
We enjoyed the show and we laughed so much that our face paint cracked. And then we all left feeling touched by these strangers who took pity on us and tried to welcome us as family.
I found myself feeling deeply ashamed about how I'd prejudged the juggalos. I knew why I went there. It wasn't to make friends; it was to be a jerk.
I used to have a life rule: I tried not to make fun of anybody having fun. Even if I totally did not understand, I tried to be happy for them. For some reason, I'd decided that ICP fans didn't deserve that same respect. But after that day, I doubled down on that rule and imprinted it on my heart.
For a long time, many people who studied Insane Clown Posse thought they were
secretly a Christian organization
, a conspiracy theory that I believed entirely and without question after seeing one of the shows. The message of community and unity was there from the beginning. They gave hope to the lost and they gave family to untold numbers of outcasts. (They also charged a buttload for their merch, the modern version of passing the collection basket.) The band promises sanctuary and warmth, just like any church; their baptisms just happen with Faygo instead of holy water.
ICP had been playing a long game with revealing this information in small bits, though they eventually
told the Guardian
that they were evangelical Christians. Violent J later explained in an
interview with the Columbian
that to get new converts "you have to speak their language" and "you have to interest them, gain their trust, talk to them and show you're one of them. You're a person from the street and speak of your experiences. Then, at the end you can tell them God has helped me out like this, and it might transfer over, instead of just come straight out and just speak straight out of religion."
This church just received thousands of new converts a few days ago when news broke that
Shaggy 2 Dope tried to kick Fred Durst of Limp Bizkit in the head
on stage after a protracted beef. It's about time somebody gave that aggro blowhard dumbass the business. They might be men of the cloth on the DL, but the men of ICP are still from Detroit. (Where is my
WWICPD?
bracelet?)
And though the FBI accused juggalos of being a gang, the band stuck up for its fans/congregants,
marching with them in Washington, D.C.
, and earning the respect of
even some of its haters
in the process. Every major controversy just brings ICP more love.
If Insane Clown Posse wants to retain the title they're most proud of — "the most hated band in the world" — they're going to have to stop
doing such good things for their fans
and releasing
wonderful music videos
; it's only going to earn them lots more love from the general public. (And also from me.)
Later this week, ICP is playing St. Louis. And just when I thought I couldn't be more enamored with the world of the juggalo, ICP has gone and enlisted St. Louis' favorite Elvis-impersonating clown,
Clownvis Presley
, as the master of ceremonies for this tour. In
a must-watch video clip
from a recent interview on the Juggalo Show, Violent J praises our hometown hero and says he loves Clownvis and that he's "legit in awe of the man." Right on, J.
So, yeah, I might not know much about Insane Clown Posse's music, but I am definitely a fan of the band. Insane Clown Posse made me a better person — does that make me a juggalo? If so: whoop whoop. See you Friday, family.
MMFWCL
.
Insane Clown Posse: W/ Waka Flocka Flame, Fri., Oct. 12, 7 p.m., $30-$35. Pop's Nightclub, 401 Monsanto Ave., East St. Louis, 618-274-6720.


Email the author at jaime.lees@riverfronttimes.com