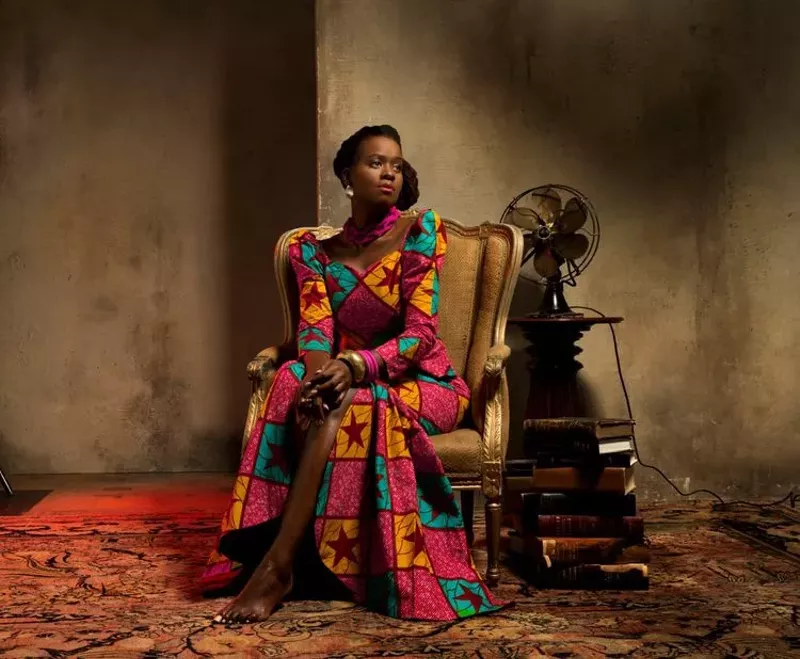 VIA ARTIST WEBSITE
Somi will perform at the Pulitzer Arts Foundation on Friday.
Each week we bring you our picks for the best shows of the weekend! To submit your show for consideration, click here. All events subject to change; check with the venue for the most up-to-date information.
FRIDAY, OCTOBER 5
FarFetched Presents: Somi
7 p.m. Pulitzer Arts Foundation, 3716 Washington Boulevard. $12 to $20. 314-754-1850.
Making waves in world music is old hat for Somi — she's been doing that since the release of 2003's
Eternal Motive
, even making her way onto the Billboard charts. But last year's
Petite Afrique
was a tsunami, earning her an NAACP Image Award for Outstanding Jazz Album while capping off a decade of records that merged jazz standards with African music. From her birthplace in Champaign, Illinois, to her adolescence in Zambia to her current home in New York City, Somi is a storyteller whose songs are underlined by a sense of journey. See what she calls "New African Jazz" in a show presented by FarFetched, a ground-breaking collective led by several St. Louis natives dedicated to expanding the diameter of music culture in the river city.
Reignwolf
8 p.m. The Firebird, 2706 Olive Street. $17. 314-289-9050.
By age fifteen, Jordan Cook had already played Switzerland's Montreux Jazz Festival in a hot-wired blues rock trio. And while that likely worked wonders for his social life in high school, Cook clearly spent more time in the basement with his guitar than anywhere else. Whether it's his one-man show (complete with a foot-activated rhythm section) or his full backing band (which includes Soundgarden's Ben Shepherd), Reignwolf is a revelation led by a man born with a six-string in hand. His latest single, "Wanna Don't Wanna," sees wiry blues riffs cutting through a '90s-era grunge gem like a hot knife through butter.
Voodoo Forrest Gump
6 p.m. Atomic Cowboy Pavillion, 4140 Manchester Avenue. Free. 314-775-0775.
If you're a Forrest Gump cosplayer who doesn't have a place to call home, we have good news: For one night, Atomic Cowboy will feel a lot like the seminal film thanks to a live soundtrack by Sean Canan's Voodoo Players. Throwing boxes of chocolates at the band as they power through three hours of Elvis, Dylan, CCR, Jimi Hendrix, the Doors and so many more might feels apropos, but is highly discouraged. When all is said and done, we can only hope somebody stumbles out of the show and exposes a political conspiracy the same way Gump helped with Watergate in the movie — oops, spoiler alert.
SATURDAY, OCTOBER 6
Brandon Seabrook Trio w/ Pat Sajak Assassins, Apathist!
9 p.m. Schlafly Tap Room, 2100 Locust Street. Free. 314-241-2337.
Maybe it's the lack of drums, but Brandon Seabrook's latest record
Convulsionaries
pushes the avant-garde guitarist away from both rock and jazz, two genres that he's spent much time deconstructing. Bassist Henry Fraser and cellist Daniel Levin add levity to Seabrook's manic riffing, making for a power trio of strings that casts a wiry haze. If you're missing beats, St. Louis' own Pat Sajak Assassins takes a polyrhythmic approach, with Harry Coin manning a hybrid set of acoustic and electronic drums. Alex Cunningham (of Vernacular String Trio) and Chris Trull (of Yowie) perform their inaugural set as Apathist! at this show as well. And with that, your mellow will surely be harshed.
ONO w/ Mourning A BLKstar, JoAnn McNeil, Heavy Pauses
9 p.m. Foam Coffee and Beer, 3359 South Jefferson Avenue. $7. 314-772-2100.
Travis, ONO's nebulous, mononymous frontman, not only served in Vietnam but did so as a gay black sailor. And then he and multi-instrumentalist P. Michael Grego started ONO, whose first show was in 1980 with both Naked Raygun and Special Affect. The band faded from Chicago's underground for 21 years before forming anew in 2007, and has since collaborated with the likes of Wolf Eyes, Al Jorgenson and Obnox. While its founders remain, ONO lives as a radioactive collective that seems to change shape with the seasons. If the name looks familiar, that might be because the group played in town only a few months back. There's a good reason for this return trip — ONO performs at the Columbia Experimental Music Festival the night before with St. Louis' JoAnn McNeil in tow.