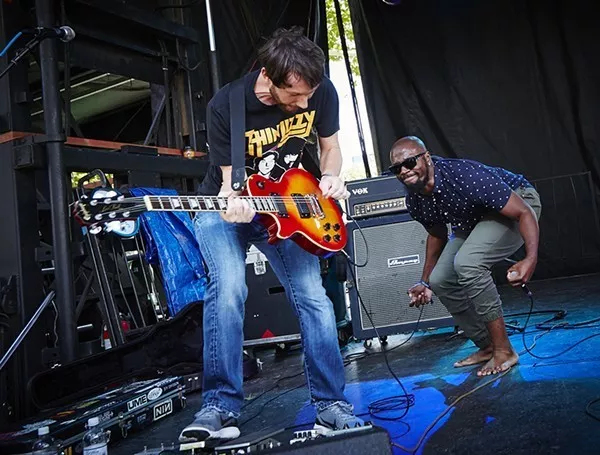 STEVE TRUESDELL
Illpphonics will perform at the Sheldon on Friday.
Each week we bring you our picks for the best shows of the weekend! To submit your show for consideration, click here. All events subject to change; check with the venue for the most up-to-date information.


FRIDAY, SEPTEMBER 14
Illphonics w/ Blvck Spvde, DJ Nune
8 p.m. The Sheldon, 3648 Washington Boulevard. $20. 314-533-9900.
Illphonics stands out in a scene crowded with revelatory rap — no small feat, considering the collective's contemporaries include Nato Caliph, Thelonious Kryptonite and even Nelly. Four of Illphonics' five members cut their teeth at University City High School and have done their hometown proud since the mid-2000s. This crew's output has been relentless, averaging one release each year (other than 2011) for the last decade. Blvck Spvde could be considered one of the River City's unsung heroes, if only showgoers and hip-hop fans weren't constantly singing his praises. He adds an eclectic edge to a soulful night of genre benders and local innovators.
SATURDAY, SEPTEMBER 15
Love a Little Louder! A Free Musical Mental Health Awareness Rally
8 p.m. Off Broadway, 3509 Lemp Avenue. Free. 314-498-6989.
Free-wheeling folk duo the Wilhelms spearheads a full night of Americana rife with lush riffs. And this night of music is free to attend, with support from three organizations: The American Foundation for Suicide Prevention, Great Circle and Provident. The idea here is that everyone is welcome, but donations are happily accepted. With both Justin Johnson and the Cree Rider Family Band on the bill, the wealth of excellent music on hand should provide plenty of motivation to part with your hard-earned money.
Mom Jeans w/ Just Friends, Shortly
7 p.m. Fubar, 3108 Locust Street. $13-$15. 314-289-9050.
Mom Jeans' power pop is bubbly and buoyant despite the serious undercurrent flowing underneath. Snappy beats carry a body of mostly melodic work with sly hooks hidden throughout. The lyrics, while heavy-handed, work as a Cupid's arrow shooting straight for the gut.
Puppy Love
, released in July, throws down a heartfelt gauntlet that is equally exhausting and enthralling. The band could be compared to a slew of others, each with a mall-chic name seemingly tailored to appeal to shoppers at Hot Topic — yet Mom Jeans' appeal comes in its skill at figuring out how to grease and properly use the wheel instead of reinventing it.
Moneybagg Yo
9 p.m. The Pageant, 6161 Delmar Boulevard. $45 to $55. 314-726-6161.
Moneybagg Yo's ascent can be closely tracked through the release of mixtapes dating back to 2012. He's taken full advantage of a recent deal with Interscope, dropping four releases since signing last summer. Some will call it trap, yet Moneybagg Yo takes a stylish bent that's at times disarming and tactful. He runs a cold flow over tense beats for a great sense of depth. In his latest string of videos, "Correct Me" is a standout, exploring the fates awaiting young rappers and those finding fame — jealousy, exploitation and even death. Released last month, his new EP
Bet on Me
is still making waves.
SUNDAY, SEPTEMBER 16
Light Beams w/ Necessities, Rightteen
8 p.m. The Sinkhole, 7423 South Broadway. $7. 314-328-2309.
Light Beams will no doubt draw comparisons to its now-famous older brother Parquet Courts, yet in some ways this Washington, D.C., crew leads the pack in relentlessly danceable punk. The kaleidoscopic songs are dressed in the colors of funk, soul and early post-punk, with a glossy sheen here that reflects a bright (and sometimes blinding) vibe filled to the brim with positive energy. This is the kind of band that grabs you by the head and contorts your face into a smile by sheer force of will.