LouFest is upon us again, and with it comes a lot of tough choices. Sure, it's great that Forest Park will be overflowing with musical talent on September 8 and 9, but with more than 40 acts on this year's lineup, the whole affair can be a little daunting.
Never fear! We've compiled a list of ten stellar acts performing at LouFest 2018 that are surely worth your time. And this list doesn't even include the newly launched, all-local Jazz & Heritage Stage, which is obviously worth your time as well (and for which we'll have coverage coming tomorrow).
Here are ten can't-miss acts performing this year:
AMBER THIESSEN
The Burney Sisters.
The Burney Sisters
11:45 a.m. Saturday at the Enterprise Rent-a-Car Stage
Olivia and Emma Burney are prodigious prodigies. They're so young — thirteen and ten as of this writing — that it's too soon to determine which one will turn out to be the tallest. They're writing and posting new songs constantly, and Olivia's lyrics complement a natural sense of melodic hook even as their harmonies lock in with that unreal, enviable sisterly connection. But just as impressive is their stage presence: The two Columbia, Missouri, natives interact with the crowd like seasoned pros, never breaking into kiddie giggles or losing command of the show. It's clear that they're both ambitious and truly enjoying themselves. As will you.
—Evan Sult
Durand Jones & the Indications
2:30 p.m. Saturday at the Main Stage
The classic soul sound of Durand Jones & the Indications serves as a not-so-gentle reminder that soul music was meant to be heard and recorded live, and that well-appointed session guys are rarely a substitute for a great fucking band. This band's self-titled debut album evolved out of all-night and all-day jam sessions in an Indiana basement, and it retains that gloriously messy, working-it-on-out feel, as Jones, a Louisiana-born and church-bred singer, calls and responds to the band with a true sense of urgency. Fans of Sharon Jones, Charles Bradley and Leon Bridges would be crazy to miss his Saturday set.
—Roy Kasten
Margo Price
4:30 p.m. Saturday at the main stage
Margo Price may never make it to the top of the country charts, but she's pretty much on top of the world. The Aledo, Illinois, native seemed to emerge out of nowhere with her debut album for Jack White's Third Man label in 2016, when in fact she'd be slugging it out as a singer and occasional drummer for years before anyone recognized her talent. Her stoned-at-the-jukebox outlaw image belies a songwriter who can cut anyone to the quick with feminist, working-class tales that never feel like tropes. Plus she's an underrated singer with a twang that will melt the coldest of indie hearts.
—Roy Kasten
White Reaper
4:30 p.m. Saturday at the BMI-Tunespeak Stage
Things have changed for White Reaper since its last St. Louis show in 2015. Back then the Louisville band was a quartet refining the ferocious garage-punk attack of its 2014 self-titled EP. At that time, newer material was beginning to flirt with the occasional slower tempo and new-wave keyboard riff, but many songs stayed in the mold of Jay Reatard. Fast-forward three years later and White Reaper has evolved into a swaggering classic-rock quintet. Tony Esposito's bratty sneer is still here, as is his penchant for catchy major key melodies, but they are now more likely to be delivered via Thin Lizzy-style parallel twin guitar tar leads over swinging rhythms. Still, whether it's in this mode orplaying old setlist staples, White Reaper is fist-pumping rock & roll through and through.
—Bob McMahon


Kacey Musgraves
6:30 p.m. Saturday at the Main Stage
You may think you have a final opinion on the dismal state of modern country music, but hang on and trust us here. Google "kacey musgraves john prine live" and click on the one with the avatar of two people on a dark stage. The interaction you see there, between Ms. Musgraves and the living subject of her song "Burn One with John Prine," will loosen up your suspicions about this pretty young star, and then the song itself will dissolve your scorn and melt your objections. Musgraves knows her fine-tuned, classic country songcraft, and she comes across as sweet as Dolly Parton (if Dolly had a thing for weed). By the end of the video you will both grudgingly admit that a few good country writers are still out there, and adjust your LouFest plans to see her for yourself.
—Evan Sult
Grace Basement
11:45 a.m. Sunday at the Enterprise Rent-a-Car Stage
If there's any justice in the world, when the annals of St. Louis in the early 21st century are written, Grace Basement will figure at least as prominently as Wilco. Yes, Jeff Tweedy has more recognition at the moment, but Grace Basement mastermind Kevin Buckley can match him song for song on lyrical details and aching nostalgia. This year's
Mississippi Nights
album is a hot summer evening with the windows down and a warm breeze to lift your heavy heart and maybe save your life. This being LouFest, the band will likely be at its tightest and most dazzling. Make sure you see it now so you can tell your kids about it later — those annals aren't gonna write themselves.
—Evan Sult
Liz Cooper & The Stampede
4:30 p.m. Sunday at the BMI-Tunespeak Stage
Boredom may be one of the defining themes of modernism (just ask Proust and Beckett), but it has no place in rock & roll. Or does it? Liz Cooper cut an entire album (her debut no less) about l'ennui, and somehow never once sounds bored doing do.
Window Flowers
has a spacey and spacious feel, with airy twang and hints of psychedelia lilting through some of the sweetest surf-swept garage rock in recent memory. Cooper isn't one of LouFest's marquee acts, but make room on your schedule for her and her band — boredom is not on her setlist.
—Roy Kasten
Michael McDonald
4:30 p.m. Sunday at the Main Stage
Native son of St. Louis (Ferguson, to be precise) Michael McDonald has all the yacht-rock cred of anyone not named Kenny Loggins (who co-wrote Smooth Mac's single greatest song, "What a Fool Believes"), but he's also just a flat-out great singer. Just ask Steely Dan, Carly Simon and Bonnie Raitt, all of whom (along with dozens more) enlisted him for background vocals that defined their tracks and shaped the sound of FM radio as the '70s cruised into the '80s. Yeah, he's got a slew of Grammys and sold a kazillion records. But that ineffably warm, smoothly stoned, blue-eyed-soul tenor is a national treasure.
—Roy Kasten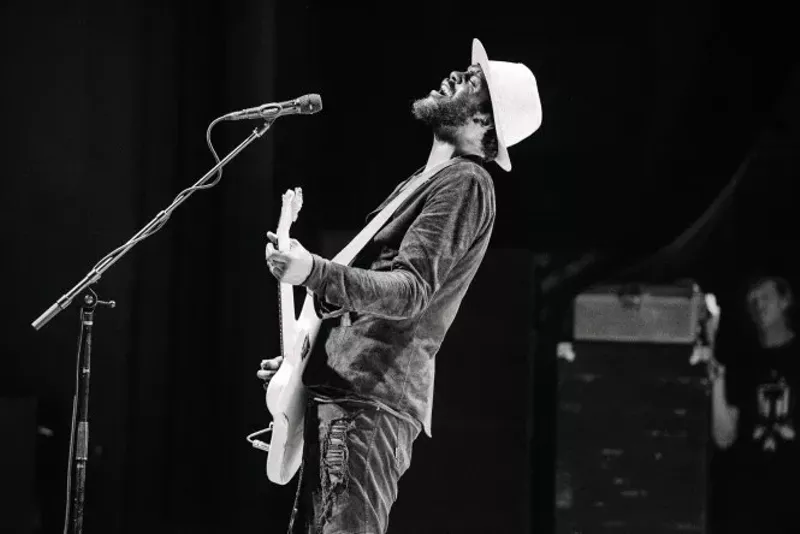 JOEY MARTINEZ
Gary Clark Jr.
Gary Clark Jr.
6:30 p.m. Sunday at the Main Stage
Guitar gods are the least interesting of gods, and "let there be five-minute solos in otherwise perfectly good songs" is the worst of Bible verses. We can make exceptions for Hendrix, Thompson and Allman, but rock gods are best served by the concision of their true father, Chuck Berry. Gary Clark Jr. is a different kind of rock god. For a jam-the-fuck-out-of-the-blues dude, he's a musical omnivore, a shredder who can bring the psych and the hip-hop and the smooth soul when the mood strikes him. Once saddled with a tag as "the new Hendrix" tag, Clark Jr. has found his own voice, largely on stage, where he builds a blues-rock temple and then burns it all down.
—Roy Kasten
Robert Plant and the Sensational Space Shifters
8:30 p.m. Sunday at the Main Stage
Against considerable odds, Robert Plant has created a long and rewarding solo career out of the ashes (still smoldering decades on) of one of the biggest bands on the planet. His latest incarnation matches him with a gang of experimentally minded musicians — including, but not limited to Justin Adams, Billy Fuller, John Baggott and Liam "Skin" Tyson — whom he has christened the Sensational Space Shifters. It's a goofy name. The band's music is anything but. As featured on last year's Carry Fire and documented on this summer's run of festival dates, this ensemble is among Plant's most exciting, not least because they can match the resounding force of Plant's voice. He's still got it, and he has a band to prove it.
—Roy Kasten