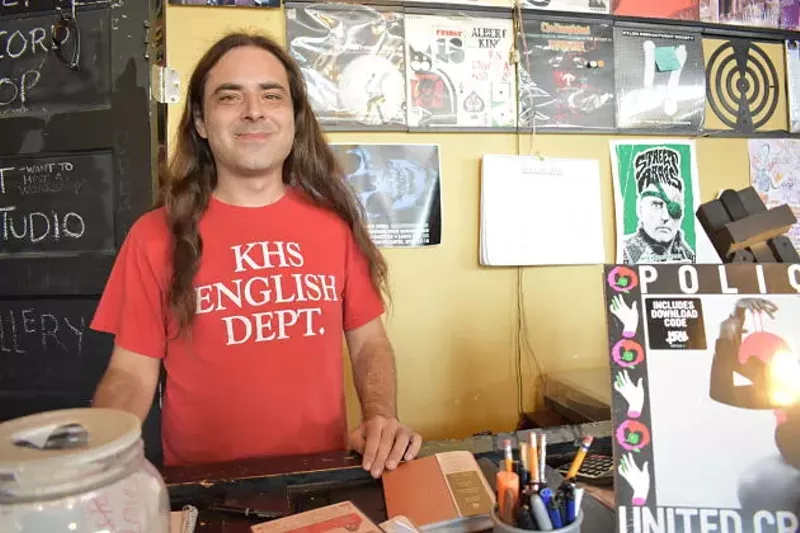 DANIEL HILL
Kismet co-owner Tom Maher will continue to man the shop until he hands over the keys on September 30.
After four years in business,
Kismet Creative Center
(3409 Iowa Avenue, 314-696-8177)
is closing its doors.
The eclectic Cherokee Street record store and odds-and-ends shop, which first opened in September 2014, will close for good at the end of September.
"It's a financial issue, and not enough traffic," says Tom Maher, 40, who co-owns the store with his longtime girlfriend Sonia Slankard. "If we had enough traffic we could keep this going, but, you know."
Kismet's location on Iowa Street, just barely off Cherokee Street proper and with only Yaqui's separating the two, made for fewer passersby than the couple could have expected had the store been on the main drag. Though Kismet is plainly visible from the larger street, Maher says the short distance may as well have been a chasm.
"That's a huge thing, absolutely. People don't just walk by the store," Maher says. "We put signs out there [on Cherokee], but I've watched people just walk right by it over and over without actually looking down."
Kismet came to its identity as a record store more by circumstance than by design. When the store first opened it was a center for arts and crafts.
"Originally it was — it still is — but it was especially art-oriented," Maher says. "It was Kismet Creative Center because you could come in and do crafts and stuff like that. But it didn't pan out as much as we had hoped."
And when beloved Cherokee Street shop
Apop Records closed in 2014
after ten years in business, Maher saw an opportunity. He had previously owned a record store in Durango, Colorado, before he moved to St. Louis; with Slankard's encouragement he opted to shift his business strategy. The shop at that point, while still eclectic, became mostly a retail record store.
Kismet stocked a wide variety of records, but specialized in weird soundtracks and more experimental stuff, Maher says. And in addition to the music on hand, the shop sold a fair number of additional odds and ends: herbs, crystals, art, books, lotions. The couple even frequently let members of the community set up pop-up shops in front of the store to peddle their wares, whatever those wares were.
But it's perhaps the shop's identity as a venue for live music that will be most missed by its customers. Over time the small space played host to between 150 and 200 shows, Maher estimates, mostly of the experimental or electronic variety.
Auset Music Project performs at Kismet as part of 2017's edition of Lo-Fi Cherokee event.
One artist, who operates under the simple moniker of "Name," in particular stands out to Maher. His performance is one he'll never forget.
"Every time he did a show it was something different. This happened to be some poetry that he had written in the morning after some kind of weird dream he had," Maher says. "So he's standing there in overalls and a t-shirt and shit, and he just starts reading what he had written that morning."
Then, unexpectedly, the show suddenly included something of a striptease element.
"He starts unbuckling and unbuckling, and dropping the pants and lifting off the shirt — and still reading," Maher continues. "And then he took this piece of cloth and cut a hole in the center of it and put it over his head. He continued reciting, and then lifted it up, and there was this fake flower — you know the kind with the wiring? He had wrapped it around his penis. And then he put that back down and then jammed a drum solo for like twenty minutes. And
that was the show
."
Suffice it to say, that kind of anything-goes, let-your-freak-flag-fly atmosphere helped to make Kismet unique. And though Maher wishes more people would have appreciated the store's offerings, he's not bitter, just disappointed that things didn't pan out.
"I do have a quote from my girlfriend that she wanted me to put in there," he says. "She said, 'If they ask how you feel about it, tell them I'm pissed because people in the area and outside the area are more interested in craft beers than in actual crafts.'"
There's still time, though. Kismet is currently running a sale to cut down on some of its stock. Customers can purchase five used 45s for only $1, and CDs and books are half off. Maher says he will be returning any stock he got on consignment to those he consigned with, and he intends to push his new, unopened records online and at pop-up shops and record shows around town. Once he'll be no longer tied down to the brick-and-mortar store, he and Slankard plan to do some traveling, and may even sling records out of their trunk.
"We're looking towards more adventure in general," he says. "And hopefully still selling records will be a part of that.
"This isn't the end of Kismet," he adds. "It's just the end of this incarnation of Kismet."