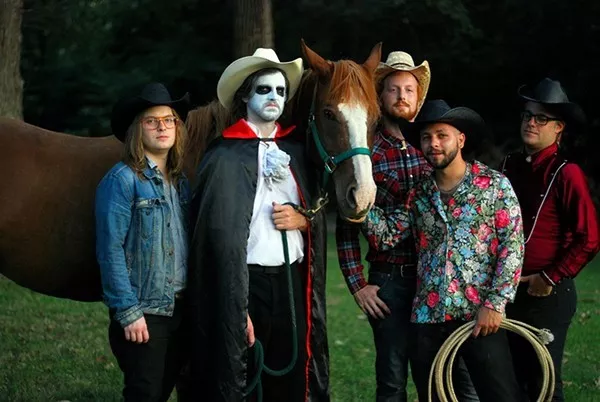 ADAM NEWSHAM
Dracla will perform at Off Broadway on Friday.
Each week we bring you our picks for the best shows of the weekend! To submit your show for consideration, click here. All events subject to change; check with the venue for the most up-to-date information.
FRIDAY, JULY 27
Flynt Flossy w/ Turquoise Jeep, BADDAYDRE, OuttaTownAnakin
7 p.m. The Firebird, 2706 Olive Street. $12. 314-535-0353.
With its warped approach of Outkast-meets-
Tim and Eric Awesome Show
, 2010's "Lemme Smang It" was the internet's version of a one-hit wonder. And it's not like Flynt Flossy or the rest of Turquoise Jeep care, but their YouTube output hasn't broken a million views in roughly five years. Luckily, if Flossy's latest record
Eclectic Catapilla
tells us anything, it's that he's the same wriggling rapper whether in or out of the limelight.
Teenage Wrist w/ the Greeting Committee, Synthetic Sun
7 p.m. Delmar Hall, 6133 Delmar Boulevard. $10.57 to $13. 314-726-6161.
Presented by the Point (as if that $10.57 ticket price didn't tip you off), Teenage Wrist is the kind of group that the radio station originally built its sound around. Twenty-five years after the full-on conversion of grunge to the mainstream, the group comes across as the practical prototype for the sound. The video for "Stoned, Alone" feels ripped straight from MTV2 at 2 a.m. — maybe someone could throw it on a VHS tape for true '90s authenticity. Without the last two decades of alternative rock, though, Teenage Wrist wouldn't have the agency to push the genre forward as it does on
Chrome Neon Jesus
, the debut album it recently released through Epitaph Records.
Dracla w/ Maximum Effort, Kiki, DJ Limewire Prime
8 p.m. Off Broadway, 3509 Lemp Ave. Free. 314-498-6989.
Dracla's hermetic nature is not undocumented. It was thanks to his self-imposed solitude that a pretender, Dracula, was able to reach big audiences, sell movie rights and become a household name. Rather than seek revenge, St. Louis' now-native vampire opts to play proto metal that edges on stoner rock territory. One of the city's hardest-hitting and melodically minded drummers in Kevin Insinna propels the songs, while the rest of the band backs up the immortal connoisseur of wine — he prefers Cabernet Sauvignon to blood. Dracla has lived in solitude in recent months, but the announcement of this show has coaxed the caped one out for a return to the stage.

SATURDAY, JULY 28

Social Caterpillar w/ Mammoth Piano, May Day Orchestra
9 p.m. Schlafly Tap Room, 2100 Locust Street. Free. 314-241-2337.
To Milwaukee-based Social Caterpillar, everything is political — including opting to not be political. The troupe grabs folk with all its tangential threads to American music and wrings out the revisionist history. Released just last week,
Motorcycle in 3 Movements
sees the band working in tandem with Denver-based collective Utajahs, yet the record is much more glued than a simple split. The six tracks are meant to be heard via headphones, without interruptions. That's a tall order, but one that rewards the listener, as the two groups alternate songs, effectively bleeding into each other's approach with a natural and nuanced noise. On stage, Social Caterpillar delivers with all the musical hues of a chamber group while retaining an elastic and psychedelic core.
SUNDAY, JULY 29
Mess w/ Young Animals, Ursa Major
10 p.m. Foam Coffee & Beer, 3359 Jefferson Avenue. $5. 314-772-2100.
Kansas City's Mess is no stranger to St. Louis — its 2017 EP
heartswithholes
was recorded just across the river in Edwardsville by Ryan Wasoba at Bird Cloud, the same engineer and studio that helped craft Foxing's
The Albatross
. That's important to note, because Mess clearly cuts its revealing alt-rock from the same emo cloth as Foxing. With simple and solid songwriting, which is much harder than it seems, the band opts to take the utmost care of its sound. The sweet delivery may feel disarming, but it works: The songs are upfront and emotionally present.