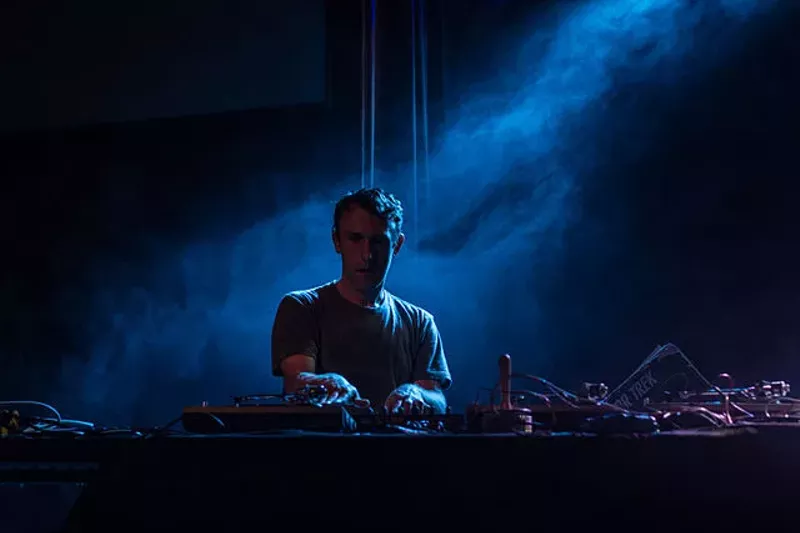 RJD2 will perform at Atomic Cowboy's Pavillion on Friday night.
Each week we bring you our picks for the best shows of the weekend! To submit your show for consideration, click here. All events subject to change; check with the venue for the most up-to-date information.
FRIDAY, JULY 20
DJ Crim Dolla Cray
9 p.m. RKDE, 2847 Cherokee Street. $7. 314-669-9240.
Taking to two turntables like a pair of big magic cauldrons, DJ Crim Dolla Cray conjures a crazy mix of disco rarities and regional dance songs. Her hands also travel through time, smoothly pulling from the likes of early Kraftwerk and Velvet Underground. It's enough to transform the room around her into a realm of involuntary ass-shaking — so carefully consider who your plus-one will be for the night. Fresh off her debut on 88.1 KDHX just last week, Crim brings her new weekly show
Beyon'Cray
(Wednesday nights from 11 p.m. to 1 a.m.) to the dancefloor at RKDE.
J.I.M.M.Y.'s Extended Mixtape Live w/ DJ Stan Da Man
8 p.m. The Monocle, 4510 Manchester Avenue. $10. 314-935-7003.
Nearly half a century on, hip-hop has become a lush spectrum of sound and a vibrant culture, and the crew behind J.I.M.M.Y.'s Extended Mixtape are digging up the roots for a night that hearkens back to warehouse parties in the Bronx circa the late '70s. Sure, the Monocle is a much more controlled space — seating, air conditioning, a fully-outfitted bar — but wax will be scratched and hype will be had from the emcee on hand. Ackurate, Riley B, Gritz Hoffa and Nick Menn of Doorway all lend their energy for this hip-hop history lesson with a party vibe.
RJD2 w/ DJ Mahf, DJ Alexis Tucci
7 p.m. Atomic Cowboy Pavilion, 4140 Manchester Avenue. $20 to $25. 314-775-0775.
RJD2 must have eight arms and need no sleep, because few producers dead or alive have been as prolific. Photo evidence shows the man has two arms and two legs — standard stuff — so maybe he's the X-Man born with the mutant ability to remix. From collabs with Japanese pop queen Hikaru Utada to Yo La Tengo and Aesop Rock, his ability to change the shape of sound into something so distinct is definitely inhuman.
SATURDAY, JULY 21
Rock & Roll Express Tour w/ 3 Doors Down, Collective Soul, Soul Asylum
7 p.m. Hollywood Casino Amphitheatre, 14141 Riverport Drive, Maryland Heights. $20 to $79.50. 314-298-9944.
3 Doors Down and company were probably stoked to see that the "Rock & Roll Express Tour" was not yet taken — what are the odds? Actually, Googling that phrase brings up a pair of real tough guys by the names of Robert Gibson and Ricky Morton, two pro wrestlers who date back to the early '80s — and they're still totally active. So maybe we'll get two WWE hall-of-famers coming in to body slam Soul Asylum. All joking aside, if you can't wait for the Wayback edition of Pointfest (with headliners 311 and the Offspring), this is a perfect summer substitute.
Little Big Bangs Album Release Show w/ Glued, Jane Wave, Mom, Adderall
8 p.m. July 21. El Lenador, 3124 Cherokee Street. $5. 314-875-9955.
Whether the band came from Seattle in the mid-80s or its actual origin of St. Louis in 2010, Little Big Bangs would still take to grunge rock as if it invented the genre. There's little here in the way of idol worship, except when Halloween rolls around and the band pays painstaking tribute to the likes of Nine Inch Nails, Velvet Underground and even the Butthole Surfers. For nearly a decade, Little Big Bangs has lived as an underrated and often unsung hero of St. Louis' seedy underbelly, all the while self-releasing a pile of CD-Rs, split cassettes and a number of records.
I Like It Here
is the band's third full-length to date, and the album serves up a pitch-perfect sculpture of heady and heavy-handed rock.