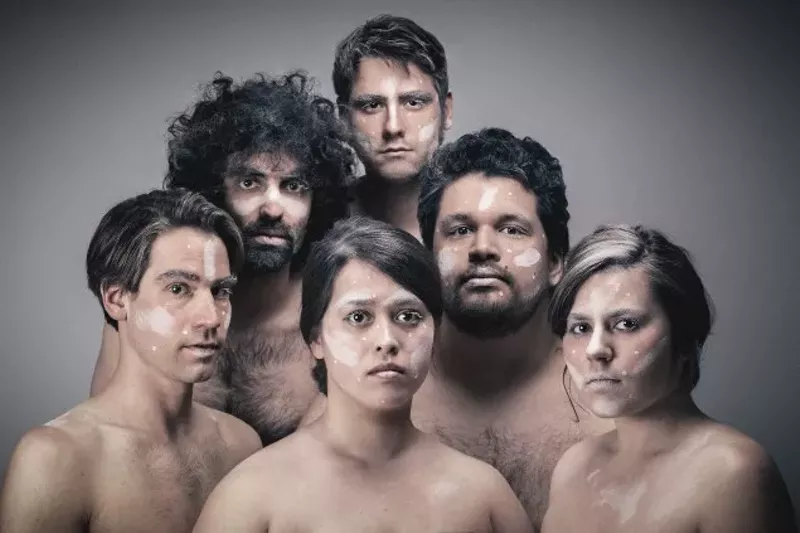 CHRIS ANDERSON
Bent Knee will perform at Fubar this Saunday.
Each week we bring you our picks for the best shows of the weekend! To submit your show for consideration, click here. All events subject to change; check with the venue for the most up-to-date information.
FRIDAY, JULY 6
Monxx w/ Hekler, Boss Mode b2b Rollbro, Mobcat, 5tonE
8 p.m. 2720 Cherokee Performing Arts Center, 2720 Cherokee Street. $15 to $25. 314-276-2700.
You would be forgiven for not knowing riddim, the triplet-heavy and trap-friendly sub-category of EDM that U.K. producer Monxx works within. Amid a stack of minimalist layers, vocal samples command a bent and warbling backbeat for a brand of electronic music that is decidedly outside the mainstream. Having gotten his start at only fourteen, Monxx is by now a master of the craft. He backs up his own hype.
SATURDAY, JULY 7
Elbow Through Hammer w/ Buttercup, Subtropolis
9 p.m. El Lenador, 3124 Cherokee Street. $5. 314-875-9955.
Maybe it's capitalism or just the fact that music taste can be contagious, but similar-minded bands tend to multiply and infest cities. There are about eight billion names under the "indie rock" umbrella, and they typically fizzle out in two to three years in as the whims of the masses fluctuate. But groups like Elbow Through Hammer and Buttercup are different, with an exploratory approach to rock that shares little with whatever's trending — and in this way, they'll live and die regardless of who's in the room when they play.
SUNDAY, JULY 8
4th Annual Rock Paper Podcast Birthday Show w/ Old Souls Revival, the Scandaleros, Mathias & the Pirates, Sophisticated Babies, the Many Colored Death
2 p.m. Old Rock House, 1200 South Seventh Street. Free. 314-588-0505.
Hitting up the nearly 600 episodes of
Rock Paper Podcast
is enough to make anyone an expert on St. Louis music, and host Shane Presley likes to extend his reach beyond the web to live events. But none are as vital or as much of a celebration as his annual birthday concert, which brings a feast for the ears through a diverse list of performers and longtime friends. Enough St. Louisans know the feeling of hearing Presley's voice at work or while sitting in traffic, but seeing his love for the craft take physical shape is a sight to behold.
Bent Knee w/ Gatherers, Family Medicine, ISH, Distant Eyes
7 p.m. Fubar, 3108 Locust Street. $12 to $14. 314-289-9050.
Bent Knee is a rarity that could equally conform to the floor stage of an art gallery or an outdoor festival in the blistering sun of summer. Using rock as a home base, the band's keys, violin and guitar venture out through a maze with several entry points but only one end goal: a dynamic collision. This is a film soundtrack without the film — a sonic narrative guided by vocalist Courtney Swain. The term "art rock" was essentially invented to describe this Boston outfit, but whichever poor music writer first smashed the two words together couldn't have predicted the way Bent Knee would elevate the genre as a whole.
Lumpy Records Showcase w/ Trauma Harness, Pineapple RnR
3 p.m. Vintage Vinyl, 6610 Delmar Boulevard, University City. Free. 314-721-4096.
Lumpy Records lives in a void of Tumblr, YouTube and a webshop that claims "Plenty of Garbage in Here," so a showcase might seem like a curveball for a label that exists purely for the underground. But from the no-wavey post-punk of Pineapple RNR to the gloomy riff-gnawing Trauma Harness, the local punk label just put out two records that have St. Louis' collective hair standing on end. Consider this a release show for both. Deep nerds take note: That new Trauma Harness EP has a cover of a
Dragon Ball Z
song that appears in the credits of a theatrical film originally released in Japan.