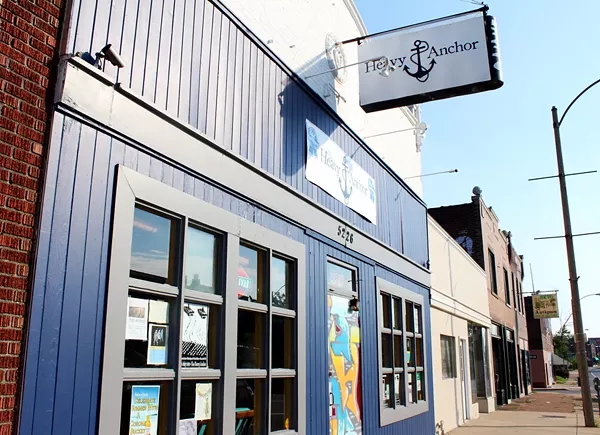 A beloved south city bar and venue has been robbed — and the owners are giving the thief an ultimatum: Return our stuff, or we're going to the cops.
The Heavy Anchor
(5226 Gravois Avenue)
posted a clip of a surveillance video to its Facebook page today showing a bearded man wearing shorts and a baseball hat making an ungraceful exit carrying with two flags that the bar uses as curtains. (The tool trips over his own feet on the way out the door.)
And it's not just him, either. He has a buddy with him who is serving as the look-out. This shady duo thought they were slick, but the camera sees all:
You can watch these criminals (at the top right of the video) grab the flags from by the windows, wad them up and then slip around a wall and out the front door.
The video is captioned: "This ass stole 2 of our flags last night (top right corner). The flags are black & white with skull & crossbones on them that we use as window coverings when we are closed. Anyone know him? If it's you, bring them back, thief. The culprit & his accomplice have until Monday to return them, no questions asked. If not, we will be turning all of our video surveillance over to the police."
So if you are one of the two boneheads in question, you might want to get those flags back to the Heavy Anchor, where the owners are much more forgiving than the police.
Email the author at jaime.lees@riverfronttimes.com