BEN MOON
Modest Mouse is just one of the artists on the LouFest lineup for 2018.
After an unusually protracted wait that had fans on the edge of their seats, the lineup for LouFest 2018 is finally here.
Topping this year's roster is legendary Led Zeppelin singer Robert Plant, who is coming with his backing band since 2012, the Sensational Space Shifters, alongside indie-rock favorite Modest Mouse, indie-folk act the Head and the Heart, country singer Kacey Musgraves and virtuoso blues guitarist Gary Clark Jr.
Further down the bill are soul singer (and Ferguson native) Michael McDonald and rapper T-Pain — not surprising, since the former name was
accidentally leaked by McDonald's people
and the latter was the subject of
one of the easier lineup clues from this year
— as well as Brothers Osborne, Moon Taxi, Tank and the Bangas, Quinn XCII, Margo Price, Misterwives, Anderson East and Mt. Joy.
The lineup includes more local acts than ever before as well, thanks to a partnership with the Kranzberg Arts Foundation that will see a fourth stage featuring roots, blues and jazz music added to the festival. Local artists include Scrub & Ace Ha, Grace Basement, the Knuckles, River Kittens, Dracla, the Burney Sisters, Kevin Bowers' Nova & Special Guests, Tonina, Mo Egeston All-Stars, Anita Jackson, Ptah Williams Trio, Jesse Gannon, Ben Reece's Unity Quartet, Owen Ragland Quintent and Bob DeBoo + the Dark Room All-Stars.
Listen Live managing partner Mike Van Hee cites no single reason for the delay in this year's announcement — a lot of logistical stuff, including the need to honor strict radius clauses for some artists, just pushed the date back from where they'd have ideally preferred, he explains.
"Unfortunately I can't say a lot as to why there was a delay, but there's very good reasons as to why," he tells
RFT
.
Much of this year's lineup came from surveying attendees and social media followers and then crunching the numbers. Van Hee says that the group sent out a poll at the end of 2017 to fans and social media followers, asking what artists they'd like to see in 2018.
"Then we aggregated that data and cross-referenced it and generated a list," he says. "It was really interesting to see who the Facebook folks wanted to see versus who the Instagram folks wanted to see and who the survey data wanted — it was the same more or less group of like 25 different artists, but the preferences were different.
"Modest Mouse was near the top," he adds. "Head and the Heart was in the top five on all three of them."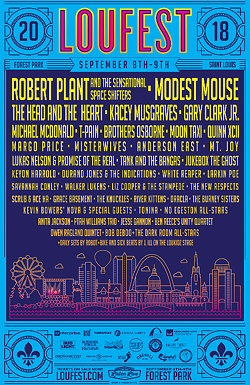 Asked about the artists he's most excited about this year, fellow Listen Live managing partner Rich Toma responds with a slew of names.
"Beyond excited about Robert Plant. I mean, any time you get a chance to include a generational artist like that in a music festival, it's a no-brainer," he says. "Seeing him live in Forest Park is pretty much a once-in-a-lifetime opportunity. Gary Clark Jr. is a personal favorite and an artist we have been pursuing for a while now. Very excited about bringing Michael McDonald home for a special performance. Also a big fan of Durand Jones and the Indications and White Reaper."
Van Hee points to the middle names of the lineup as a particular point of pride.
"I think the middle of the lineup is so super strong this year, with folks like Lukas Nelson, Tank and the Bangas, and Mt. Joy, who's like —
Silver Lining
is
at the top of the triple-a charts right now
," he says. "Anderson East is incredible, I mean his voice is amazing. So this year in particular I think the middle of the lineup offers a lot to discover."
And, of course, both men are excited about the local artists on deck.
"We really have an amazingly talented group representing STL this year," Toma says. "We're in the fortunate spot to get to say this every year, though — St. Louis never has to apologize for our music scene. We truly have one of the best in the country, and it's a privilege to get to put this together."
The group also makes sure to remind music fans that
local beer is also coming to the fest in a big way
this year. BrewFest at LouFest will bring more than twenty local breweries to the festival in 2018 in partnership with the St. Louis Brewer's Guild — a direct response to a longstanding stated criticism from attendees, Toma says.
"Our fans have been very outspoken in recent years about their desires to see more craft beer options included in the festival, so we worked hard to create a scenario where that could happen," he says. "Ask and ye shall receive! It's definitely a big step and we can't wait to see where this goes in the future."
LouFest will once again take place on the upper Muny grounds, where it was held in 2017, while renovations on Central Field are completed. The festival will return to Central Field next year for its tenth anniversary, Van Hee says.
Check out the full lineup for LouFest 2018 below:
-Robert Plant and the Sensational Space Shifters
-Modest Mouse
-The Head and the Heart
-Kacey Musgraves
-Gary Clark Jr.
-Michael McDonald
-T-Pain
-Brothers Osborne
-Moon Taxi
-Quinn XCII
-Margo Price
-Misterwives
-Anderson East
-Mt. Joy
-Lukas Nelson & Promise of the Real
-Tank and the Bangas
-Jukebox the Ghost
-Keyon Harrold
-Durand Jones & The Indications
-White Reaper
-Larkin Poe
-Savannah Conley
-Walker Lukens
-Liz Cooper & The Stampede
-The New Respects
-Scrub & Ace Ha
-Grace Basement
-The Knuckles
-River Kittens
-Dracla
-The Burney Sisters
-Kevin Bowers' Nova & Special Guests
-Tonina
-Mo Egeston All-Stars
-Anita Jackson
-Ptah Williams Trio
-Jesse Gannon
-Ben Reece's Unity Quartet
-Owen Ragland Quintet
-Bob DeBoo + The Dark Room All-Stars
-Daily sets by Robot + Bike and Sick Beats by J. Ill on the LouKidz Stage