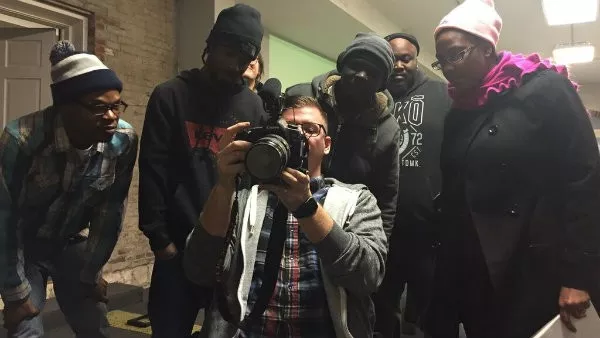 VIA JORDAN SCHNEIDER
Jordan Schneider (center), a Continuity instructor, works with students on camera settings.
Grab your pen, paper and camera: The St. Louis-based non-profit organization Continuity,
centered around expanding diversity in media
, is gearing up to host its second annual media training program and is now accepting applications through May 30.
"Minorities are dramatically underrepresented in media today," explains Dan Parris, Continuity's executive director. "Our free, 36-week hands-on intensive filmmaking course provides skills-based training, mentorship and opportunities for untapped talent in our city."
Chosen applicants will have access to a state-of-the art media lab and film equipment, plus a paid stipend for the duration of the program.
Past students/presenters include local photographer Aziza Binti and Chris Phillips, producer of the short documentary film "Ferguson 365" — both veterans of the program.
Another success story that has come from Continuity is
local filmmaker Christopher Hill's 2016 video "The Wave,"
which is about the impact a man named Lewis Claybon has had on the community through the simple act of waving to people daily — that effort got nearly 6,000 views and led to the subject of the piece
receiving some much-needed dental surgery
.
Mike Pagano, a lead instructor and board member of the organization, says the program is about building a supportive community.
"The goal is not to only build up the skill of our participants in the program, but to galvanize that community and create a network of folks that can support each other," Pagano says.
A premiere screening of past participants' projects will be held on June 1 from 7 to 9 p.m. at
St. Louis Artworks
(
5959 Delmar Boulevard, 314-899-9734
). To apply to join the program,
fill out an application
by May 3o.