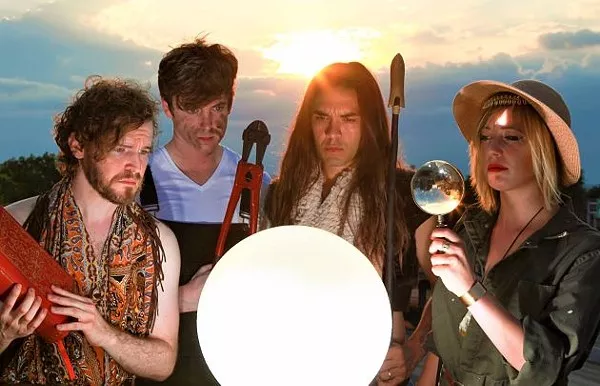 Once again in 2018, ​the RFT recognizes ​St. Louis' ​unparalleled musical talent by presenting the STL 77, ​our list of 77 acts who did big things in the last twelve months. From now through June 16, the kick-off date of our huge two-day music festival ShowcaseSTL, we'll be announcing two ​honorees per weekday on our music blog. For last year's STL 77 picks, go here; for the complete lineup for ShowcaseSTL, go here.
It's no wonder that Kid Scientist mastermind and frontman Joe Taylor became ERA Theatre's musical director. With florid lyrics and flamboyant performances, Taylor's music is ripe for a theatrical production. Or rather production
s
, because 2017 EP
A Report from the Future
might need separate musicals for each of its songs that almost inhabit their own respective genres. The band's range encompasses a dark cabaret rocker, a tense tango, a lightly trotting country ditty, a string-assisted piano ballad and much more. Numerous guest musicians give the EP a richly layered sound, but the core lineup of drummer Dave Moore, keyboardists Taylor and Audrey Morris, and interim bassist Brian McClelland more than fill up a room with a warm but punchy attack. This chemistry keeps Kid Scientist's sound cohesive across its many styles and allows Taylor to be the dashing star both in front of and behind the curtain.
Recommended If You Like:
The Decemberists, Ben Folds, The Dresden Dolls
Facebook:
https://www.facebook.com/kidscimusic/
Bandcamp:
https://kidscientist.bandcamp.com
Twitter:
https://twitter.com/kidscimusic
Youtube:
https://www.youtube.com/user/KIDsci