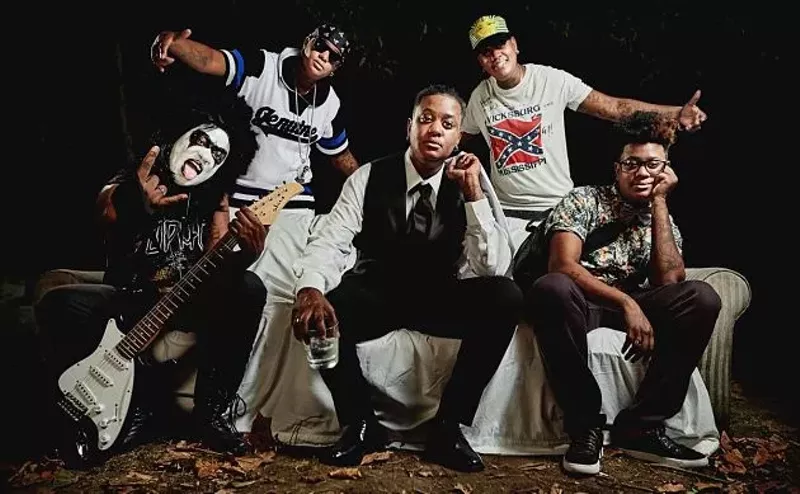 ALBUM ART FOR 2017's STRANGE WOMAN LP
Once again in 2018, ​the RFT recognizes ​St. Louis' ​unparalleled musical talent by presenting the STL 77, ​our list of 77 acts who did big things in the last twelve months. From now through June 16, the kick-off date of our huge two-day music festival ShowcaseSTL, we'll be announcing two ​honorees per weekday on our music blog. For last year's STL 77 picks, go here; for the complete lineup for ShowcaseSTL, go here.
To say that Bates works hard might be the understatement of the year. Born Tamara Dodd, the emcee designed her own website, handles her own distribution and books all of her own performances. She even writes and directs her music videos (she's released four in the past year alone). In addition to the work she puts into her own creative endeavors, Bates is the founder and driving force behind FemFest, an annual event featuring performances from the women of the St. Louis music scene. The festival's most recent and largest iteration, held in February at 2720 Cherokee, featured 54 artists across two stages. Even the most cursory listen to her music reveals a sense of the almost frighteningly intense focused energy that drives the St. Louis rapper. Bates lives every day — and drops every bar — like it's her last.
Recommended If You Like:
2Pac, Eminem, Young Ma, Twista
Facebook:
https://www.facebook.com/BatesSTL/
Bandcamp:
https://bates-stl.bandcamp.com/
Twitter:
https://twitter.com/bates_stl
Official:
http://www.bates-stl.com/