VIA JASON ROSS
Bruce Cole in a liquor store, circa 1976.

"Does it sound like we rehearsed? Hell no, we didn't rehearse. We just turned on the tape and did it. We never really rehearsed. We were just down there drinking and messing around." —Bruce Cole
The world is a little less weird this week, with news that Screamin' Mee-Mees guitarist and vocalist Bruce Christopher Cole passed away at age 67 on Thursday, April 26 after suffering a massive stroke at his home the day prior.
Cole leaves behind a legacy as a pioneer of DIY home-recording, and the early music made by his two-man act with lifelong friend Jon Ashline, who passed in 2012, can be counted as some of the earliest (and strangest, most irreverent) proto-punk on record. The duo spent decades playing music together, beginning in the late sixties — but never in front of a crowd.
Instead, the Mee-Mees carved out a niche as one of the most prolific home-recorded acts of its time. In the basement of Cole's childhood home in Ferguson, which Cole would occupy until his death, the two would record songs with irreverent titles like "Hot Sody," "Psycho Ward Reunion," "Disco for Drunks" and "Green Cigars from Mars" onto recycled quarter-inch reel-to-reel tapes. The songs were almost always improvised on the spot, and the lyrics were predictably goofy. ("Riding on my spaceship one day/Hit something and I looked at it/It was a green cigar from Mars/I turned around and ate it.")
Their output was often unlistenable. In
a 2005 RFT cover story
, for example, Cole said that one of the tapes they'd recorded was just a huge collection of his and Ashline's farts. "How long it took to fill up the reel depended on what we had to eat," Cole explained.
As years went on his basement would grow to contain dozens and dozens of tapes — hundreds of songs' worth — as well as a trove of Cole's own hand-drawn art and hand-written lyrics. Most of it was never heard or seen outside that basement.
"The stupider, the better," Cole told
RFT
in 2005. "I think everything we do is pretty fucking stupid."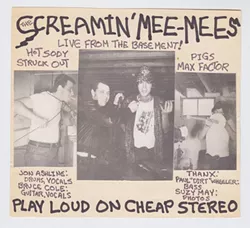 But despite its decidedly unserious approach, the band's goofy charm was infectious and its songs at times brilliant, and a clutch of dedicated record collectors around the world have made Screamin' Mee-Mees recordings sought-after gems.
Live From the Basement!
, released in 1976, with "PLAY LOUD ON CHEAP STEREO" scrawled in xeroxed sharpie across its cover, is particularly treasured.
To those who knew Cole, his passing is sad but unsurprising.
"He'd been drinking between a twelve-pack and a case of beer a day since like 1969," explains Rerun Records' Jason Ross, whom Cole called his manager. "Smoking three to four packs a day, smoking a lot of weed on top of that — which I contributed to, I'll admit, but sometimes that was the lubrication you needed to get Bruce to do anything."
When Ross moved to St. Louis from Wisconsin in 1998 he was already aware of the Screaming Mee-Mees, and he promptly tracked Cole down. As the years went on he formed a close friendship with Cole, frequently visiting him in Ferguson, the two drinking Busch beers and combing through stacks of tapes.
About five years ago, Ross started archiving Cole's many boxes of music and art, which had begun to mold in the basement of that house.
"I started asking if I could borrow that stuff, just to scan it in before it got lost," Ross says. "After the second time I tried to return a box of stuff to him he was like, 'Just keep it. I don't want it. I have no use for it anymore; it's just gonna get thrown away when I croak.'"
Ross estimates he's managed to save and archive 60 percent of Cole's master tapes; an unsorted stack of Cole's art at Ross' home stands four feet tall. He's been talking with Cole's family as well, and has arranged to rescue the rest of the vault from being tossed in a dumpster.
VIA JASON ROSS
Some of Cole's original artwork.
"I got in touch with his brother right away and explained the situation," Ross says. "We had a few very lengthy conversations since [Cole's passing], and he completely understood. So I'm gonna help clean out his house, and he's given me permission to take all the rest to create this archive that I've been working on. So that's great — I know the stuff is safe and it's gonna be in my possession."
Still, he admits, "I don't know what I'm gonna do with most of it."
But that's OK. Cole had really only been creating this stuff for his own amusement, anyway, Ross says — a true outsider artist. That his work was able to reach people around the globe was just a happy bonus.
"There were three different Japanese bands that had covered his songs and had sent him tapes or records," Ross says. Cole had also gotten letters from the likes of Thurston Moore and members of Pink Fairies, who counted themselves as fans. "A bunch of other bands had covered his songs and stuff, and he became pen pals with some, but he kept that stuff separate just to show people, like, 'Look, somebody
does
care about my music.'"
Probably more than you even knew, Bruce. Rest in peace to a true St. Louis original.