LINCOLN JAMES
Chicago producer Bennie D poses with the Fresh Produce trophy.
Aye Dre looks rattled.
It's the final round of the Fresh Produce Beat Battle at the Monocle on April 4, and all eyes are on the St. Louis producer in a black Cardinals hat and a shirt that reads "Beats & Blunts & Bourbon." He's standing on the room's small stage and scrolling through the FL Studio program on his laptop. He's going to need something good to top the beat that was just delivered by Chicago-based producer Bennie D, a full-on banger based on a Jodeci sample that left the crowd of 100 or so in complete shock.
"Aye Dre's over there shaking," host Matt Sawicki says. "He's shook."
Aye Dre promptly shoots a look at Sawicki, wordlessly conveying that the competition is not over just yet.
"Oh he's
not
shook!" Sawicki responds. "He says he's got something else, huh? Wow.
I'd
be shook."
The Fresh Produce Beat Battle has deep roots in St. Louis, but in the past year it's really kicked into high gear. Initially founded by DJ Who and Ben Stein of Basement Sound System, it was a feeder for Cincinnati's vaunted Scribble Jam festival. Scribble Jam held its last event in 2008, but the beat battle continued under the Fresh Produce name, with monthly competitions held through 2011.
In 2015 Fresh Produce returned with regular monthly shows at Atomic Cowboy, and occasionally the Demo. In July it moved to the newly opened Monocle in the Grove, hosting shows on the first Wednesday of each month. It's become a monthly party that pits some of the area's hungriest up-and-coming beatmakers against one another for the amusement of an ever-growing crowd.
The stakes are high. $300 worth of prizes are on the line, including $100 of studio time at Sawicki's Suburban Pro Studios and $100 of tattoos from Tower Classic.
Bennie D looks confident. He's standing stoically on the other side of the stage, clad in a leather jacket, glasses and a beanie. The only producer on the program who traveled hours to be here, he's been bringing the heat all night.
Aye Dre's last track of the competition is a beat featuring a sprawling soul sample buried under a bunch of 808 kicks and skittering hi-hats. "It'll be a symphony/composed to you by me" a singer coos on the looping sample, rather appropriately.
The St. Louis-based producer was a last-minute fill-in. Sawicki approached him at the start of the show, asking if he had any hot beats in his pocket. Considering that he's made it to the final round, with six competitors felled in his and Bennie D's wake, it is clear that he did.
But it's not to be. Much as this St. Louis crowd would surely love to root for the home team, there's no denying that Bennie D took this one. This month's judges — producer and head judge JBJR, Farfetched's Darian Wigfall and Charles Purnell, and producer Vandalyzm — adjourn to tally their votes. Ten minutes later a consensus is reached, and the producers return to the stage for the announcement of tonight's winner.
"I'm just gonna be honest with you guys," Sawicki says. "Chicago took it home tonight. Wow."
Bennie D is presented a triangle-shaped trophy with a speaker mounted in the middle of it — to the victor go the spoils.
"Make some noise for your April 2018 champion!" DJ Mahf says. The crowd enthusiastically does just that before filtering out of the Monocle's back room, back to the bar or out into the cool spring night.
Hometown pride aside, JBJR sees the win as a good thing for the ever-expanding event.
"We've been seeing people more and more and more from out of town," he says. "And that's something that's beautiful, because that's exactly what we want."
The rules for the show are simple. Producers who are interested in competing fill out a submission form on Fresh Produce's website. Sawicki and others then choose which acts will perform, and those producers record short video interviews with Fresh Produce. Those videos are posted on social media and used at the event itself to introduce the different acts. DJ VThom usually mans the ones and twos between rounds. (Since he's on tour in Europe during tonight's event, DJ Mahf subs in.)
There are three rounds and eight producers. Their names are put into a hat, and then a tournament bracket. Competitors play paper rock scissors to determine who will go first in each battle. In the first two rounds, each gets to play one minute of music they've made; in the final round, each plays two separate minute-long tracks.
It's been this way since its inception more than a decade ago, but in recent months, the event has brought in ever larger crowds. JBJR credits the Monocle for a lot of that explosive growth.
"How far we came, coming from our old existing spot to our new current spot that we're in right now — that gave us an increase," JBJR explains. "Shout-out to the management for being as cool as they are with everything. It helps everything, all around. It's true synergy coming here, and everything just falls into place exactly how it needs to."
Sawicki, who does a hip-hop podcast with JBJR called
Fruit of the Boom
, has been helping host Fresh Produce for a little more than a year. Prior to that he was simply a sponsor offering studio time, and sometimes a judge. He explains that DJ Who, the show's longtime host, decamps to Colorado in the winters to ski.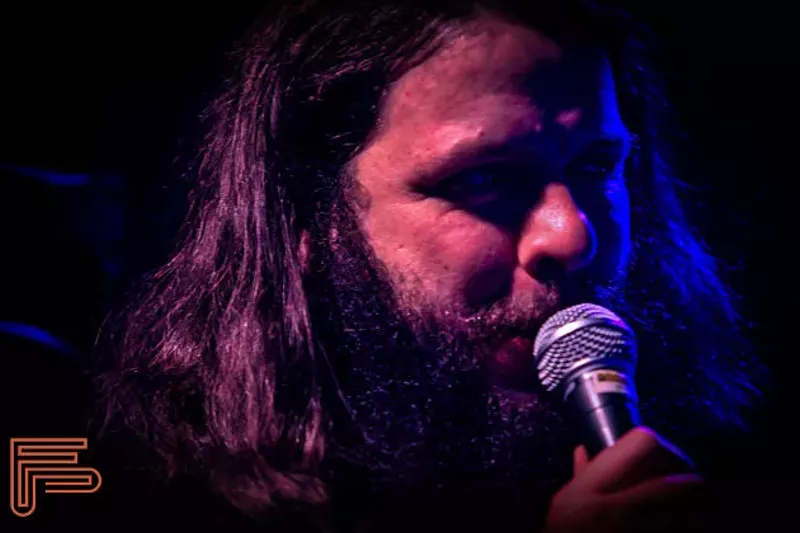 Matt Sawicki has been hosting Fresh Produce since November 2016.
"When he moves out there we need somebody else to host it," he says. "So I stepped up and and started doing hosting because of that."
Competitors typically come preloaded with music — this isn't as spontaneous as rap battles can be. Most producers play music they've created at home off of their laptops or cellphones. The equipment that would be necessary to create a beat on the fly can be prohibitive on a technical level — though there are some exceptions.
"Last month we had a guy, C Major; he came from Memphis," Sawicki says. "He brought his MPC — he's got a new one that's battery-powered and he can just carry it around and plug it in as easily as any of the other guys with their phones. That's crazy.
"Most of the time with an MPC you're talking about a 1990s piece of technology. You gotta plug it in, it's got a SCSI drive, it's gotta turn on. That shit ain't easy at all," he continues. "So he's playing his beats and live chopping them because he's got a touchscreen and he's playing along with it. I support that more than anything. I think that's the way to go."
Still, it's not a common approach.
"Only one or two guys will ever do that in a whole year," Sawicki says. "I feel like as the exposure grows we'll get more of it and people will raise the bar."
Naturally, C Major took the win for Memphis in March. Before that, in February, Chicago's Don P Beatz won. Both victories were decided by the crowd, which gets its own vote by way of an SPL meter that measures the volume of its cheers.
Now, with Bennie D's April victory, St. Louis has not won its own beat battle for the last three events. May's show will be a special edition of the event, celebrating the release of the collaborative album
Tropikoro
by Fresh Produce veterans Paces Lift and Ben Bounce. It will also bring Chicago back to St. Louis by way of producer Custom Made. The hometown heroes on the bill — Klevah!, Major88Keys, SK Mazeratii, TRUE On Tha TRAC, Centipede, Nico and Mr.C — hope to take back the prize.
Regardless, Fresh Produce will stay winning. The event is clearly catching on in other cities, who are exporting their talent here. It's even recently picked up sponsorships from Urban Chestnut and Red Bull.
As far as Sawicki is concerned, the sky is the limit.
"We're trying to figure out more," he explains. "We're getting more sponsors and trying to get more people involved. I'm looking at software companies and people like that to try to get us some giveaways and stuff. We really want to get a bourbon sponsor, too, because we do these 'beats blunts and bourbon' shirts. So we just need to find a bourbon sponsor.
"And then we need legal weed in Missouri," he adds, "and then we're gonna be on."
Fresh Produce Beat Battle
9 p.m. Wednesday, May 2. The Monocle, 4510 Manchester Avenue. Free. 314-932-7003.