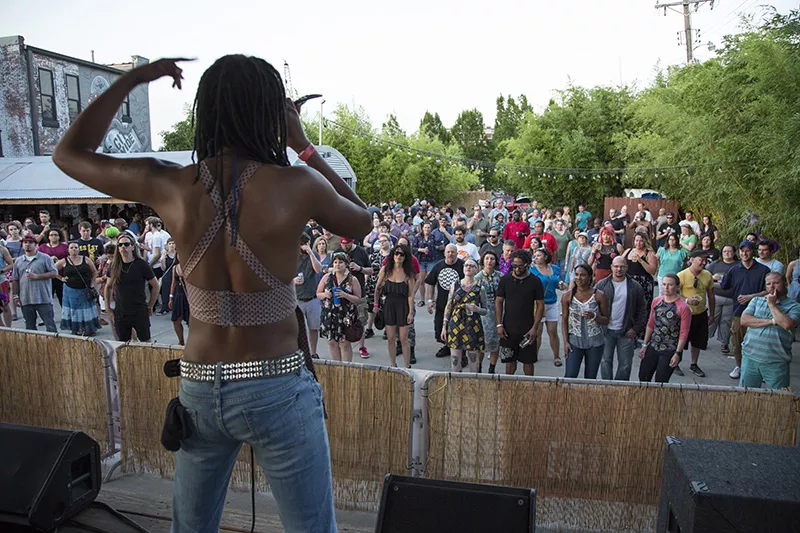 SARA BANNOURA
Mathias & the Pirates are just one of 70 local acts already announced for ShowcaseSTL 2018.
Have you ever looked at a festival lineup and thought that you or your band was missing from that list? Yesterday
we announced ShowcaseSTL 2018
, our annual concert crawl in the Grove with more than 100 performances across June 16 and 17. For now, only 70 acts have been announced. That leaves roughly 30 slots open.
No, it's not shoddy math. This was all by design. While we did our due diligence to produce an all-inclusive concert crawl, we thought we'd break the mold of festival booking and open up submissions to all.
However, there are a few caveats. First, applying to perform does not guarantee you a spot on this year's event. We will likely receive more submissions than we have time slots, but we can guarantee serious consideration to anyone who reaches out.
While the event does feature traditional venues such as the Ready Room and the Bootleg, the core of ShowcaseSTL is transforming non-traditional spaces into a concert stage. Acts who can adapt to a smaller space or quieter setting are more likely to be booked.
To those who haven't been scared away, send an e-mail to
JosephHessMusic@gmail.com
with the following:
1) Subject line with "Band Name for ShowcaseSTL"
2) Link to recorded music (or video)
3) Link to any social media pages or official websites
4) Just a little about your band and what you do. No more than 100 words, please. Include your genre or a close approximation.
Submissions are open until Wednesday, April 4 at 11:59 p.m. If you'd rather share your recommendations or a list of your favorite local acts, please do so in the comments section below.
For those already gearing up for ShowcaseSTL 2018,
all-access wristbands are now available!
Early bird tickets start at $10 a day or $15 for the full weekend. More information on ShowcaseSTL at
www.rftshowcase.com
.