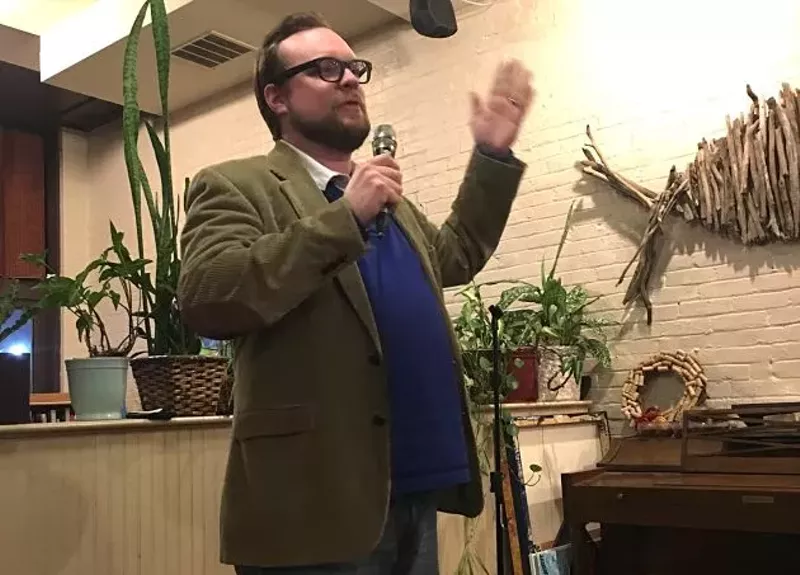 THOMAS CRONE
St. Louis comedian Tom Brown performing at Cup N' Cork in Cape Girardeau.
On any given weekend, comics from the St. Louis area are found in cars, be it solo or in small groups. They're battling rush hours all over the region, for one-night engagements in Illinois locations like Breese, Mason City or Peoria; or Missouri towns like Columbia, Centralia and Perryville. Jokes are told, with wildly different reactions, in far-flung locations as diverse as VFW Halls and corner taverns, with the occasional comedy-only club thrown in as an exception to the rule. While many of these are one-off shows, they sometimes combine with another gig for short, weekend runs.
And for their troubles, these comics are guaranteed a few dollars, and precious little else.
On Friday, March 16, the eve of St. Paddy's Day, a handful of St. Louis comics descend upon a quaint, downtown Cape Girardeau coffee shop and wine bar, Cup 'N' Cork. Brightly lit and scarcely transforming from its regular use as a cafe, the venue was booked by Riverside Comedy's promoter Tom Cook, who will host and introduce a lineup that swelled to nine performers, once local support was added. That's a healthy number, considering that only around a dozen people not affiliated with the show are in attendance, though it wasn't for lack of Facebook promotion.
"I've only done comedy exclusively in the social media age," says St. Louis comedian Brandon Judd, one of the night's performers. "I don't have a comparison for how these shows used to come together. There's something of a punk rock/DIY ethic to it, with plenty of couch-surfing going on. We're so much more connected today. If I'm going to any city or whatever, it's 'Who do I know here?' You get tons of responses, places to stay and offers of other shows to do. That connectedness has gotten us where we are."
For this show, Cook, who frequently performs in St. Louis, brought in Lucas Hinderliter, Rich Braun, Nick Cuvar, and Judd and the comic who shared a ride down to Cape with him, Tom Brown. If the show lacks for demographic diversity, the comics, at least, bring a sense of variety, with Brown following Cook with a ten-minute set and Judd headlining with a half-hour set that stretches a few minutes beyond. Through no fault of their own, the little coffeehouse in downtown Cape has an equally little crowd, so the room's energy is, to put it mildly, quirky.
"I mostly go on early, anyway," Brown says. "I want them to think, 'This guy's got so much energy.' What's going to help me have people pay attention to me is to bounce off of the walls, see if people are having a good time. It can take a little while for the club to laugh at things, to get into it. If it was a club show, there'd be the MC, the feature and headliner and, by then, the people are really into it." This one, though, added six performers to the mix.
By the time Judd takes the stage, loosing the microphone from its clip and sizing the up the audience after an hour and a half of jokes and eight other comics, his job is, in some respects, to sharpen his own set and to coax whatever laughter is left in the room. When one gag lands, he jokes about appreciating "your measured responses." Poking, prodding, pacing, Judd delivers a technically excellent set, with a solid delivery that falls upon an audience reacting like a family around the Thanksgiving table, simply worn down from too many courses.
By no means does Judd bomb, as surely proven by the recording that the self-professed "digital hoarder" was rolling for the set. He's been a part of nights like this before and can remember all sorts of different responses by comics to indifferent audiences. For example, he recalls a night with one of St. Louis' premier road dogs, Eric Brown.
"If it dies," Judd says of an evening, "I'll just let it die. I have seen things go badly and was out with Eric Brown one time, in Bloomington, Illinois. It wasn't starting off well and at that point, he decided to tell the crowd that he was going to kill them. He started telling them how he would kill them and he did that for the next fifteen minutes." If the crowd didn't dig the set change, the other comics all did, Judd admits. "We all found it entertaining."
Inside Cup 'N' Cork, with the lights up, the mirror facing the comics, the sense of quiet (interrupted by the occasional clang of glassware) it was tough sledding. At one point, during Hinderliter's set, a pair of customers sat behind-and-below him, in a recessed seating area; they were talking loudly and generally derailing his act, though he battled through and his direct engagement tamped the worst of it.
As Judd says, "between the crowd, a place that serves food and certain operational things… all of that affects the way the crowd reacts. I watch all the other people, too. We're all living in a certain time and can use similar subject matter, so you don't wanna step on things they've done. Like, I've been on a show where three comics in a row had a bit about kidnapping. Here, tonight, it's the beginning of St. Patrick's Day, where you can always get a little hesitant, or a little worried about the crowd. And you don't know if there's going to be something like 'three shots for $5.'"
Instead, on this night, they had the opposite: uncommon calm. The comics gathered, flowing in about an hour prior to the announced set time of 7 p.m. They traded greetings and just as many insults, ate their free sandwiches and slices of pie and sketched out notes in longhand around a common table. They prepped for the evening as they would for any other gig.
"I used to be pretty uptight," Judd says, "I'd get real uptight right before going on. Now, my ritual's to drive to a show, generally listening to really aggressive music. I get my voice out, do a lot of screaming. I use a bit of visualization and remember that I'm just hanging out with a bunch of people and am talking to them."
For Brown, whose best-ever shows were at a Moose Lodge in Centralia and a Knights of Columbus hall in Poplar Bluff, "it's about imagining how a show's going to go, how I'd like it to go."
And sometimes the show just… goes. On this random Friday night in southeastern Missouri, the comics came, they socialized, the ate a communal meal and one-by-one, they left, heading north in a driving, late-winter rainstorm. (And for Hinderliter, the conclusion of his set preceded his smoking cigarettes outside with the ladies who talked through it; go figure.) With variants, it's the kind of thing that happens with regularity, St. Louis comics taking to the road every weekend as they chase the dragon of a perfect set, perfect crowd, perfect peripherals and, at least, a bit of spending money.
Sometimes, as Judd says, there's a collective shrug and realization that "that was weird wasn't it? And we were all witnessing the same thing."
Sign up for our weekly newsletters to get the latest on the news, things to do and places to eat delivered right to your inbox.