Dana Plonka
Frank Turner at Barracuda
By early evening on Saturday, March 17, the final full day of SXSW 2018, word spread that the premier event, a street party featuring the Roots and its innumerable guests, was cancelled. "Serious security concerns" was the official statement. The Austin Chronicle and others
reported a bomb threat
. (By Sunday morning, an
arrest had been made
in relation to the threat.) To say the city has been on edge since the previous week's three package explosions (the bomber is still unknown) would be cliché, and it would be wrong. Families have been shattered, and the attacks have haunted this year's SXSW. But the parties continued. SXSW
has seen violence
and the threat of violence before.
But this year was different. The juxtaposition of random terror with the seeming normalcy of SXSW's festive chaos felt surreal. One hears about things like a bomb threat and a pop-up appearance by Bill Murray on fucking Twitter. But at least one performer made a deeper acknowledgement: Austin's own Jaimee Harris took the stage at the Driskill Hotel with the name Draylen Mason, an Austin musician killed by one of those bombs,
taped to her guitar
. I didn't see her perform, but it was one of the most moving statements of the week.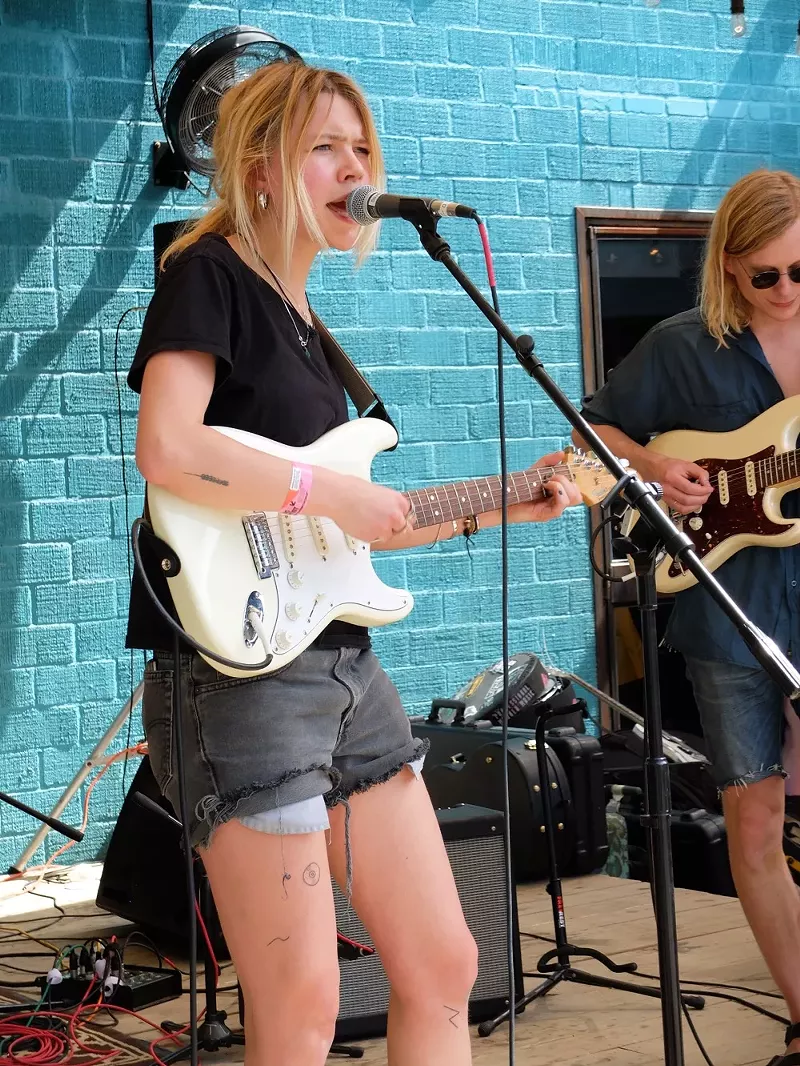 Dana Plonka
Hater at Lazarus Brewing
My Friday in Austin began with a band called Hater. I had seen the young Swedes the evening before: a dreamy little set in a downtown punk-rock club. This time, in the full blaze of the midday sun, they performed at a Music For Listeners party at Lazarus Brewing, one of the newer microbrew joints in East Austin. If such sparkling indie pop seems easy, that's precisely what makes it so hard, so unlikely. Chemistry might explain it, as singer Caroline Landahl harmonizes not with her bandmates' voices (they don't sing) but with the ringing guitars, the slinky rhythms, the avid melodies. She has words too, though they're incomprehensible, as the inarticulate speech of rock & roll composition often must be.
Dana Plonka
Soccer Mommy at Urban Outfitters
In the back lot of Urban Outfitters on Gaudalupe I consumed free beer and music from Soccer Mommy, aka Sophie Allison, who brooks no bullshit ("You're beautiful!" a dude yelled. "What do my looks have to do with it?" Allison sneered. "Whatever. I'm just playing music.") And smart, tight, rough-edged music at that.
On the northwest edge of town, not far from strips of chain stores and unending condo construction, one finds an archipelago of co-op apartments in neglected mansions and weathered '60s motels, and, this year, a whole lot of free parties with warm Lone Star and warmer bongs, warmer still quinoa chili. I'd hoped to see Philadelphia's Strawberry Runners in the French House (its roof inscrutably topped with a dozen battered TVs), but when you start a half hour late for a party that nobody but a journalist from St. Louis cares about, even the journalist splits for another gig.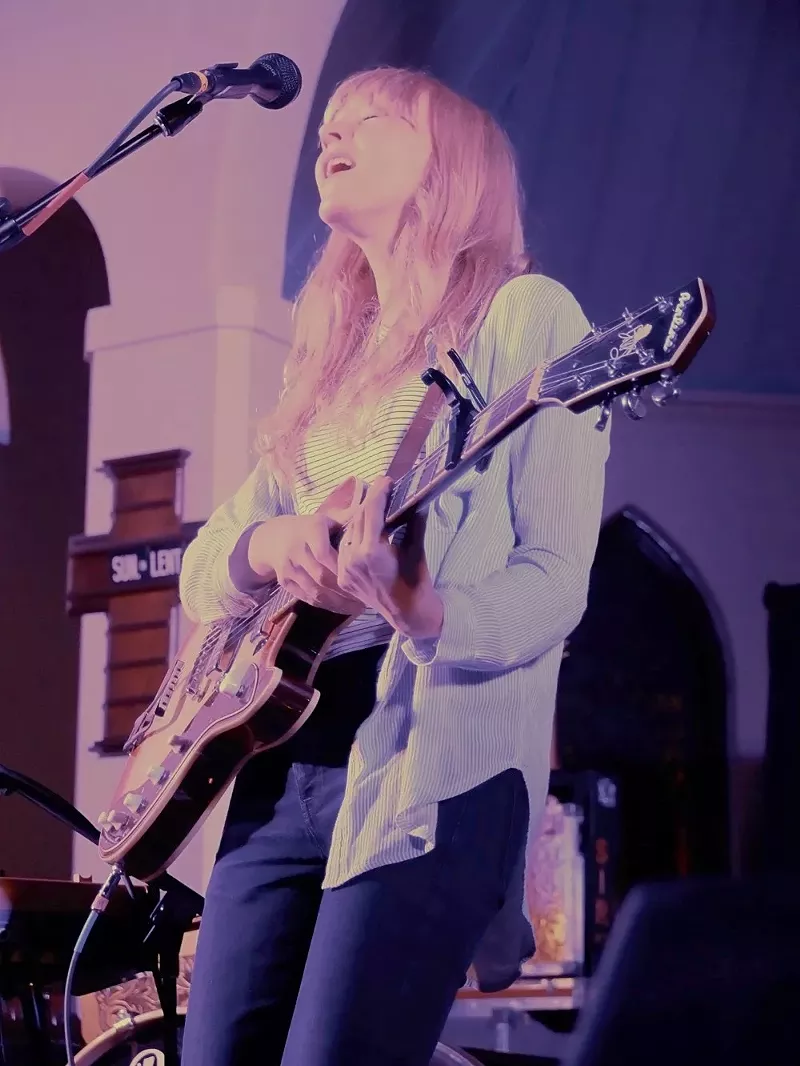 Dana Plonk
Lucy Rose at St. David's
In this case the alternative gig was an earnest, delicately voiced singer from Warwickshire, UK named Lucy Rose. She has a world-class folk presence, sweet stories of playing house shows throughout Latin America, and heartfelt songs — including her minor hit "Shiver" — to which only a jaded asshole would object. And I object. Still, her voice, regardless of the sentimental material, moved me in St. David's sanctuary.
Dana Plonka
Rita Coolidge at Cooper's BBQ
As previously noted with the Wedding Present, the opportunity to see someone you'll otherwise likely never see again presents itself frequently at SXSW. Case in point: Rita Coolidge. At the age of 72, she (sorry Soccer Mommy) looks fantastic, regal even, and while her voice has diminished with time, she still found secret country-disco pleasures in old hits like Boz Scaggs' "We're All Alone," and of course her revisionist versions of "Higher and Higher" and "The Way You Do the Things You Do." I was glad to see her for the first and likely final time.
Dana Plonka
Janiva Magness at Cooper's BBQ
Janiva Magness, one of contemporary blues' most consistent singers and record makers, followed and absolutely roared through the upstairs venue at Cooper's BBQ. She focused on her newest album,
Love Is an Army
, and original songs like "Love to a Gunfight" and "Back to Blue" sounded more than prescient.
Roy Kasten
Liniker e os Caramelows at Palm Door on Sixth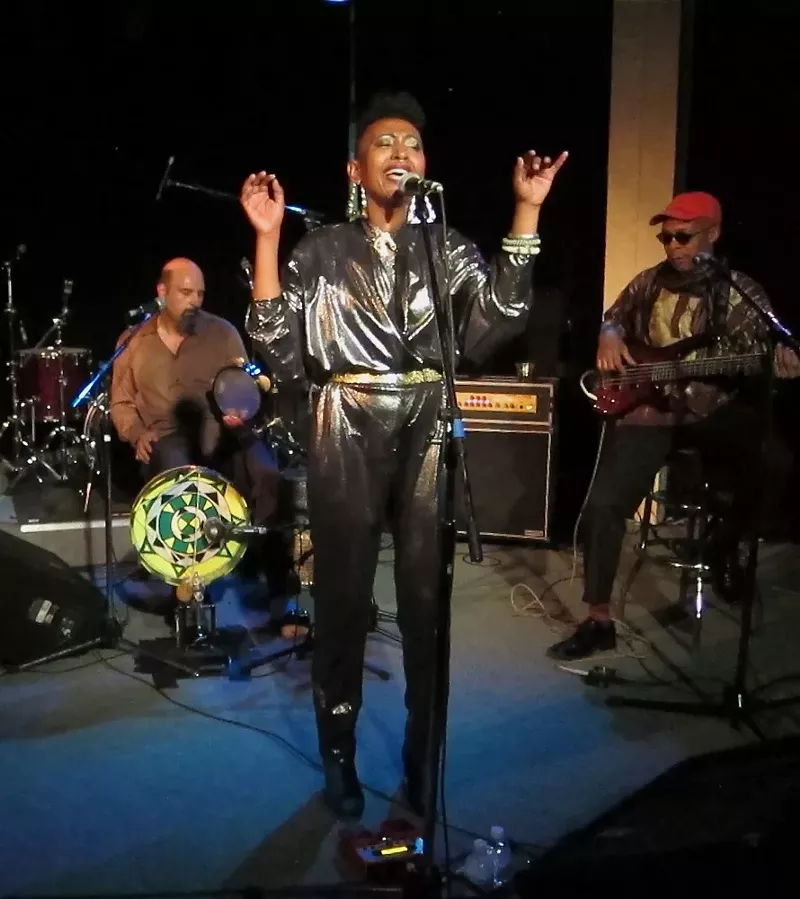 Roy Kasten
Alsarah and the Nubatones at Palm Door on Sixth
After an aborted attempt to see Senegalese band Sahad and the Nataal Patchwork (not the first showcase to run on ganja time), I caught a few joyous songs by Brazilian funkadelic group Liniker e os Caramelows and then the exquisite Alsarah and the Nubatones, who sent a small but dance-ready crowd into a swaying and spinning trance. The Sudanese-American's set, with five-string bass and oud duels sliding into polyrhythmic excursions, was among the most musically rewarding 40 minutes of my jaded asshole life.
Dana Plonka
Haley Heynderickx at Cheer Up Charlie's
Dana Plonka
Natalie Prass at Cheer Up Charlie's
On Saturday, after five hours of sleep (not bad by SXSW standards), I ventured out to Cheer Up Charlie's in the heart of Austin for the annual Brooklyn Vegan party, which boasted one of the best lineups of the whole week: Along with snatches of Andrew W.K. and mega-buzz artist Jade Bird, I took in a short, trombone-fueled performance from rising indie songwriter Haley Heynderickx and a terrific, fun showing from Natalie Prass, who has moved from soul-pop into quasi-disco pop in convincing fashion.
Dana Plonka
Fruit & Flowers at Valhalla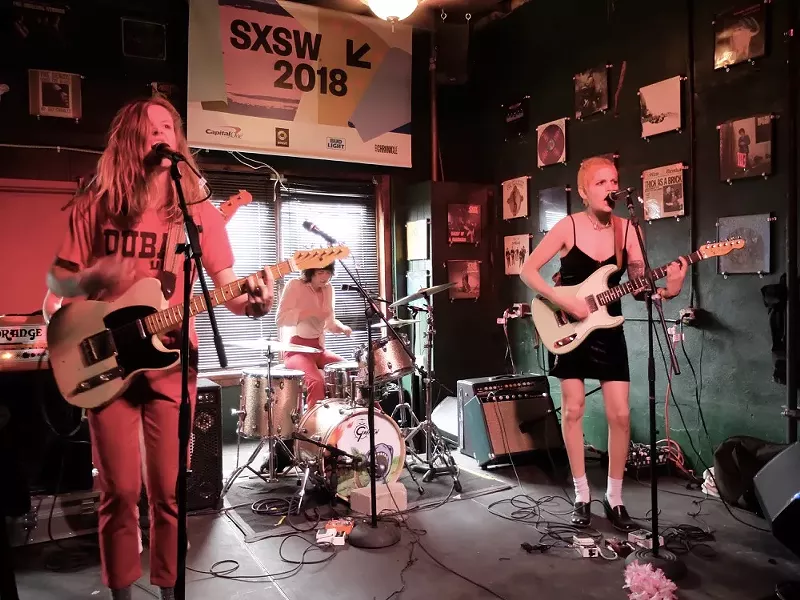 Dana Plonka
BOYTOY at Valhalla
Next door at Valhalla, I took a chance on the garagy Fruit & Flowers (B+) and BOYTOY (A+). The latter had charisma and hooks to churn, a snarling feminist presence, and that elusive but essential ingredient: punk groove. Led by Glenn Van Dyke and Saara Untracht-Oakner on stoked guitars and vocals, and featuring drummer Chase Noelle (of Thelma and the Sleaze) and bassist Lena Simon (of La Luz), this band needs a gig in St. Louis. Somebody book it, stat.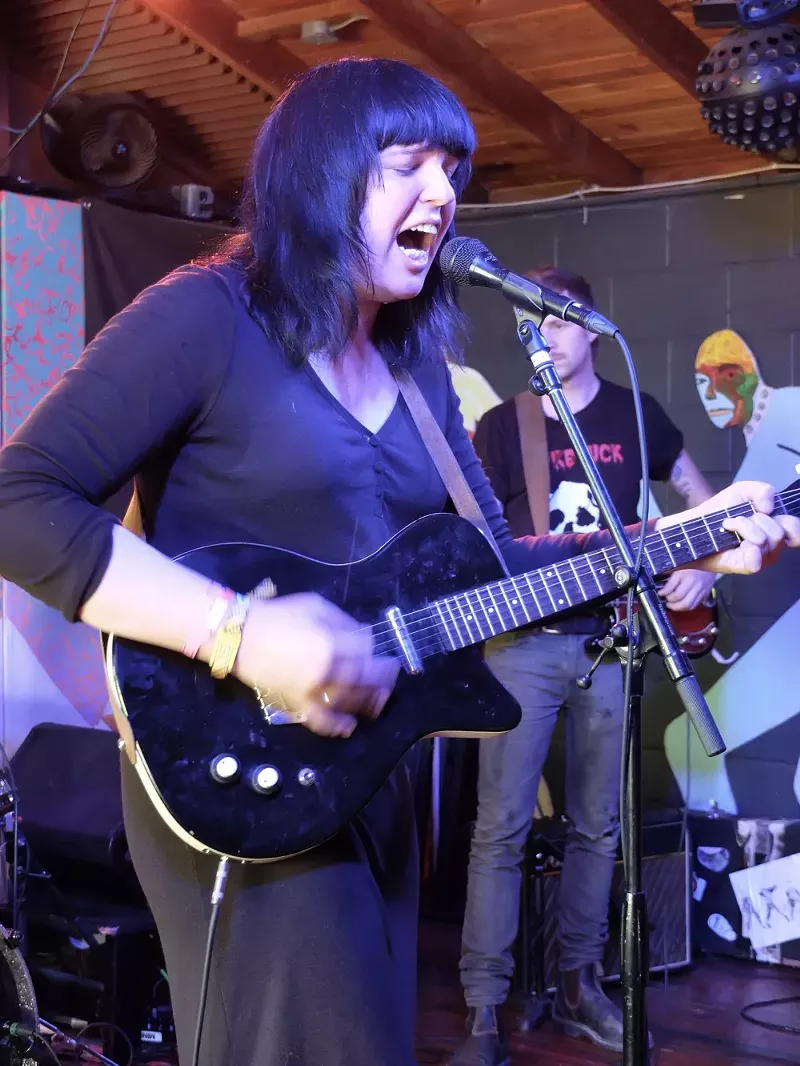 Dana Plonka
RVG at Cheer Up Charlie's
Utterly different yet of the same not-fucking-around spirit, RVG of Melbourne, Australia ripped through a seven-song set in the sweltering indoor stage back at Cheer Up Charlie's. Lead singer Romy Vager, who often sounds uncannily like Patti Smith, could barely see through the sweat but she poured out whatever she had left in the tank after a raft of shows. Terrific, heavier take on the Echo and the Bunnyman sound.
After dinner and drinks on the Driskill Hotel patio, around the corner from which Bill Murray had just
read a poem about a dog
, I took a chance on Girl Ray, from North London. I recommend never doing the same, at least not until the band invests in a round of tuners and a few years of woodshedding. To all the bloggers — looking your way Stereogum and the Guardian — who have hyped it as the "latest UK pop darling": Are you fucking high?
Dana Plonka
Terra Lightfoot at Cooper's BBQ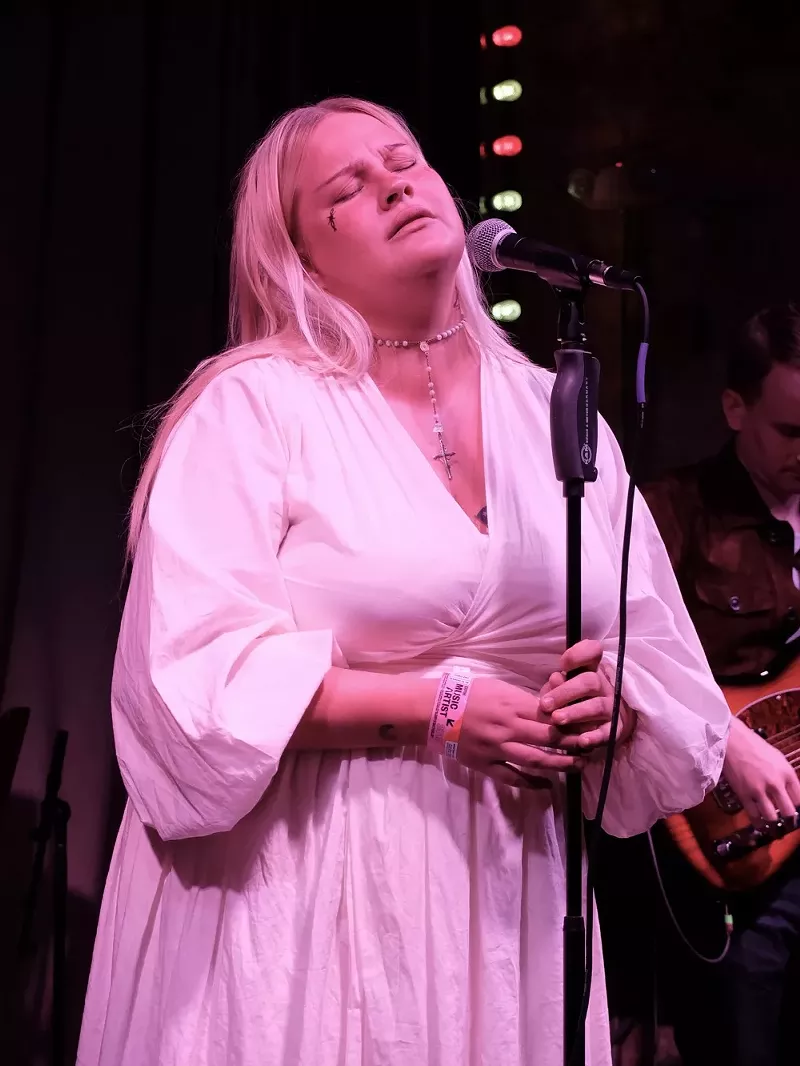 Dana Plonka
Sarah Klang at Cooper's BBQ
Back at Coopers BBQ, Terra Lightfoot threw down tough guitar-goddess blues, only to be followed by something completely different: Sarah Klang from Göteborg, Sweden. While she had no business on an Americana showcase, she also deserves no blame. With a small, somewhat shaky band behind her, she still sounded utterly original, with a powerful, at times operatic voice, and harrowing, queer phrasing that leaves this jaded asshole stumped for any comparison. I loved every bewildering, tingling moment of her performance.
Dana Plonka
The Money War at Waller Ballroom
I had hopes for the Money War, an Aussie band who sound a bit like a keyboards-free Wallflowers or Counting Crows, and who have some excellent harmonies. But something was missing from the band at its Waller Ballroom showcase. Maybe, like the sole journalist in attendance, the musicians were just about spent.
Dana Plonka
Tiny Ruins at Parish
A brief revival came from Auckland, New Zealand band Tiny Ruins, who opened with the gorgeous song "Me at the Museum, You in the Winter Gardens," Hollie Fullbrook's finest moment as a songwriter, and then turned to acoustic experimental jamming, with legendary drummer Jim White sitting in. Riveting.
Dana Plonka
Skinny Lister at Barracuda
It was time for my final showcase of SXSW 2018: Frank Turner at Barracuda Backyard. The troubadour — part Springsteen devotee, part Billy Bragg heir — had been turning up just about everywhere in Austin this week, including an impossible-to-get-into show at the British Music Embassy, and a charity performance for an Austin homeless shelter. Skinny Lister preceded him, all Celtic rage and stomp, with Turner joining the band for some mandolin chops and crowd surfing. For his hour-long, solo set, Turner banged out anthem after anthem. The fanatical crowd sang every chorus. His songs have heart and guts and politics — "Let's make America great again by making racists ashamed again" is but a sample of his genius for sloganeering — and even if each tune is a mirror image of the other, they're worth the singing and the believing. "Something as simple as rock & roll will save us all," Turner rasped out on his final song. And he, and a week at SXSW, made it feel like more than an idle hope.
Postscript: At 8:30 p.m. on Sunday, March 18, a fourth explosion in two weeks struck Austin, Texas. According to the New York Times, the explosion seriously injured two men in their 20s and occurred a few hours after Austin police made a direct appeal to the bomber.