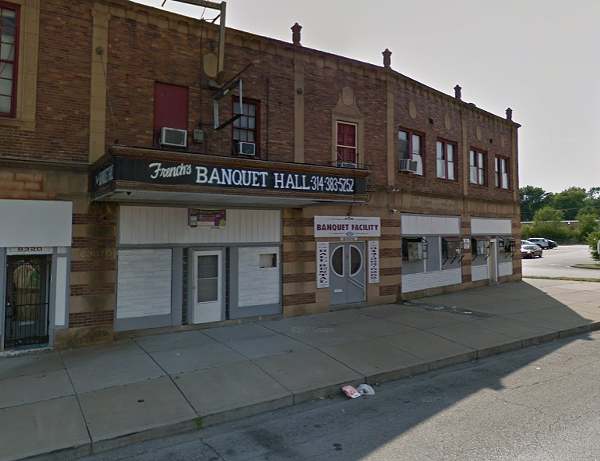 Guess they won't be getting that Applebee's.
The city's Historic Preservation Board voted 5-0 yesterday afternoon to uphold the decision that would bar the owner of 6306-28 West Florissant from demolition. The building, located at street's intersection with Goodfellow, is best-known as the former home of Club Imperial, which hosted Ike & Tina Turner, Chuck Berry and Dolly Parton in its heyday.
But the decision, an affirmation of
a denial by the city's Cultural Resources Office
, leaves the building with a far-from-certain future. A fire gutted the interior five years ago, and its current owner, Robert Vroman, picked it up at a sheriff's sale — at least the second time in the last decade it's changed hands for peanuts.
Vroman says he has reached out to numerous people who had an affiliation with the club, with no luck.
"Tina Turner's agent did not respond; Nelly's agent did not respond," Vroman
said last week
. "I also talked to Greg Edick, who is the son of the original owner who is still alive, and talked to him about the history of the building and what he had done with it, and maybe try to find some solution. It was a dead end there also."
Vroman is not himself a developer; he hoped to sell it to someone who had an interest in putting something on-site. Initial plans called for a strip mall, but after getting feedback from the neighborhood's alderwoman, Pam Boyd, Vroman had suggested they might look at a standalone restaurant instead — like maybe an Applebee's.
Still, that plan wasn't enough to appease Boyd, who attended last night's meeting to oppose the demolition permit request.
The board's denial was unanimous.
"If the Preservation Board says no, then we're gonna go in a different direction," Vroman said last week. It remains to be seen what direction that is — and whether there is hope for the building, aside from its current status as an object of adoration when it's potentially on the demolition block.
Vroman posted on Facebook yesterday that he saw little hope for preservation.
"After all the media attention, the people upset by this proposal have not visited the neighborhood in decades, if ever. The only people in the community who have contacted me are four small-business owners interested in renting space in the hypothetical new mini mall. I am not discounting the history this building represents, but all evidence points to this structure being past its functional life."
See also: Amazing Photos That Show Club Imperial in Its Heyday
We welcome tips and feedback. Email the author at sarah.fenske@riverfronttimes.com