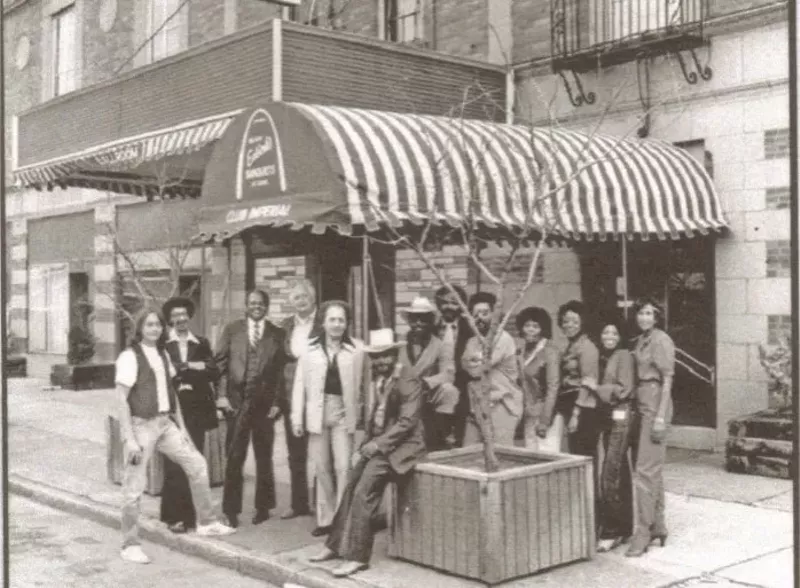 In its heyday, Club Imperial was
the
place to be. Located in north St. Louis at West Florissant and Goodfellow, the '50s saw the swingin' nightclub help launch the careers of musical luminaries from Chuck Berry to Ike and Tina Turner. It even
gave birth to its own dance craze known as the "Imperial Swing,"
a variation of the Jitterbug that is still taught in area dance schools to this day.
But now the building sits in disrepair. A fire gutted its interior some five years ago. The roof is damaged, and there is standing water in the basement. George Edick, who purchased the space in 1952, booking big-band music for a few years before shifting to rock & roll as the genre began to explode, passed away in 2002, shifting ownership to his son. By 2013 the building was sold at a tax sale to former Rams tackle Orlando Pace; when Pace ended up doing nothing with it, it went back to the city.
In 2017 it went up for sale again. Robert Vroman, who lives nearby down Goodfellow, was the only bidder. On Monday, January 22, the St. Louis Preservation Board will rule on his request to have the building demolished.
"The only person that has made an attractive offer to us, they definitely want to build something new and they've asked us to fully explore the demo permit process in order to close that deal," Vroman explains. "I'm totally open to selling it to anyone for whatever purpose, rehab or not, but there's only one offer on the table now and that's the direction that they want to go."

See also: Amazing Photos That Show Club Imperial in Its Heyday
That's not for lack of trying, Vroman says. The building is appraised at $226,000. Vroman says he reached out to a few big-name celebrities who might have the money and interest in rehabbing the spot. He found no takers.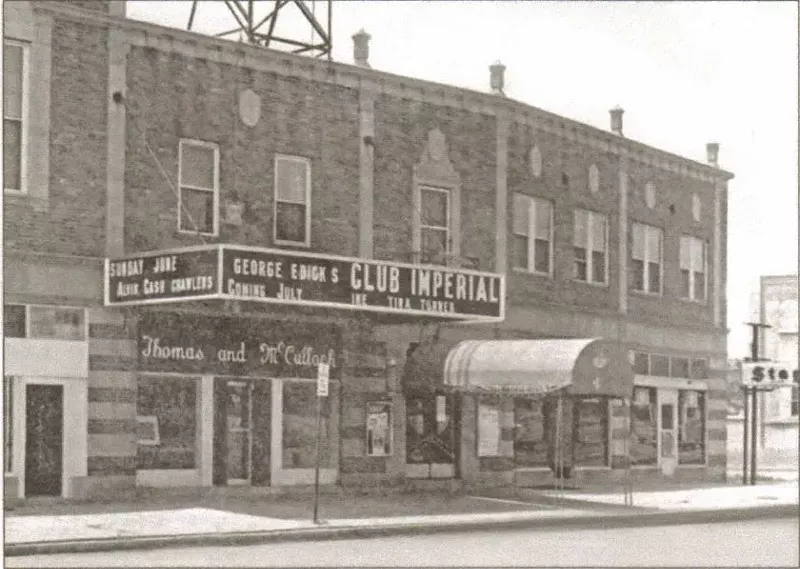 "Tina Turner's agent did not respond; Nelly's agent did not respond," Vroman says. "I also talked to Greg Edick, who is the son of the original owner who is still alive, and talked to him about the history of the building and what he had done with it, and maybe try to find some solution. It was a dead end there also."
Vroman explains that he is not a builder or developer; he does no repairs or demolitions. Of the nearly 150 properties he has purchased at tax auctions, he says, he's financed the sale of most to people local to the neighborhood where each property was purchased. That's the case with the building that formerly housed Club Imperial, too. Vroman's would-be buyer owns a business nearby, and wants to convert this property to something new.
"My job is just to facilitate that as much as possible, and if the Preservation Board says no, then we're gonna go in a different direction," Vroman explains. "But at the moment this is the plan."
The St. Louis Cultural Resources Office recently ruled that the building should not be torn down; now the Preservation Board will hear an appeal of that decision. The office took that action after Vroman's potential buyer submitted an application for demolition that suggested the property would be converted to a strip mall. The CRO denied that request.
Under city ordinance, the person proposing the demolition has the right to appeal the Office's decision to the Preservation Board, explains Preservation Board Chairman Richard Callow. A city ordinance previously established that the building is located in a preservation review district — which is different, he hastens to add, from a local historic district.
"That means that all we will consider is a request for demolition," Callow says. "And one of the things that we'll look at is what will replace it. But most of the consideration will be whether or not this particular building has to come down."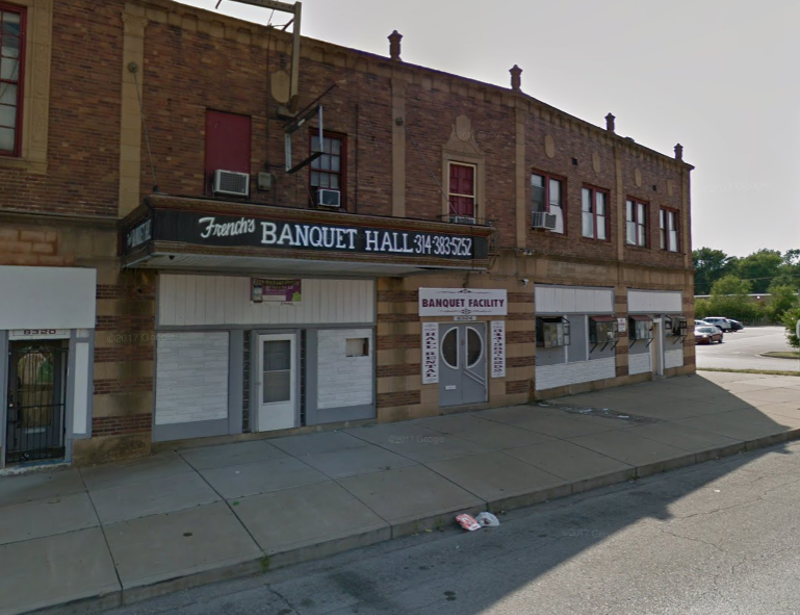 Photo via Google Maps
The building as it stands today.
The board will take testimony for and against during its meeting at 4 p.m. Monday and then review all the evidence provided. Callow says the board will reach a decision by the meeting's end at 7 p.m.
The new proposal is sure to raise some eyebrows among those who would prefer that the building was preserved.
"The first application for demolition, the alderwoman [Pam Boyd, of the 27th ward] said she'd rather have a place — she specifically mentioned an Applebee's, for example. So she wanted to have a sit-down restaurant," explains Natalie Vowell, Vroman's wife. (Vowell is also the founder and executive director of
Project Raise the Roof
, a non-profit that works with St. Louis citizens to prevent their homes from going to tax auctions.) "The demolition was initially denied because of the mini-mall and the lack of demonstration that the building couldn't be fixed. It has since been condemned. So the next step is appealing that with the new plan with — as the alderwoman suggested — perhaps an Applebee's."
Music fans and history buffs in St. Louis obviously, and somewhat understandably, bristle at the idea of a building with such rich history being torn down and replaced with a chain restaurant. After all, Club Imperial helped to launch the careers of artists including Chuck Berry, Dolly Parton, the Monkeys, Glen Campbell and Ike and Tina Turner in its day. Ike and Tina, in particular, have a strong connection to the club — the pair even released
a live album recorded
there in 1966.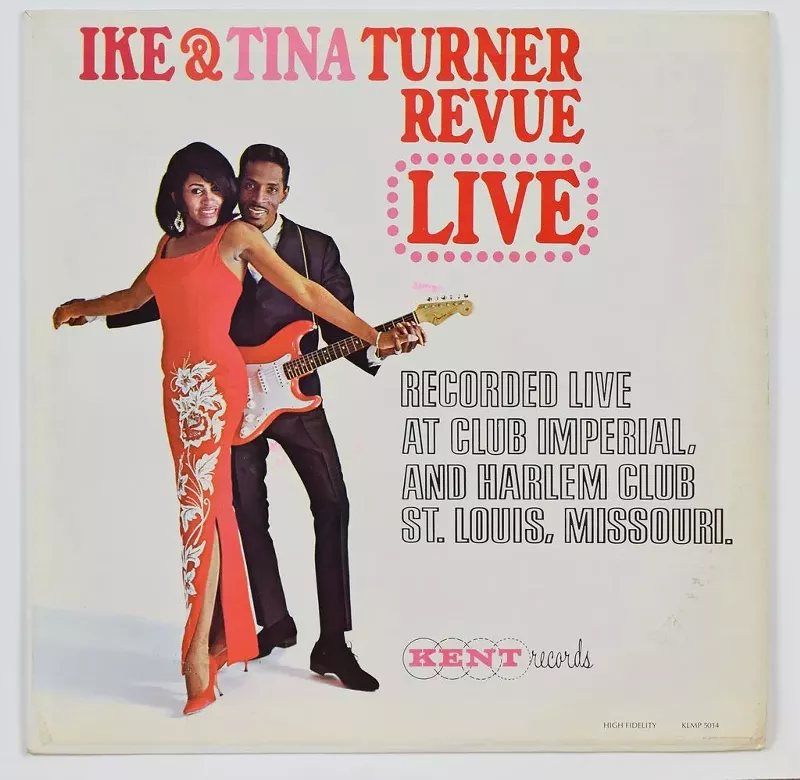 That connection started in 1954, when the Mississippi-born Ike Turner made his way to St. Louis to visit his sister, and soon started playing a weekly gig at Club Imperial on Tuesday nights. Those gigs begat more shows in town, prompting him to set up shop in St. Louis. During one show in town, he would later meet Anna Mae Bullock — better known as Tina Turner.
When Ike and Tina first recorded together, for their 1960 debut single "A Fool in Love," Club Imperial was the first place Ike took the recording.
"I wrote the song for [R&B artist Art Lassiter]," Ike
told the RFT in a 2001 interview
. "Tina was there as I was writing it. And this guy, he was going to beat me out of some money, man. He borrowed, I don't know, $80 or $90 to get some tires for his car, and he had no intention of paying that money back. So we went out to Technisonic Studios. They never did any live bands there; all they did was TV commercials and stuff. We waited on Art, and he never showed up. So Tina said, 'Why don't you put my voice on there, and when you find him, you can put him on instead.' So that's what we did. When Tina got to the part where she makes that scream — 'Hey, hey, hey, wowww!' — Ed, the guy who owned the studio, like to hit the ceiling: 'Goddammit, don't holler in my microphone!' In those days, they didn't have no limiters. I guess she rammed the needle. It was real funny.
"But that was the beginning," he continued. "There was a disc jockey there called Dave Dixon. After I recorded the song, I went out to Club Imperial, and we played it out there for some of the kids on a little recorder in the car. They said, 'Man, why don't you put it out with her voice on it?' So Dave Dixon heard it that same night. He sent it to Sue Records; they put it out, and boom, it was a hit."
The duo of Ike and Tina Turner would go on to release 15 studio albums and 68 singles together, nabbing a Grammy win for 1971's "Proud Mary." In 1991 they were inducted to the Rock & Roll Hall of Fame. Their early work helped to shape the development of soul music, and in spite of their famously tumultuous life behind the scenes, they are still thought of as a one-time musical power-couple who reached dizzying heights of success.
One can't help but wonder what would have happened if there had been no Club Imperial, no group of St. Louis kids to tell Ike he had a hit on his hands.
Still, that rich history won't get the water out of the dilapidated building's basement. Better for it to be developed into something that can generate tax revenue in an economically depressed part of the city, Vowell reasons.
"The biggest thing that I'm concerned about here is what we consider 'historic.' Because I work for — well, I volunteer, actually — to prevent people's houses from going to the sheriff's tax auctions," Vowell says. "People who have lived here for generations, who have been born there, grown up there, have families there. And no one is concerned that dozens of those people — scores of those people — lose their houses every year. And then one of these big buildings comes up and everybody is all of the sudden upset. That's where I'm having trouble really understanding this."
As for Vroman, whether demolition or rehab — he could go either way.
"I'm impartial. I bought it at the auction; I was the only bidder," he says. "We're just trying to make something happen one way or the other."
See also: Amazing Photos That Show Club Imperial in Its Heyday