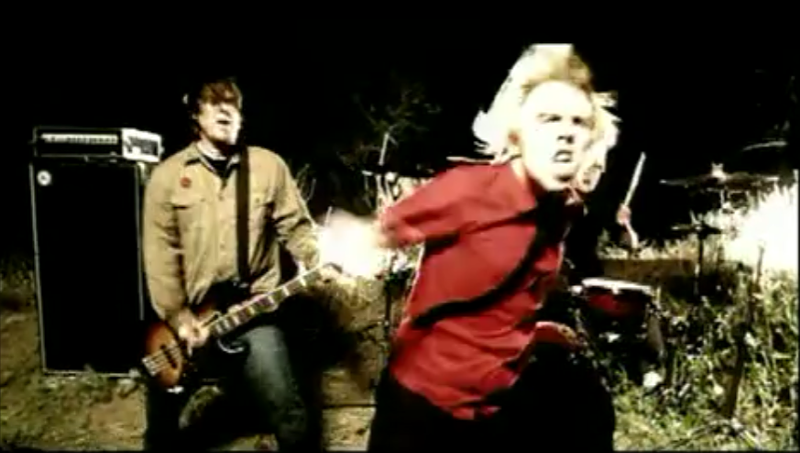 Screenshot from the video below
Michael Davenport is on the left in this screenshot from the video for the Ataris' cover of "Boys of Summer."
Michael Davenport, the bassist for pop-punk group the Ataris from 1995 to 2004, has been indicted in a real estate / telemarketing scam that is said to have defrauded roughly 100,000 people out of approximately $27 million dollars during the period between 2009 and 2016.
Davenport, 49, was charged alongside his alleged co-conspirator, Cynthia Rawlinson, 51, with five counts of wire fraud, one count of conspiracy to commit mail and wire fraud, and one count of mail fraud. The Santa Barbara, California, residents face up to 30 years in prison if convicted.
In an ongoing investigation headed by the St. Louis Field Office of the Chicago Division of the United States Postal Inspection Service — a bafflingly named bureaucratic entity that is located in St. Louis, apparently — investigators allege that Davenport and his accomplice operated a Santa Barbara-based telemarketing business that went by various names, but most often by "American Standard," which is
also the name of a well-known company that makes toilets
(might have been a clue for more savvy would-be rubes).
As
first reported by the Santa Barbara Independent
, the company took out ads on Craigslist for what they termed "pre-foreclosure" homes available at below-market prices. People who responded to the ads would then be told they had to pay a fee of $199 to see the full information on any property. According to the indictment, "The salespersons also said … that the customers could purchase the houses by simply taking over the homeowners' mortgage payments, and the deeds to these homes would then be transferred into the customers' names."
As with all things that seem too good to be true, it was too good to be true.
According to prosecutors, once the $199 fee was handed over, victims would learn that the houses listed by American Standard either weren't for sale or, in some cases, simply didn't exist. Refund requests were met with outrageous and implausible demands from the company, including a 90-day waiting period and a request that victims include five copies of a letter from the homeowner proving that the home was not actually for sale. Even when those hoops were jumped through, according to the indictment, no refunds were issued.
Davenport is named as the owner of American Standard in the indictment; Rawlinson as the company's sales manager. Both Santa Barbara-based call centers operated by the company were
raided by FBI agents in October 2016
. Davenport was arrested last month at the Bill and Hillary Clinton Airport in Little Rock, Arkansas, with more than $104,000 in cash on him, which authorities seized. An additional $850,000 in his bank account is also in the process of being seized.
At least 104 of the victims of the scam live in southern Illinois, not far from where the Ataris formed. (The band formed in Indiana.) As such, the case is being handled by the federal courthouse in East St. Louis. Davenport and his alleged accomplice were scheduled to be arraigned today, January 17, but attorneys requested a continuance. The new date is March 6 before Magistrate Judge Donald G. Wilkerson.
Davenport performed with the Ataris from 1995 to 2004, and again for a reunion tour in 2013/2014. The group is best-known for its 2003 cover of Don Henley's "The Boys of Summer" — a version whose sole innovation is subbing in "Black Flag sticker" for the famed "Dead Head sticker" gracing that Cadillac. If you're wondering why a semi-successful pro musician would turn to a life of crime (allegedly!), you might find answers in the fact that the group's big claim to fame is, yes, a cover song.
Go ahead and watch the video for that below, and try to see if you can figure where it all went wrong for Davenport. Odds are he's doing exactly that right now, too.