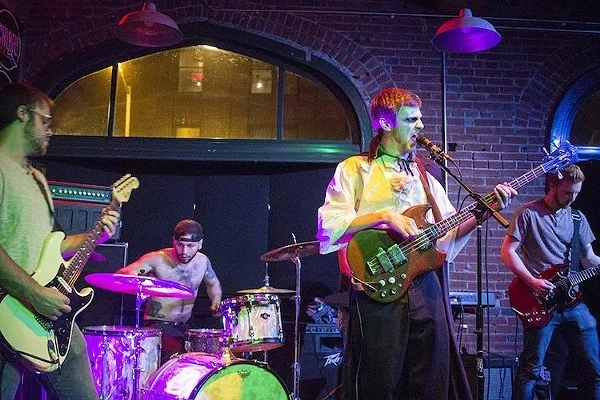 Photo by Mabel Suen
Dracla performs on Friday at the Sinkhole alongside Hell Night and Slow Damage.
Whether your holiday spirit is still going strong or has totally diminished, the weekend ahead offers ways to fully immerse one's self in everything Christmas or avoid the jingle bells altogether.
One glaring omission from the list below is Smino, but that's only because unless you're willing to pay a premium on StubHub or some other scalping site, consider the show firmly sold out.
FRIDAY, DECEMBER 22
Big Jolly and the Fa La Las
w/ The Magnificent Kevin, You Can't Dance to Pain: a Tribute to Jawbreaker, The Uppers
8 p.m. San Loo, 3211 Cherokee Street. Free. 314-696-2888.
While the "War on Christmas" is mostly a paranoid myth, a show poster with "Fuck Christmas III" at the top surely
seems
offensive. It's funny then that this concert, even with the shock-rock vibe, still operates with holiday spirit aplenty. Led by Big Jolly and the Fa La Las, a Christmas punk band that claims to hail from "Jolly Old England," this full night of raucous rock aims to raise funds for Sweet Celebrations, an organization that provides underprivileged children with birthday parties.
Hell Night
w/ Slow Damage, Dracla
8 p.m. The Sinkhole, 7423 South Broadway. $10. 314-328-2309.
By Daniel Hill
Move over Santa, there's a new annual gift-giver in town — and the presents it brings are way better than that crap your elves have been cobbling. We're referring, of course, to Hell Night, St. Louis' premiere peddler of metal-damaged hardcore punk — a band now on its fourth consecutive year of Christmastime releases. This year's offering is the "Cancersise" single (with "The Sequel" on the b-side); if Hell Night's past output is any indication, expect buzzsaw guitars, piercing vocals and hard-hitting drums running classic rock and hair-metal riffs through a Bad Brains filter. Hell Night is fast, catchy and heavier than a dump truck full of bowling balls — just the music you need to survive this holiday season.
The Hooten Hallers
w/ The Maness Brothers, Brainpal
8 p.m. Off Broadway, 3509 Lemp Avenue. $10-$12.
While the Hooten Hallers spend most of their year on the road, the Columbia, Missouri natives have something of a second home here in St. Louis. In addition to being a mandatory tour stop, the river city is the birthplace of Big Muddy Records, who put out the band's self-titled album just this past April. The trio's pre-war blues comes freshly poured through a punk filter, making for a brand of Americana that genre purists might balk at — good, more for the rest of us. Think of this as a kind of homecoming not only for the Hallers but for the Maness Brothers as well, who spent most of October touring Europe with their roughneck-brand of bluesy rock and roll.
Mia Borders Trio
10 p.m. Broadway Oyster Bar, 736 South Broadway. $8. 314-621-8811.
By Roy Kasten
Unless you're a obsessive follower of New Orleans music, you get a pass on not knowing Mia Borders from M.I.A. But given her decade-long career and prolific recordings (nine releases in as many years), Borders deserves a bigger audience outside the Big Easy festivals and juke joints. With a deep, supple tenor voice, somewhere between a young Irma Thomas and Etta James wandering into a jazz lounge, and a restless, at times blasphemous way with roots music styles, Borders is the real deal. Last year's
Fever Dreams
has a cool pop sheen (drum machines!) and a flirtation with reggae-funk, but mostly serves to showcase her ever-maturing songwriting and instinctive phrasing. See her now before she takes over the neo-R&B world.
Phat Buddha 2017 Holiday Ball
w/ Ol Skool, Zion, Nite Owl, The Scandaleros
8 p.m. The Bootleg, 4140 Manchester Avenue. $5. 314-775-0775.
As Phat Buddha comes up on twenty years in 2018, it celebrates a two-decade tenure as one of St. Louis' best outfits for recording and production with a holiday ball. The lineup here doubles as a top client list for the studio, offering a genre span of R&B, Reggae and Rap with a Jam band to round out the show. One standout for the night is Nite Owl, who re-ups his status as a cunning wordsmith behind the mic while unleashing his latest record — captured at Phat Buddha, naturally — to the world.
Sean Canan's Voodoo Players Tribute to Tom Petty
8 p.m. Delmar Hall, 6133 Delmar Boulevard. $15. 314-726-6161.
By Christian Schaeffer
Look at local show calendars and you'll note that these days most venues are packed with either holiday-related shows or tribute concerts — to wit, the pig-flying, wall-building behemoth that is the El Monstero Pink Floyd tribute will be setting up camp at the Pageant until the new year. But right next door at Delmar Hall comes a tribute on a smaller scale but with a big heart; Sean Canan's Voodoo Players pay tribute to the dear, departed Tom Petty and his Heartbreakers with an airing of his best-loved songs. The Voodoo Players have had a characteristically busy year, with weekly rotating cover sets at the Broadway Oyster Bar each Wednesday and some larger scale shows throughout (including a memorable memorial for Prince in April). But given Petty's sudden and still-shocking passing this fall, this weekend's tribute will have special resonance.
Tim Pilcher & Monica Lord
w/ Solid Waste, Oxherding
9 p.m. Foam Coffee & Beer, 3359 Jefferson Avenue. $5. 314-772-2100.
Tim Pilcher & Monica Lord's self-titled debut dropped with a strong subtlety this past July, offering a deep venture into the duo's interplay of Celtic folk, roots and classical guitar. Lord provides a deep and looming underbelly by way of cello, but her register isn't restricted merely to low tones. Perhaps in reference to Pilcher's own synth work as a solo act, the opening acts Solid Waste and Oxherding offer a firm electronic foil to the string-based proceedings.
SATURDAY, DECEMBER 23
El Monstero
8 p.m. The Pageant, 6161 Delmar Boulevard. $27.50-$75. 314-726-6161.
Facebook ads and radio spots might have the promotion for this show on lockdown, but we here at RFT would like to take a moment to remind you that we produced a
short comic promoting St. Louis' own genetically modified clones of Pink Floyd
, illustrated by local artist Curtis Tinsley back in 2014. Of course if this weekend is not good for you, El Monstero also performs on December 28th, 29th and 30th.
The Fuck Off And Dies
w/ Bruiser Queen, The Radio Buzzkills, Blackwater 64
7 p.m. The Firebird, 2706 Olive Street. $10-$12. 314-535-0353.
The second show on our list to prominently feature the word "fuck," this night offers the "don't call it a side project" of Story of the Year singer Dan Marsala with the Fuck Off And Dies. The band's
Merry Fucking Christmas EP
should be enough to cement its place in the annals of St. Louis holiday tradition, but a certain four letter word might prevent the kind of love it so deserves. With Bruiser Queen in tow, the lineup would be enough to pack the Firebird any other weekend of year and this show is made all the sweeter with Santa and a photo booth to boot.
SUNDAY, DECEMBER 24
Key Grip
w/ 3 Of 5, Drew Gowran, Paper Kite
8 p.m. CBGB, 3163 S. Grand Boulevard. Free.
So your wallet is thin and shriveled from the holiday beat down and you've finally come to terms with the fact that Ol' Saint Nick isn't paying you a visit this year. CBGB hosts a free night of sonic oddities sourced from the more subversive side of St. Louis, headed by the audiovisual collective Key Grip. Of special note is drummer and percussionist Drew Gowran, who offers a meditative set as opposed to his more boisterous and complex solo work on the drumkit.