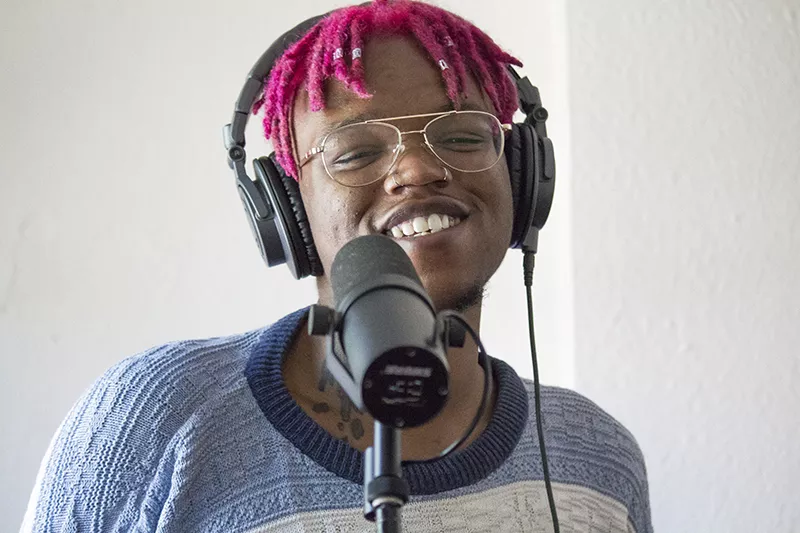 With teddy bear in hand,
Eric Donté
spits rhymes from behind plastic fangs with his body wrapped in a harness that looks equal parts grunge-rock and fetish club. He also goes by "Fadda Vampire" but insists the name's not at all an alter-ego for the rapper, model, actor, writer and self-proclaimed creative director.
Things are going well for Donté. In the last year alone the 23-year-old played a 3 a.m. show on the festival grounds at Bonnaroo and performed at St. Louis' Slum Fest, ShowcaseSTL, PuFest and Grove Fest. That's not including the warehouses, basements and art spaces he's hit in the meantime, mingling with hip-hop, punk and even noise acts.
Now on the cusp of releasing
A Lamp In The Room
, his follow-up to last year's
God Don't Like Ugly
, Donté is set to tear through the Midwest with a tour that starts tonight at Contemporary Art Museum St. Louis.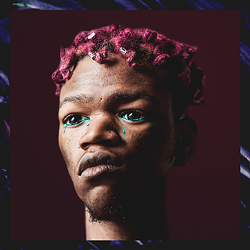 Cover art for A Lamp In the Room
"I know to some people, in south city and St. Louis, they probably feel like I came out of nowhere, but I've actually been doing this for a very long time," says Donté, who recalls singing as early as five years old and dropping his first mixtape by the age of ten. Even through high school, he performed at pep rallies and formed groups with friends, breaking out into St. Louis through shows at Fubar.
When Donté dropped
the video for "Afternoon"
in 2015, he shined the first spotlight on Fadda Vampire with visuals befitting his "ghetto trance," a self-made name for hip-hop that holds the hypnotic vibe of EDM with the emotional arc of R&B.
"I make happy sad music. I'm speaking about some real stuff, but it's also danceable and you can party to it. Or you can just wonder why I'm up there with a teddy bear," he says.
Donté frequently pairs a different bear with each of his outfits, but it's much more than a stage prop.
"It started off because my best friend committed suicide the day after we got these teddy bears. And that was really my only memory of him. It was a Build-A-Bear," Donté reveals. "Years later of me carrying this teddy bear, one of my friends has a really religious mom and she thought it was weird. One day I left it over at her house and she thought my bear was possessed and she threw it away."
When word got out, friends and fans flooded the next show with teddy bears, so now he's made it part of him.
Be it floor, stage or street, Donté works with minimal tools (lights and occasional fog machine) but envisions his shows on a much bigger scale.
"I want to be hooked up to ropes and stuff with a little Britney Spears mic. I want cars on stage. I want to climb on the ceilings," he muses. Yet Donté's music videos give a peak into his grander vision. For him, the visuals still hiding in his head help steer the songs, right down to the lyrics.
"When I'm making a song I see the lyrics and I feel like I'm living in the music video, and then I base the lyrics around that. And that's pretty much my inspiration in the studio," he says. "We cut off the lights, I close my eyes, listen to the beat and I tell a story based upon how it makes me feel."
While the upcoming
A Lamp In The Room
doesn't have a set release date, Donté will drop the whole project on Soundcloud, Spotify and other streaming sites for free the second he's ready. He planned to share everything on October 20, but needed tweaks mean that the release will happen in the coming days, likely with little warning.
Likewise, Donté wrote some of 2016's
God Don't Like Ugly
while in the studio, putting himself under pressure to produce on purpose.
"A lot of things come out when I'm in front of the mic. I literally got the last song of that EP finished two hours before I released the whole thing," he says. "We were in the studio at 4 a.m. and by 6 a.m. I was uploading it."
The new EP's first single "Nothing" is streaming over at
Donté's Soundcloud
with a music video still on the way. An unexpectedly busy year has slowed his output, which includes an upcoming 30-minute film based on
God Don't Like Ugly
.
Attendees of tonight's event at CAM will hear Donté perform all of
A Lamp In The Room
live. The show is technically part of
Art Up Late: Mentors, Muses, and Celebrities
, a costume party inspired by New York artist Mickalene Thomas with a curated silent auction and more.
Following the tour kick-off, Donté will hit the road with Angel of Deth and DJ Hoodbunnny in tow, two of his most frequent collaborators. After this trip, he has his sights set beyond the US border:
"I really want to perform in London, Berlin and Hong Kong," he says. "This EP is very out there, very experimental, very heavy. But it's something I've been wanting to do," he says. "I feel like this style will really be appreciated overseas."