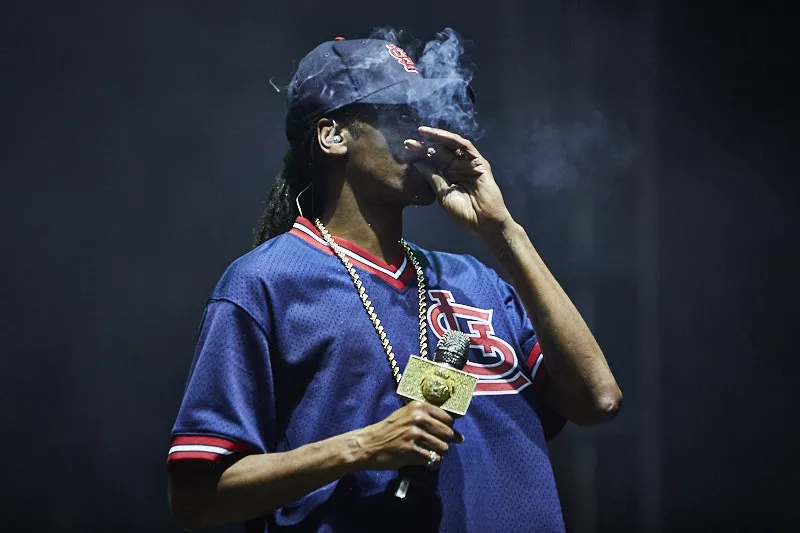 Snoop Dogg sure does have love for St. Louis.
The legendary Long Beach rapper closed out day one of LouFest this year, delivering a set packed with hits of both the marijuana and musical variety for a sold-out crowd.
And he did it all clad in a Cardinals hat and an Ozzie Smith jersey with Smith's "1" displayed prominently on the back.
Behold the photo above, where Big Snoop can be seen to hit a blunt while decked out in Cardinal gear. It is magical. One of the biggest stars of our time showing love for one of the finest athletes our city has ever produced. It's enough to bring a tear to the eye.
And it isn't just prodigious shortstop prowess that Snoop appreciates about this fair town of ours. When he last came to St. Louis, in August 2016 with Wiz Khalifa, he famously went on a bit of
a barbecue bender
, grabbing eats
from both Sugarfire
and
BJ's Gul-licious Backyard BBQ
while he was in the neighborhood.
"St. Louis, y'all alright with me," he said
in a video shared after that performance
. "Great fucking show. And the barbecue was good!"
He echoed that same sentiment at the LouFest performance last night. Toward the end of the set he told the crowd to look closely at his face, "because you will definitely be seeing this face again in St. Louis."
He continued, "I'll be back at LouFest any time you want me back."
The feeling is mutual, Snoop. Come back anytime.
Check out our full slideshow of photos from day one of LouFest here.