Soulard isn't short on eclectic watering holes, but the addition of
Soulard Stable
(
1028 Geyer Ave, 314-797-8055
), which first opened in May, sets itself apart with a gay-friendly vibe and a wide variety of events, specials and a surprisingly large outdoor patio.
Don't come here for craft cocktails or fancy wines — there isn't a drink list and there are no food options. Instead you'll find a straight-forward, old-school bar with an abundance of well and mid-range liquors, a variety of Budweiser products and a handful of domestic pilsners. Beer snobs, fear not:: You can elevate your beer game with offerings from local stars Four Hands and Urban Chestnut.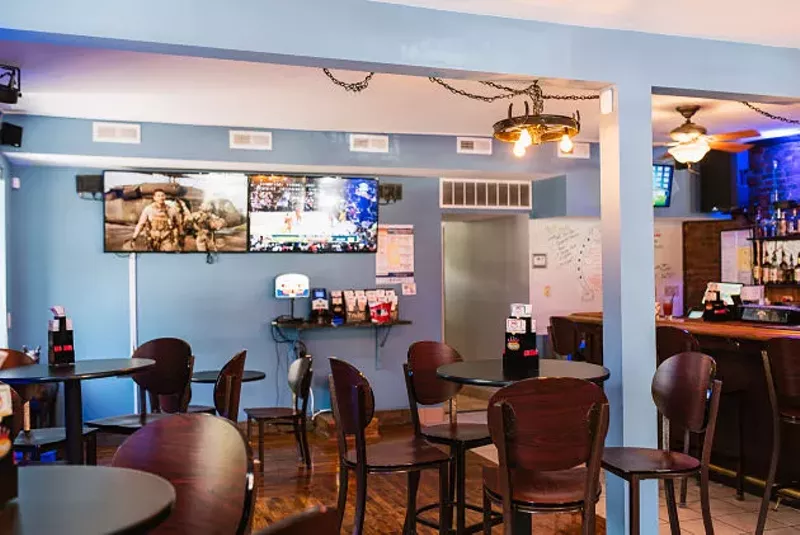 Living up to its name, the bar's decor is simple with an equestrian flare — which makes sense, seeing as the original building was indeed a stable for the former hotel next door, back in the 1880s. The brick and light blue interior is on the smaller side — it comfortably seats 25 or so — but it makes room for six televisions, altering between sports and keno.
Making up for the lack of interior seating is a patio straight out of New Orleans, complete with high tops, casual seating areas, and...a fake horse? Unfortunately (or fortunately, depending on your perspective), management plans to replace the mustang with a small stage this fall to better serve the live bands that perform in the space. The patio will be tented for winter, allowing it to stay open year-round.
At first glance Soulard Stable might not seem like more than a local dive, but the weekends bring a lively crowd that regularly packs the large outdoor space. Owner Dan Lanham, a local restaurateur with two decades of experience, books local music acts to play on the patio both Saturday and Sunday afternoons.
Along with those easy-listenings, the patio is dog-friendly — your pooch will get his own water bowl — and the owners grill out every weekend, offering a variety of free hamburgers, pork steaks and hot dogs to customers who have bought drinks. Yes, you read that right: free food and cheap drinks while listening to local musicians on a beautiful patio.
Plus, weekends mean specials on bloody marys and mimosas. The bartenders are always friendly and welcoming, with a penchant for heavy pours. They're the kind of guys you feel like you've known for years.
Expect a crowd that's a good mix of locals and college students — the latter shouldn't be particularly surprising, since the bar is also known for an extended happy hour that runs from noon until 7 p.m. The weekends bring a rowdier crowd inside, thanks to a DJ and karaoke each Friday and Saturday night.
The Soulard Stable may be small, but like Soulard itself, it offers something for (almost) everyone, and all are welcome. The owners don't classify the bar as a "gay bar," but the place is explicitly gay-friendly (the Pride flag flies proudly over the patio).
Soulard Stable is open Monday through Saturday from 11 a.m. to 1:30 a.m. and Sundays from 11 a.m. to 12 a.m. If you find yourself in the neighborhood, sit back, relax and enjoy a stiff drink out of a plastic cup.
Ellen Prinzi is our bar and nightlife writer, she likes strong drinks and has strong opinions. You can catch more of her writing via Olio City, a city guide app she started last year.