Photo via artist website
The Knuckles is just one of the many acts set to perform at the two-day festival.
Pü is returning to the Lou for its fourth consecutive year, bringing an alternative option to LouFest the weekend of September 9 through 10.
First launched back in 2014
, Pü Fest was brought about not as a jab at LouFest, according to co-founder Luc Michalski, but more as a way to bring a greater sense of community to St. Louis' DIY music scene.
"We believed St. Louis deserved a worthwhile annual festival that was a bigger production that featured artists who were tangible," Michalski says. "They aren't on a stage a quarter mile away. It's not going to be overproduced, they're going to be in your face — sometimes for better or worse. And you can see them walking around afterwards."
The festival will take place at 2720 Cherokee, and is set to feature a mixture of touring bands as well as local artists. Michalski says that each day of the festival will begin and end with a St. Louis act. "We do that just to drive the point home," he explains.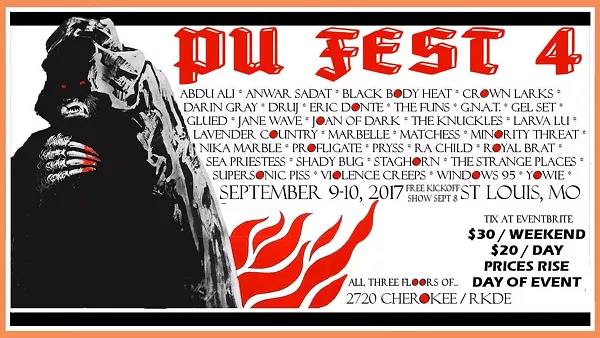 Michalski says he certainly isn't in it for the money — he admits that Pü Fest has only broken even once. He simply felt that the town deserved more than just a big-name profitable festival; it needed an event that represented all members of the local scene appropriately.
"We realized its also an important tool to accurately reflect our community," says Michalski, "We try to make sure we have accurate representation of women, our queer community and people of color in our community. If we just put up 30 independent bands that are all straight white guys we're not nearly doing the right thing. There's almost no point in doing it then."
The festival this year is set to feature a wide variety of genres, from rock to country to hip-hop. Michalski says that over the years the festival has only grown more and more.
"These things aren't going to pop up year one and be a success," he says, "but it's grown. No matter how early I announce it I get messages from bands who've heard of the event who I don't even know, which is awesome."
Tickets for Pü Fest are now on sale and can be bought through the festival's
Tumblr page
.​