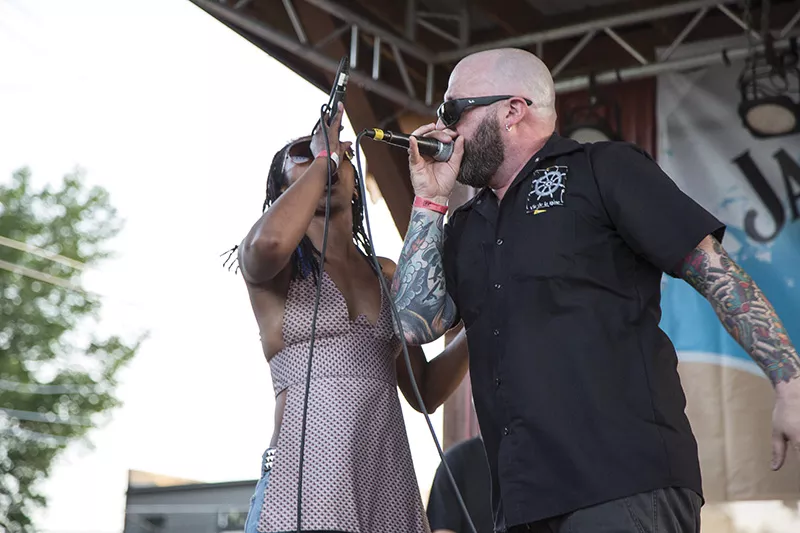 Photo by Sara Bannoura
Fresh off their performance at ShowcaseSTL, Mathias & the Pirates plays at the Palomino Lounge this Saturday.
Tribute acts honoring Prince, King Crimson and the Misfits can all be found in our picks for the next three days. Craving something new and original? The Pü Fest 4 Benefit gives a glimpse into local punk and experimental acts while raising money for a music festival later this summer. Heavy hitters such as Story of the Year and Megadeth round out a full weekend that is sure to be lit with an overstock of fireworks from the week before.

FRIDAY, JULY 7
Charmist
w/ Nadir Smith, Schievvf
10 p.m. Foam Coffee & Beer, 3359 South Jefferson Avenue. $5. 314-772-2100.
The Peoria-natives in Charmist make a fast-moving funnel cloud of guitar melody that carries the beat in equal measure with solid rock drumming. The trio avoids a ho-hum shoegaze delineation yet its set should still suit fans of the genre. Nadir Smith and Schievvf occupy two sides of the same experimental coin with the former showcasing a more exploratory sound and the latter delving into danceable noise. Note the late start — the tall windows at Foam should still be foggy from the early show.
Megadeth
w/ Meshuggah, TesseracT, Lillake
6:30 p.m. Family Arena, 2002 Arena Parkway. $43-$63. 636-896-4200.
What can be said about Dave Mustaine and company that hasn't already? Truth be told, we here at
Riverfront Times
are a little sheepish on the subject since
our Minneapolis correspondent Drew Ailes pissed off Megadeth almost four years ago
. Credit where credit is due though, as the band recently won a Grammy for Best Metal Performance for its 2016 release
Dystopia
. That's as good of a reason as any for lapsed fans to join the hordes of newcomers that will be at the Family Arena this weekend.
Pü Fest 4 Benefit
w/ Deux Plex, Grumpy & the Pumpers, Demonlover, Sweat, Angel Of Deth
9 p.m. Blank Space, 2847 Cherokee Street. Free. 314-669-9240.
Pü Fest is a reaction to the glitz of LouFest in name only, as the two day event dips well below the flow of mainstream music. As the brainchild of Luc Michalski, Mike Herr and Patrick Boland, three accomplished musicians in their own right, Pü Fest is custom fit for concertgoers who aren't concerned with trending podcasts or tastemaker blogs. You won't see "presented by" or corporate sponsors involved thanks to shows like this that help pay for the killer bands coming to play the festival later this year. Grumpy & the Pumpers is a play on local favorite Lumpy & the Dumpers while Deux Plex offers up dark synth cuts. Demonlover and Sweat both bring sonic oddities filtered through a danceable groove.
Story Of The Year
8 p.m. The Ready Room, 4195 Manchester Avenue. $17-$20. 314-833-3929.
While the superlative "hometown heroes" rolls right off the tongue and many acts in St. Louis have certainly earned that moniker, Story Of The Year has remained steadfast and true while waving the flag of the river city. One would think that lead singer Dan Marsala would be too busy prepping his Mojo Craft Beer and Music festival
(set to debut in August)
, but he and the rest of the band have made this "benefit concert for a friend fighting cancer" top priority. Consider this an intimate precursor to next month's event where the band shares a stage with P.O.D., Unwritten Law, the Orwells, Lucky Boys Confusion and more.
SATURDAY, JULY 8
Fubar HorrorFest: The Fubar Chainsaw Massacre
w/ We Bite, Candy Coated Evil
3 p.m. Fubar, 3108 Locust Street. $10. 314-289-9050
From a screening of the original
Texas Chainsaw Massacre
to We Bite, the Misfits tribute band, this show combines live music with horror films for a convention-like vibe. The Q&A with actor John "Grandpa" Dugan should be enough to draw the film's cult following, but diehards and new fans alike can scope out rare goods from the vendors on hand. While the doors open at 3 p.m., the film will play at 8 p.m. with the Q&A following. Candy Coated Evil will go on at 10 p.m. with We Bite following to close out the night. Plan accordingly.
Good 4 the Soul: The Music of Prince
7:30-9 & 9:30-11 p.m. Ferring Jazz Bistro, 3536 Washington Avenue. $10-$20. 314-571-6000.
Cover bands and tribute acts
are a vital part of St. Louis' musical DNA
, and Good 4 the Soul injects the niche with a hefty helping of soul. The quartet paints Grand Center a special shade of purple on Saturday by serving up both hit singles and deep cuts of Prince all slathered with a smooth, jazzy glaze. There will actually be two shows, one early and one late, just in case you want to go back for seconds.
Mathias & The Pirates
w/ DJ VThom
9 p.m. The Palomino Lounge, 5876 Delmar Boulevard. Free. 314-361-3099.
By Allison Babka
From
Mathias & the Pirates Is One of This Year's STL 77
:
Out on the sea, with a singular shared goal and limited resources, a ship's crew becomes family; each member syncs up to swing the oars, raise the sails, stoke the coals. So it goes with Mathias and the Pirates, whose members expertly build beats, grooves and lyrics into songs that can withstand any wave. Music scene veterans DJ LB and Grover Stewart lay down the sonic foundation along with a rotating circle of guests, while Mathias James and Ms. Vizion trade lyrics and harmonies in a rhythmic cadence that will leave you shouting "ahoy!" With equal parts funk, soul and pop, the Pirates' version of hip-hop gives every listener something to enjoy. Batten down the hatches, because we're going sailing.
Matt Basler
w/ Superfun Yeah Yeah Rocketship, Morgan Nusbaum
8 p.m. The Sinkhole, 7423 South Broadway. $5.
Picture this: a man in his mid-30s plays music on the acoustic guitar and eats hot wings that get progressively hotter and hotter between each song. Meme-lord and Tok bassist Matt Basler just can't play a normal show like everyone else, and now he aims to smooth out his rock hard abs (as depicted in photos
promoting his "Smooth" event
) by eating spicy junk. The encore takes place in the Sinkhole bathroom two hours after the show.
THRAK: A King Crimson Tribute
8 p.m. Blueberry Hill - The Duck Room, 6504 Delmar Boulevard. $10. 314-727-4444.
THRAK might be St. Louis' most underrated tribute act. Not that anyone expects a King Crimson cover band to be en vogue, but the level of patience and execution needed to perform songs from
Larks' Tongues in Aspic
or
Starless and Bible Black
is somewhat astonishing. While "21st Century Schizoid Man" is a given (as is the jam session in the later part of the song), THRAK takes its name from the group's last record to chart, so expect sounds from the more obscure corners of King Crimson's discography. Let's replace the old "play Freebird" joke with "play Indiscipline!"
SUNDAY, JULY 9
Glenn Jones
w/ Dubb Nubb
7 p.m. Foam Coffee & Beer, 3359 Jefferson Avenue. $8. 314-772-2100.
Thrill Jockey recording artist Glenn Jones, known for his work in rock outfit Cul de Sac, performs an intimate one-two punch alongside St. Louis' folk supernova Dubb Nubb. Have work Monday morning? Foam has assured that the show will only go until 9 p.m. as another event will be taking place later in the evening. Fashionably late never looked so bad.