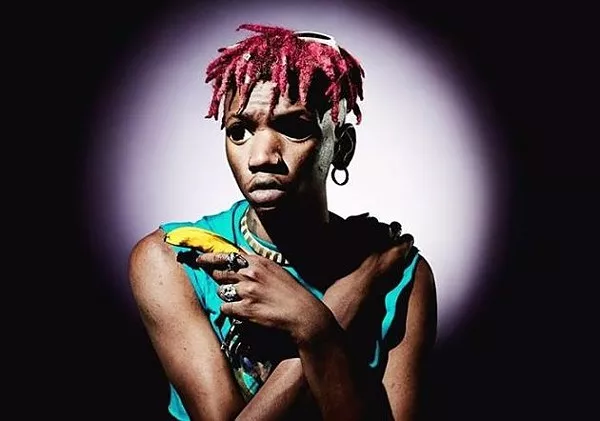 Eric Dontè performs at CAMP on Cherokee Street for Queer Prom on Friday night.
Sure the 4th takes place on a Tuesday, but that only means that we get to enjoy a long weekend of parties and explosions in the name of America, starting tonight. With Akon, 3 Doors Down and Eve 6 on deck, Fair Saint Louis is looking like a solid pre-game to this year's LouFest. Between KSHE's Pig Roast and the festivities in Forest Park, St. Louis has one of the busiest weekends for music in recent memory.


FRIDAY, JUNE 30
Shinyribs
8 p.m. Blueberry Hill's Duck Room, 6504 Delmar Boulevard. $13-$15. 314-727-2277.
By Roy Kasten
King Khan and the Shrines may be Lord and savior of wack-a-doo-wopdom, but Shinyribs, fronted by Kevin Russell (former leader of the Gourds, Austin, Texas' answer to the Band), has mounted a supremely swampy challenge to the garage-funk throne. The band's aesthetic could be summed up by a song title like "I Don't Give a Shit," or it could be staged as a tent revival of country blues and blasphemous gospel glory. Russell's band cooks with thick grease, but there's an undeniable love for the deepest of Southern soul music in every medicine show stomp, wail, hip-shake and moan.
Pearl Earl
w/ The Coax, Babe Lords, Syna So Pro
8 p.m. The Sinkhole, 7423 South Broadway. $5.
Fresh off the release of its hooky new single "Meet Your Maker" while in the midst of a US tour, the Dallas-based Pearl Earl seems to be on a roll. The glammy quartet throws a swerve with flutist Ivette Colon, who expands the band's spectrum with a distinct injection of melody. Three singers are at play, trading off vocal duties while melting together for harmonies that carry over fuzzy riffing. Speaking of vocals, Syna So Pro rounds out the local support as a one-woman band who has been known to perform full sets a cappella.
Queer Prom
w/ Eric Donte, Tubby Tom
9 p.m. Community Arts and Movement Project, 3026 Cherokee Street. $10. 314-827-4730.
Outsider rap mingles with drag performances by Ladybug M Valentino and Mikayla Monet for a sensory overload of glitz and glamour. Presented by City of Night St. Louis, Queer Prom offers up an all inclusive show that is sex/body/gender positive with aural and visual stimuli in equal measure. Eric Donte fires off his brand of ghetto trance with a vampirical vibe that's as sexual as it is unsettling. With DJs Jilliam, Andy Reitz and Saylor Surkamp keeping the pace and a glut of art and installations throughout the space, this should outdo your (or anyone else's) high school prom. BYOB is the policy here but keep the drinks in a plastic cup, please.
Tok
w/ Molly Simms, Apex Shrine
9 p.m. Off Broadway, 3509 Lemp Avenue. $8. 314-773-3363.
Remember when a group of local musicians
covered Santana and Rob Thomas' "Smooth"
ten times in one night? The mastermind of that meme-come-to-life is Matt Basler, and he just happens to have a searing rock band of his own: Tok. That name is no doubt familiar to longtime readers of RFT Music, made evident by the band's ability to win just about every rock-related award we have to offer. We'd all like to think that a guitar on fire sounds a hell of a lot sweeter than it actually does, but Tok's Bryan Basler solos in a way that shreds any semblance of disbelief.
Valee
w/ 3Problems, Money Game Boo, Lil Patt, Beezy Bandz, Mbz, Nikee Turbo, DJ Drug Money, ChaseTheMoney, Rio Mac, Asurms
8 p.m. Blank Space, 2847 Cherokee Street. $12. 314-669-9240.
Between Valee's lackadaisical flow or his catch-all trap beats, the Chicago rapper sports a no-frills style that opens up the ear to nuance. Not that he willfully controls the decay of his voice or even exercises restraint, but his no-fucks-given attitude highlights the qualities that a higher production would smooth right over. The lo-fi aesthetic is a good look for Valee, whose bedroom recordings have reached the ears of G Herbo and Lil Yachty among many others. This night also features 3Problems (now a solo act of Lil Tay), Money Game Boo and other artists glued together by a rotating cast of DJs. Hosted by B-Juggin.
SATURDAY, JULY 1
Biergarten Grand Opening
w/ Beth Bombara, Old Capital, Fred Friction, The Dust Covers
11 a.m. Das Bevo, 4749 Gravois Avenue. Free. 314-224-5521.
In a weekend crammed with bloated shows and day-long events, Das Bevo hopes to invoke a festival vibe of its own with the opening of its Biergarten. That idea shouldn't be too much of a stretch with a lineup headed off by Beth Bombara and Old Capital. If the name wasn't a dead giveaway, the menu on hand will be unapologetically German with items such as Spaetzel and bratwurst — all of which should pair well with Americana and rock and roll. Beer is clearly the beverage of choice, but you'd be well served to exercise a little restraint. The Sunday brunch will have a little music of its own by way of Martha Mehring.
Dead From The Neck Up
w/ Wamhoda, Alex Cunningham, Dave Stone and Mister Ben Duo
9:30 p.m. The Way Out Club, 2525 South Jefferson Avenue. $5. 314-664-7638.
In many ways, Dead From The Neck Up personifies the dark, unnerving sound of St. Louis' bygone harsh noise era. With members plucked from both Strangulated Beatoffs and Brain Transplant — two groups that have released music on the appropriately named NIHILIST records — Dead From The Neck Up offers an oppressive wall of static and stabbing hum. It's to the pair's credit that the result feels engrossing and thematic rather than a senseless burst of aggression through gritted teeth. Joining them on this night are violinist Alex Cunningham and the duo of Mister Ben (of Beauty Pageant) and saxophonist Dave Stone.
The Mighty Pines
w/ Clusterpluck
8 p.m. Delmar Hall, 6133 Delmar Boulevard. $15. 314-726-6161.
By Christian Schaeffer
The roots-based Americana quartet the Mighty Pines has come a long way since it came on the scene under the aegis Acoustics Anonymous. A few years of steady local gigging, regional touring and, for a few members, tutelage alongside Sean Canan's Voodoo Players has broadened the band's approach to many stripes of American music. And with drummer Mike Murano now installed as a full-time member on drums, the band can move and groove a bit more fluidly. This weekend's Delmar Hall show finds the band on its biggest local stage to date and will be in honor of the brand new LP
Lonesome Blues
.
SUNDAY, JULY 2
Droids Attack
w/ Sumokem, Path of Might, Venomous Maxomum, Spacetrucker
7 p.m. Fubar, 3108 Locust Street. $12. 314-289-9050.
By Daniel Hill
Its logo looks kinda like the font on the cover of
Master of Reality
. Its motto is "death to false stoner thrash." Its riffs are fucking humongous. In short, Droids Attack is the real deal. The Madison, Wisconsin-based metal act delivers Black Sabbath-style riffs with a punk rock edge to them, resulting in a ferocious sound that is sure to please fans of both. Its science fiction slant is plainly genuine too — the cover of the band's latest,
Sci-Fi Or Die
, features an ancient Sumerian temple ripping out of the ground and heading skyward, two shafts of light shooting out its underside. The band's members look like nerds, too. We mean that in the best possible way: You don't get this good at this style of music by focusing on your image; you get there by smoking pot, reading H.P. Lovecraft and riffing on the edge of your bed for hours at a time. Obviously Droids Attack's members understand that — and fans everywhere rejoice.
KSHE 95 50th Anniversary Pig Roast
w/ REO Speedwagon, Styx, Don Felder, Michael Stanley and the Resonators, Joe Dirt and the Dirty Boy All Stars
5 p.m. Hollywood Casino Amphitheatre, I-70 & Earth City Expressway. $27.50-$149. 314-298-9944
Throughout five decades, KSHE has grown from a somewhat subversive and underground station to a jet-fueled stalwart of classic rock. While there may or may not be actual pork on sight, the crowd will be full of old hippies and rockers hamming it up — and that's half the fun with big blowouts like these. KSHE's 50th birthday coincides with the United We Rock tour, which features REO Speedwagon, Styx and Don Felder in three sets that share cameos and one-offs by members of all three bands. The local element comes via Joe Dirt and the Dirty Boy All Stars, a River City favorite whose story on Facebook reads: "70's and 80's Classic Rock with a few songs from the 60's thrown in. You gotta have roots."