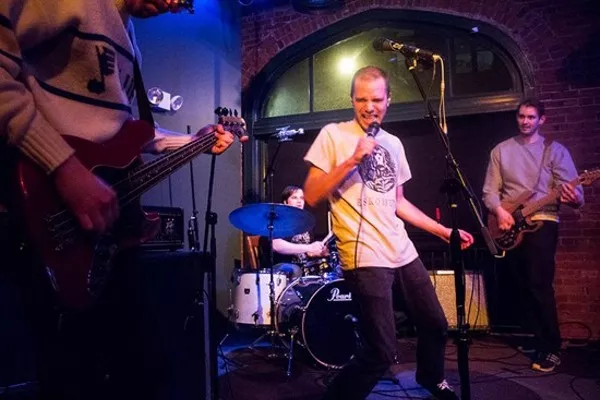 This year ​the
RFT
recognizes ​St. Louis' ​stellar music scene by presenting the STL 77, ​our list of 77 acts who did big things in the last twelve months. From now through June 17, the date of our huge annual music festival ShowcaseSTL, we'll be announcing two ​honorees per weekday on our music blog. For more information on STL 77, as well as the complete lineup for ShowcaseSTL, go here.
Who in the world would ever release an album titled
Huff My Sack
? And what's with the cover art? A grinning monster/goblin whose skin appears to be made entirely of sores sits, legs akimbo, presenting an avocado-shaped mass at the front and center of its body — the titular "sack," if we're to believe monster anatomy is similar to that of humans — ripe and ready for huffing. Who in their right mind would want to own such a thing? The answers to all of these questions are as follows: 1. Lumpy and the Dumpers, of course. 2. It's gross and that's the point, you simpleton. 3. Who said anyone involved here is in their "right mind" anyway? Since bursting on the scene in 2012 with a demo menacingly warning listeners of the day they'd inevitably "face the meat," the brainchild of St. Louis punk Martin Meyer has emerged as one of the city's most disgusting exports.
Huff My Sack
, the band's first LP, has been released by labels in Australia and Europe as well as the U.S., meaning that the depravity found therein has gone international — spreading the gospel of slime and goo and gnats and sacks across the globe.
Recommended if you like:
'80s-era Ramones, Cheetah Chrome Motherfuckers, Gauze, that gross ring of filth in your toilet bowl
Official:
http://spottedrace.bigcartel.com
Bandcamp:
https://lumpythedumpers.bandcamp.com/