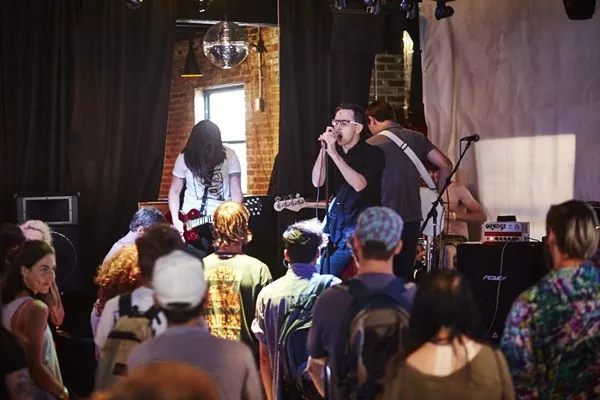 This year ​the
RFT
recognizes ​St. Louis' ​stellar music scene by presenting the STL 77, ​our list of 77 acts who did big things in the last twelve months. From now through June 17, the date of our huge annual music festival ShowcaseSTL, we'll be announcing two ​honorees per weekday on our music blog. For more information on STL 77, as well as the complete lineup for ShowcaseSTL, go here.
Punky and mathy, with a bit of poppy metal thrown in just for the hell of it, Blight Future brings a sharp, but never overbearing, activist edge to the post-hardcore scene. The foursome has clear targets — consumerism, racism, sexism, pretty much how-fucked-everything-is-ism — but its socially conscious messages derive physical force from just how hard, free and unpredictably the band plays. Featuring songwriter and singer Stephen Inman along with drummer Jesse Kornhardt, bassist Johnny Gabbert and guitarist Emily Hoover, the band's 2016 full-length debut,
Love & Strategy
, is absolutely trenchant. More importantly, it rocks a lot harder than even the tightest intersectional podcast.
Recommended if you like:
Refused, So Many Dynamos, Fugazi, Gang of Four
Facebook:
http://facebook.com/blightfuture
Bandcamp:
https://blightfuture.bandcamp.com/