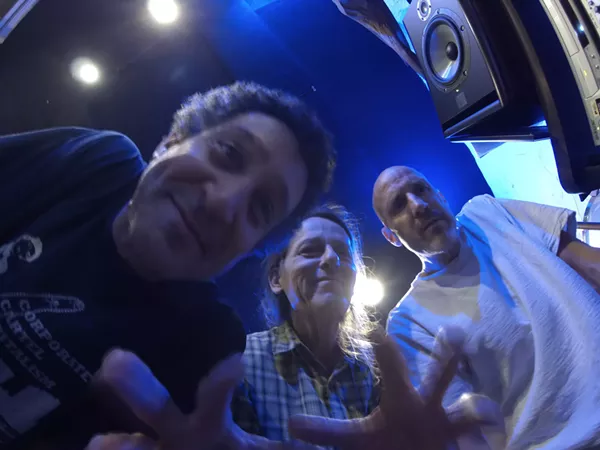 Grandpa's Ghost performs at Vintage Vinyl on Sunday afternoon to promote its new double LP The Carnage Queen.
With summer being official now, the shows are coming fast and heavy. Go listen to "Smooth" by Santana featuring Rob Thomas ten times in a row this weekend at Off Broadway, if that's your thing. Or maybe catch the fast-rising Diet Cig while it's still small enough to perform at Blueberry Hill. Or go big — real big — for Metallica at Busch Stadium. Just don't stay home!


FRIDAY, JUNE 2
An Evening With Smooth: A Tribute to Santana and Rob Thomas
8 p.m. Off Broadway, 3509 Lemp Avenue. $8. 314-773-3363.
By Daniel Hill
From
Why the Hell Are St. Louis Musicians Performing "Smooth" Ten Times in a Row This Weekend?
This Friday, June 2, Basler will lead a band of local musicians in performing Santana and Rob Thomas' 1999 smash hit no less than ten times in a row. And here is what is perhaps the craziest part: It's not going down in someone's living room, or hijacking an unsuspecting open mic night. It's happening at an actual music venue, one that books legitimate shows. Joining Basler there on the Off Broadway stage will be a veritable super-group of local musicians — Jenn Malzone (Middle Class Fashion) on the keyboard, Jahi Eskridge (Fat Pocket) on trumpet, Dylan Clubb (the Langaleers) on guitar and Jerry Hill (DJ Uptown) on drums, with Matt Sawicki (My Posse in Effect) tackling any remaining percussion. Basler, meanwhile, will play bass and do his best Rob Thomas impression.
Diet Cig
w/ SPORTS
8 p.m. Blueberry Hill - The Duck Room, 6504 Delmar Boulevard. $12-$14. 314-727-4444.
Just this past April, Diet Cig released its debut LP
Swear I'm Good At This
to predictable acclaim. The splash made from its 2015 EP propelled the band well beyond the confines of dive bars and basement shows with shocking velocity, and the new full-length builds on its "anybody can do this" vibe. Not that the songs aren't shapely little pop rocks, but guitarist Alex Luciano has admitted on many occasions that Diet Cig is her first band and really her first foray into strumming a six-string. The result is a set of songs that anyone could pick up and play yet be hard-pressed to write on their own.
Mouton
w/ Squircle the Destroyer, Biff K'narly, Caillou
9 p.m. The Sinkhole, 7423 South Broadway. $5.
Twee-rock from middle Missouri implodes in real time with Mouton, the brainchild of Springfield songwriter Pete Mouton. The riffing has an odd, nostalgic vibe to it with callbacks to dusty, outsider-y garage bands — the kind that actually played in garages. The lineup on offer works more like a mystery bag of assorted rock goodies than a bill shaped around the headlining act, which should work well to cleanse the palate between bands.
Wreck the Holodeck
w/ Captain Jane, Brother Lee and the Leather Jackals, Sister Wizzard, 3 of 5
8 p.m. The Stage at KDHX, 3524 Washington Avenue. $10-$12. 314-925-7543.
In collaborative spirit with Star Clipper and Alpha Brewing Company, KDHX hopes to paint a concert with all the colors of a comic-con. Between the raucous rock of Brother Lee and the Leather Jackals and the costume contest, the vibe should be that of a rock and roll cosplay prom with the dressings of b-grade sci-fi movie. With the size of the space and the asking price combined, we expect this show to sell out. Arriving on time isn't just a safe bet — in this case, it's mandatory.
SATURDAY, JUNE 3
4th Annual Summer Gras
w/ Funky Butt Brass Band, Al Holliday & The East Side Rhythm Band, The Grooveliner, The Provels, Big Mike Aguirre & The Blu City All Stars
5 p.m. Old Rock House, 1200 S. 7th Street. $10. 314-588-0505.
Like Christmas in July, Old Rock House brings Mardi Gras to June with a funk and blues-infused fest that feels distinctly St. Louis. From the guaranteed ass-shaking of Funky Butt Brass Band to the smooth, soulful jazz of the Provels, this is more likely to be a party than a sit-and-listen affair, yet the shredding of Big Mike Aguirre will cause a few heads to stop and stare. The asking price can't be beat, especially compared to the admission these bands draw on the regular in Soulard and down on Broadway. New to St. Louis music? Start here.
Artists First Rockin' the Ritz
w/ MC Googolplexia, Middle Class Fashion, Syna So Pro, Whoa Thunder, Bagheera, Buttercup, Squircle the Destroyer
5 p.m. Ritz Park, 3147 South Grand Boulevard. Free. 314-664-8585.
With its sloping design, built in seating and flat performance space, Ritz Park on Grand Boulevard has become a hub for smaller homegrown concerts and benefit shows. Led by Middle Class Fashion, the lineup offers unhinged pop and rock with MC duties by Googolplexia, who glues the show together with irreverent and Dadaist humor. While the show is free, donations will be collected for Artists First, a non-profit organization that provides art space for youth, veterans and adults with disabilities. Showgoers might want to dip into Mangia Italiano for dinner and drinks, as 25 percent of the proceeds there will also go to the cause.
Shark Dad
w/ Superslag, Oh Caledonia
9 p.m. The Heavy Anchor, 5226 Gravois Avenue. $7. 314-352-5226.
By Bob McMahon
From
Shark Dad Is One of This Year's STL 77
:
Emerging from a short hiatus with half of its lineup changed, Shark Dad is an evolved animal. The quartet still makes garage rock with distorted guitar tones and vocals that recall '90s indie titans, but on new EP Almost, Pink, its songwriting has hit a new level. The hooks are stronger, the tunes have better structures and the often nostalgic lyrics cut deeper. Even the occasional dad jokes are improved! New guitarist Jeremy Essig once jokingly likened the group to "sloppy Cheap Trick," but recent shows have found Shark Dad tightening its performance into sharp bursts of fist-pumping rock. And between stage-crossing leaps and frontman Jason Robinson's gregarious stage presence, Shark Dad is as fun to watch as it is to hear.
St. Louis Cigar Box Guitar Festival
w/ Justin Johnson, Matt Lesch
Noon. Highway 61 Roadhouse and Kitchen, 34 South Old Orchard Avenue, Webster Groves. Free.
By Quinn Wilson
From
Cigar Box Guitar Festival Brings DIY Instruments to St. Louis This Weekend
:
Since its formation in 2013, the festival has been held at Highway 61 Roadhouse and Kitchen, where it will return once again. The event was concocted by St. Louis area residents Steven Miles and Gary Herget. The two came in contact through the website Cigar Box Nation after Miles inquired about whether St. Louis had a cigar box guitar festival like he had seen in other cities — and if not, why not?
SUNDAY JUNE 4
Grandpa's Ghost
4 p.m. Vintage Vinyl, 6610 Delmar Boulevard. Free. 314-721-4096.
Those new to St. Louis music might have only seen Grandpa's Ghost or songwriter Ben Hanna's name in passing, yet the band stands as an essential part of the river city's DNA. From 1996 to the mid-aughts, the band was a constant root, growing and breaking through the concrete laid by groups such as Uncle Tupelo. Now in 2017, Grandpa's Ghost emerges after years of hiatus with both a double LP in
The Carnage Queen
and a collection of digital music titled
Country of Piss
. Vintage Vinyl plays host to the full band's first performance in many moons, offering an afternoon of exploratory cow-punk unrivaled in its approach to songcraft and execution.
Metallica
7 p.m. Busch Stadium, 700 Clark Avenue. $55.50-$155.50. 314-345-9600.
By Daniel Hill
Of thrash metal's Big Four, Metallica is clearly standing at the top. That's not to say its music is the best — the band's finest material, if you ask most fans, is 30 years in the rear-view mirror. But Metallica is the only one of the group with the power to pack 'em in to Busch Stadium. Likely much to Dave Mustaine's chagrin, Megadeth's crowd is Family Arena-sized (as best evidenced by the band's July 7 booking at the venue). Anthrax just performed at the Pageant a couple weeks back — the same venue Kerry King and Co. frequent when Slayer comes to town. Metallica, meanwhile, is touring stadiums this year. When the band released its self-titled black album in 1991, many accused it of "selling out." While that may have been true, all told, it seems to have worked out.