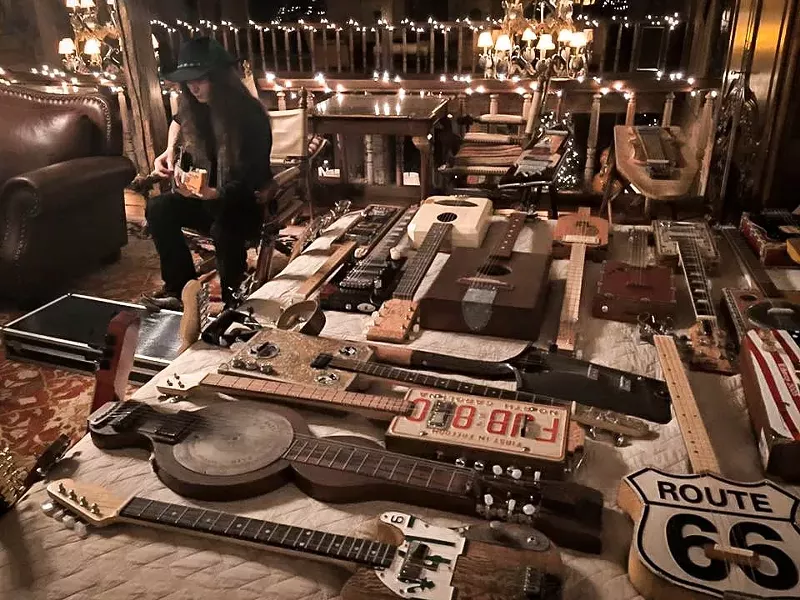 Cigar Box guitars can be constructed out of a wide range of materials.
Guitar fanatics and DIY lovers will have a place to call home this June. Now in its fifth year, the
St. Louis Cigar Box Guitar Festival
will return Saturday, June 3.
Since its formation in 2013, the festival has been held at Highway 61 Roadhouse and Kitchen
(34 South Old Orchard Avenue, Webster Groves;
stlcbg.com
),
where it will return once again. The event was concocted by St. Louis area residents Steven Miles and Gary Herget.
The two came in contact through the website
Cigar Box Nation
after Miles inquired about whether St. Louis had a cigar box guitar festival like he had seen in other cities — and if not, why not?
"It started off just wanting to have a gathering of builders and musicians to get together in St. Louis," Miles explains.
A cigar box guitar, as the name implies, has a body typically made out of a cigar box or other home items. The neck can be made out of anything from a shovel to a broomstick.
The festival provides an outlet for cigar box guitar vendors to sell their own creations, and will also include local folk artists with their art for sale. "This year we will have more vendors than we've had in the past," Miles boasts.
The festival has seen a steady increase in popularity each year, Miles says, and even attracts international fans from Canada, France and Australia. Miles believes the festival's growing popularity stems from the fact that it has free admission, unlike other festival who charge admission fees, and all around has a relatively low cost for those looking to purchase a guitar.
There will also be a station, run by Herget, where customers will be able to purchase and build their own cigar box guitar. This will feature pre-cut materials and will give customers an opportunity to assemble, string and tune their own guitar and learn a song on it before they go home.
Also returning for the fifth consecutive year is Nashville-based roots, blues and Americana artist Justin Johnson, who will perform at the festival. Johnson is internationally known for his use of homemade instruments. Despite having traveled mainland Australia and Tasmania, Europe, the United Kingdom and coast to coast in North America, Johnson has told Miles that he loves this festival because it feels like "home base" to him.
"He's really good with the public," says Miles. "After that first event, we knew he was the guy."
Johnson will perform Friday, June 2 from 7 p.m. to 10 p.m. and Saturday, June 3 from 1 p.m. to 6 p.m. Johnson will also lead a "Roots Music Workshop" Saturday from 10 a.m. to noon for a $10 donation, which will benefit
Six String Heroes
, a non-profit organization dedicated to providing injured U.S. military veterans free guitar lessons. There will also be a performance by
Matt "The Rattlesnake" Lesch
.
The festival will be held from 11 a.m. to 6 p.m. For more information visit
http://stlcbg.com/
.