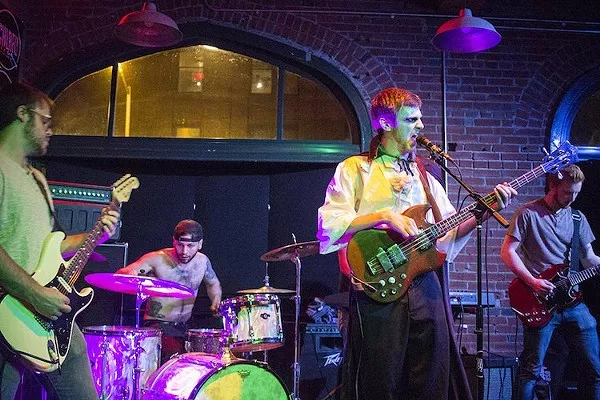 This year ​the
RFT
recognizes ​St. Louis' ​stellar music scene by presenting the STL 77, ​our list of 77 acts who did big things in the last twelve months. From now through June 17, the date of our huge annual music festival ShowcaseSTL, we'll be announcing two ​honorees per weekday on our music blog. For more information on STL 77, as well as the complete lineup for ShowcaseSTL,
go here
.
At first glance, Dracla appears to be a drunken Halloween lounge act similar to Bill Murray's "Nick the Lounge Singer" character from his early years on
SNL
— but it only takes about five seconds into a performance for that image to switch to one of a street-fighting vampire overlord. Bass high on the hip, the pale-faced Ray Kannenberg seizes the helm with a startling command of "SILENCE," ordering and acquiring obedience from the crowd even as he sets the tone for the next half-hour of riff-laden vampire metal. Skillfully backed by Bug Chaser's Jake Jones and Kevin Insinna, as well as Nathan Dick and Nick Kampen, the band has all the meat and darkness implied by its name, a seriously heavy package tied up nicely with a dirty black bow (the one holding Kannenberg's cape on, naturally). Sabbath beware; Dracla has risen.
Recommended if you like:
Black Sabbath, Bug Chaser, vampires
Facebook:
https://www.facebook.com/draclasocialmediarelations/
Bandcamp:
https://dracla.bandcamp.com
Instagram:
https://www.instagram.com/dracla_socialmediarelations