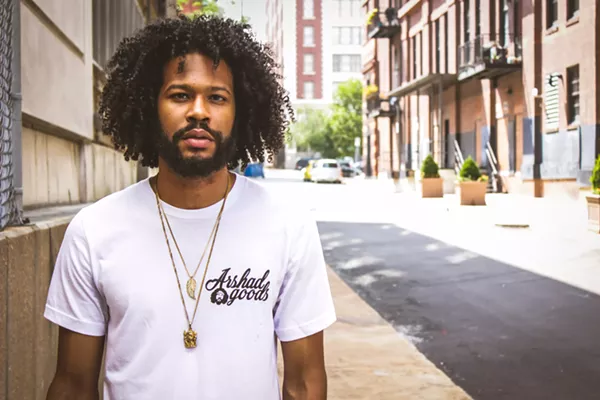 Arshad Goods is one of many acts performing at Cherokee Street's Cinco De Mayo festival on Saturday.
Sure Cinco De Mayo stands among New Year's Eve and Mardi Gras as another culturally sanctioned amateur hour — one that attracts drunk flies like Margarita-flavored wax paper — but Cherokee Street offers more than booze with a diverse set of 30 acts across three stages. The nationally celebrated Free Comic Book Day also goes down on Saturday with AM Trading Co. hosting a lineup of bands over at Ritz Park featuring Trauma Harness, the Vigilettes and more.
Between album release shows, a hip-hop showcase and all the holidays this weekend, you have your hands full.




FRIDAY, MAY 5
Alex and the XO's
w/ Backwash, Grand House
8 p.m. Old Rock House, 1200 S. 7th Street. $7. 314-588-0505.
Alex and the XO's drive an overloaded set of riffy pop gems with a not-so-subtle use of force. There's plenty of '90s-era alt-rock fetishism to be had, yet the root of the band's sound comes from singer Alexandra Fisher's simple and sensible songcraft. Volume is used not to distort but to magnify the tight and nuanced set of players to great effect, especially on record. Plus, have you ever heard of a band that teeters on soft grunge while sporting a mandolin?
Crown Larks
w/ Kaleb Kirby, Demonlover
9 p.m. Foam Coffee & Beer, 3359 South Jefferson. $5. 314-772-2100.
The Chicago natives in Crown Larks no doubt worship at the church of King Crimson — specifically in the
Larks' Tongues in Aspic
sect. The influence doesn't permeate every part of the band, but the prog leanings do steer the Crown Larks' polyrhythmic post-punk songs toward a rabbit hole filled with delay and decay. This show marks the release of
Population
, the band's new album available on vinyl, CD and even cassette tape via both Already Dead and Satellite Records. Kaleb Kirby, the architect behind A Leaf in the Street and Animal Children, opens the night with a rare solo set.
EXMW (East By Midwest)
w/ ReAck, Westend, Nato Caliph, Naphi Exclusive, The Domino Effect, Teapcup Dragun, Hello JiZoo, D2G, J-Ness, Mallz Da Menace, Y Me, Jay Maeyoh
8 p.m. 2720 Cherokee Performing Arts Center, 2720 Cherokee Street. $10-$13. 314-276-2700
Rec Riddles and Ackurate come together to bridge the gap between East Coast and Midwest rap with with acts from Chicago, New Jersey, New York and of course St. Louis. Led by host Rob Boo with sounds by DJ Smitty, EXMW offers up a rapid-fire showcase that kicks off a series of shows to go down in three other cities later this year.
Kevin Bowers
7:30 p.m. and 9:30 p.m. Friday, May 5 and Saturday, May 6. Jazz at the Bistro, 3536 Washington Avenue. $20. 314-571-6004.
By Christian Schaeffer
In 2016, local drummer Kevin Bowers wrote, orchestrated and performed a little Brazilian-tinged symphony with his release
Nova
. It was, in part, a love-letter to the bossa nova records and Brazilian artists that inspired him, but the execution of the album was a tribute to the many talented local St. Louis musicians Bowers has played alongside. Bowers lets friends including Paige Brubeck, Jimmy Griffin and Mike Aguirre take the lead on many of these songs, but the steady percussive thrum of the tracks makes it a true drummer's record. This weekend's two-night stand at the Bistro will be a fitting setting for the dozen or so artists who will help bring Bowers' vision to life.
SATURDAY, MAY 6
Cinco De Mayo 2017: A Cherokee Street Festival
11 a.m. Cherokee Street between Nebraska and Jefferson. Free.
Some can still remember Cherokee Street before the hip wave of bars and hot spots literally lit up the neighborhood (no joke, the city quadrupled the number of streetlights). The area that's now known as somewhat of an incubator for artists and musicians in St. Louis has long since been a core for the city's Hispanic community. And this event shows just how these two collide and coalesce in a grassroots celebration that offers sights and sounds for kids, seniors and everyone else in between. To see a full schedule featuring all 30 bands split between three different stages, refer to the flyer to the right or hit the
Facebook event
for more details.
Comrade Catbox EP Release Show
w/ Polyshades, Monkey Girls, Dear Genre
9 p.m. The Heavy Anchor, 5226 Gravois Avenue. $7. 314-352-5226.
For a band that proclaims itself "lo-fi faux Britpop," Comrade Catbox continues to expand beyond the psych-rock mold with a swerving style of songwriting that opts to twist and bend on a whim. The hands at play are more subtle than not, making for an artful melting pot of clean chords and crunchy hooks. By not leaning on the element of surprise nor the bog-standard blueprint for pop rock, the band finds itself in a distinct space guided by guitar and strong vocal leads.
Jefferson Street Parade Band
w/ Mother Meat
8 p.m. Foam Coffee & Beer, 3359 South Jefferson. $5. 314-772-2100.
While the name might suggest some connection to OUR Jefferson (which is technically an avenue), the Jefferson Street Parade Band actually hails from Bloomington, Indiana, where its performances often end up out on the pavement. Decked out in marching band gear plucked from some kind of post-apocalyptic future, the group incorporates pieces from New Orleans, Eastern Europe, West Africa and Latin America while injecting rhythms from all regions to build its own secular set of songs. In addition to its late-afternoon spot on the Texas stage for the Cinco De Mayo festival on Cherokee Street, the Jefferson Street Parade Band plays a nighttime show at Foam with support by the moon-dwelling troubadours in Mother Meat.
Hell Night EP Release Show
w/ Black Fast, Traindodge, Ashes and Iron
8 p.m. The Ready Room, 4195 Manchester Avenue. $10-$12. 314-833-3929.
Hell Night doesn't concern itself much with labels of punk or hardcore, rather, the band is more focused on making lead-filled riffs that race at a maddening pace. Oh yes, and references. Of course there's the band name that calls back to the 1981 slasher flick but the new EP
Hell Night Songs
is somewhat of a tribute to Cinderella's
Night Songs
from 1986. Luckily, the band's sound doesn't date back to the '80s as well.
Murphy's Law
w/ The Supermen, Opposites Attack, Boston Profit
8 p.m. Fubar, 3108 Locust Street. $15. 314-289-9050.
By Daniel Hill
Legendary New York hardcore group Murphy's Law has been playing punk rock party anthems for more than thirty years, led by singer and sole remaining founding member Jimmy Gestapo, who has played with a staggering list of backing musicians since the band's inception — literally over fifty names. In this way, Murphy's Law can be seen as the unlikely link between acts such as the Misfits, the Slackers, Thursday, the New York Dolls and about a billion more whose musicians have lent a helping hand over the years. Murphy's Law's live show is always a non-stop party, with huge sing-a-longs, impromptu songs written on the spot about audience members and Jaegermeister that flows like water — mostly into Gestapo's face.
X
w/ Skating Polly
8:45 p.m. Delmar Hall, 6133 Delmar Boulevard. $30-$35. 314-726-6161.
By Roy Kasten
X is America's greatest punk band, which means it deserves consideration for our greatest band, full stop. With its first two albums, lo these 40 years ago, the Los Angeles quartet defined just how thrilling, crafty and, most importantly, enduring an American punk rock song could be. The volatile chemistry of John Doe and Exene Cervenka, the delirious drive of DJ Bonebrake and the hooky riffage of Billy Zoom (the dude knows his Chuck Berry) echoed not the overseas punk vanguard of the '70s, but distilled the desperation, class consciousness and libertine sexuality of rock & roll in its earliest, most eternal form. It's astonishing that the original quartet not only remains intact but remains a shit-hot force of nature on stage.