Photo by Jon Gitchoff
Bruiser Queen is just one of the bands that will be performing at this year's event.
Ever heard of lightning striking in the same place four times?
The
Riverfront Times'
annual summer musical festival will take place in the Grove for the fourth year in a row on Saturday, June 17, with a kick-off show at Atomic Cowboy on the night of Friday, June 16.
Now dubbed ShowcaseSTL, this celebration of St. Louis music boasts the largest all-local lineup yet, with more than 100 acts set to perform. The event will take up more space on the calendar as well — for the first time, we're expanding the festivities to two days, with a huge blowout on Friday night at Atomic Cowboy in addition to live music across eight venues from 1 p.m. to 3 a.m. on Saturday.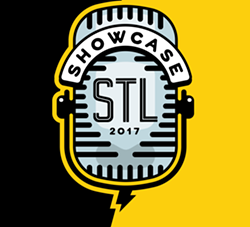 So what's with the fancy new name? For starters, "Riverfront Times Music Award Showcase" is a mouthful. ​For another, the change to ShowcaseSTL is part of a broader change to how we handle the very idea of music awards. ​
​In past years, we chose a group of finalists and then, on the day of showcase, hosted a competition that required bands to compete against each other for votes in categories like "Best Pop" and "Best Garage Band." But after years of dealing with complaints about the categories, and facing the increasing realization
that the voting part just didn't make sense
, we decided to scrap that set-up in favor of developing a winners list of our own.
​The ​inaugural STL 77 compris​es 77 St. Louis acts we feel deserve recognition for their work in the past year​ — the bands that kept the city rocking and kept us humming along in 2017​. ​(The "77" part pays tribute to 1977, the year we were founded.) ​
All 77 acts will be featured in our June 14 issue, released the week of ShowcaseSTL. And many will be performing at the event, too. But it's not an exact mirror: We wanted the event to be open to newish bands that may not be on many people's radar yet, in addition to St. Louis' stalwarts. Similarly, we wanted to be able to write about acts that are doing important things in this city even if they are unable to participate in this year's event.
These 77 acts were chosen in much the same manner as we used to pick nominees for RFT Music Awards in the past: We reached out to our readers, as well as a large list of music writers, venue owners, radio DJs, promoters, record store employees and other movers and shakers in the local scene, asking them to share with us the acts that they feel did big and important things in the last twelve months. Then we tallied up the lists — but instead of awkwardly wedging the acts into genre categories and pitting them against one another, we're simply writing about all of them​. After all, this is meant to be a celebration of St. Louis' music scene, not a competition.
If you can't wait for all the ShowcaseSTL excitement, a
ll-access wristbands are now available!
$15 grants access to the whole weekend. (With more than 100 acts set to perform that's less than 15 cents per act, in case you're keeping track.)
In the meantime keep your eyes peeled for more information, including a detailed schedule and profiles of many of the participating acts.
Without further ado, the lineup for
ShowcaseSTL 2017
:
Sleepy Kitty * Bates * Arshad Goods * Bruiser Queen * 18andCounting & TheOnlyEnsemble * The Knuckles * CaveofswordS * The Domino Effect * Anthony Lucius & The Band * Nato Caliph * Middle Class Fashion * Mathias and the Pirates * ICE * DJ Kimmy Nu * Yowie * AndroBeat * Thor Axe * Centipede * Cara Louise Band * The Strange Places * Grandpa's Ghost * Looprat * Golden Curls * The Vanilla Beans * J'Demul * The Maness Brothers * Little Big Bangs * Eric Dontè * Ghost Ice * Trauma Harness * The Stranger * Insane Analog * Dubb Nubb * Syna So Pro * Sharon Hazel Township * Love Jones The Band * Skin Tags * Town Cars * Hands and Feet * Paperkite * The Vigilettes * Mirror Mirror * Bagheera * The Leonas * Rats & People Motion Picture Orchestra * Kenshiro's * Shady Bug * Glued * Shark Dad * Bass Amp & Dano * The Bobby Dazzlers * Other People * Thumpy Sticky * Concentrator * Mt. Thelonius * A Leaf In The Street * DJ Mahf * True Friends * Bear Cub * Pat Sajak Assassins * Prairie Rehab * Super Hero Killer * Toefire Tribe * nebulosa * Vernacular String Trio * Whoa Thunder * Isabel Rex * Jane Wave * Nadir Smith * Shitstorm * Hillary Fitz * Kingston Family Singers * Joan of Dark * Sunwyrm * The Goes * DinoFight! * Mariner * Hylidae * DJ MAKossa * Cree Rider Family Band * Oxherding * Miss Molly Simms * Brother Lee & the Leather Jackals * Dave Stone Trio * Suzie Cue * The Gorge * Le'Ponds * Path of Might * Demonlover * Zak Marmalefsky * Honeydew * Letter to Memphis * Dracla * Motherbear * The Sleepy Rubies * Ellen the Felon * Fragile Farm * River Kittens * 4th City Rag * Spacetrucker * Berry Barbie * Tory Starbuck
Participating venues:
Atomic Cowboy
- outdoor stage (4140 Manchester)
The Bootleg
(4140 Manchester)
Gezellig
(4191 Manchester)
The Gramophone
(4243 Manchester)
HandleBar
(4127 Manchester)
Layla
(4317 Manchester)
The Ready Room
(4195 Manchester)
Taha'a Twisted Tiki
(4199 Manchester)