Dana Plonka
Spoon at Main
The headlines should have been expected.
Pitchfork
: "Confusion Abounds as Multiple International SXSW Artists Denied Entry Into U.S."
Billboard
: "Customs Officials Offer Travel Clarification After SXSW Artist Is Denied Entry Into U.S." At least seven bands planning to make the trek to Austin, including members of Soviet Soviet, Yussef Kamaal and Massive Scar Era, were hit by the confusion of the travel ban 2.0.
In the days before launch, a related controversy also hit SXSW 2017. The festival/conference took heat from artists, activists and other people of conscience for the rather draconian nature of its performer contracts, which implied threats to report artists to Customs & Border Protection if they violated the terms. A staff member, waiting in line for the music kickoff party at Maggie Mae's on Sixth Street, tried to do damage control.
"Our liability is pretty high," he said. "If a band comes in on a visitor visa but takes a paying gig, that could be on SXSW."
Of course, that has always and forever been the case. But Trump's own extremism simply magnifies the problem and adds a further layer of horrific press consequences. For the next 1000 days, or until the mad king is deposed, it's a problem SXSW — which has since
expressed its opposition to the new executive order
and promised to revise its contracts — and other festivals will have to face. Will they do so decently? Is the ACLU reading this post?
Dana Plonka
The Lemon Twigs at Maggie Mae's
Inside that kickoff party, on a typically beautiful mid-March early evening in Austin, a band of brothers, Brian and Michael D'Addario, known as the
Lemon Twigs
, hit the stage with power-poppy joy and high kicks. Think Alex Chilton on a steady diet of girl-group pop. The band's songs are catchy AF, especially the impossibly happy "Queen of My School." The young brothers write and rock what they know.
Dana Plonka
The Dove and the Wolf at Buffalo Billiards
A few clubs down, Paris, France-based band the
Dove and the Wolf
found itself playing an Amplified Philly showcase (geography isn't quite meaningless at SXSW, but it's close), and with stoic reserve delivered shimmering folk-rock songs, like a fully amplified Cowboy Junkies perhaps, with some of the best harmonies from a South By band that is not the Secret Sisters (more on them later). The song "Seven Days" recounted the soul-stunned horror that followed the November 2015 jihadist attacks in Paris. "I don't know what to feel," sang Paloma Gil and Lou Hayat. But the audience did. It felt haunted.
Dana Plonka
Hurray for the Riff Raff at Empire Garage
Tuesday evening continued with
Hurray for the Riff Raff
at the Stereogum party at Empire Garage, and I thought back on seeing Alynda Lee Segarra and Yosi Perlstein for the first time at SXSW six years ago, before few (this writer included) knew much about them. Yosi is no longer with Segarra, but her new band, carried by rich organ riffs, has helped her make the conversion into broad-spectrum rock and deconstructed soul-folk. The new material is extraordinary, and Segarra deserves the buzz and plumb gigs she will have all week at SXSW.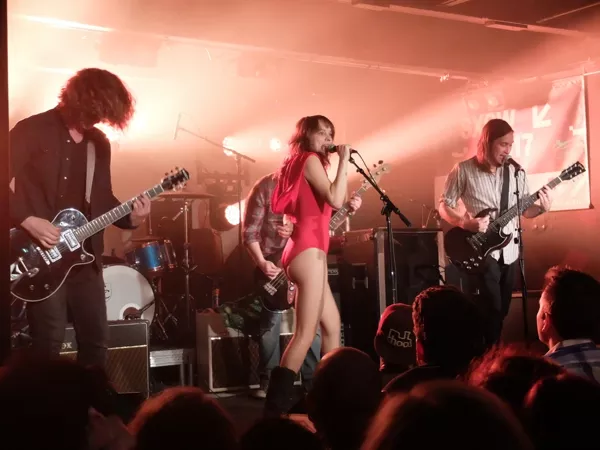 Dana Plonka
A Giant Dog at Main
Those new to SXSW might ask, "Who are the headliners?" There are no headliners, really. Garth Brooks and Nile Rodgers led the keynote speeches for the music portion (Joe Biden, go figure, led the charge for the interactive days), and the Avett Brothers, Ryan Adams and Wu Tang Clan all performed. But for this writer, the chance to see the New Pornographers and Spoon, back to back on the same bill, was too tempting to pass by, even if it meant jamming into the semi-outdoor space of Main, formerly known as Emo's. It also meant enduring Austin's most overrated psych-jam band
Bright Light Social Hour
(a cover of "Tomorrow Never Knows" wasn't bad, however) and trying to make sense of weirdo art-punk band
A Giant Dog
, led by Sabrina Ellis, who made her entrance dressed like a slutty elf and promised the audience she would not pee on stage — something that apparently has been known to happen. A cover of Sparks' "Angst in My Pants" was excellent, as were many of the riffs on loan from the Stooges. I dug A Giant Dog's antics more than I first supposed.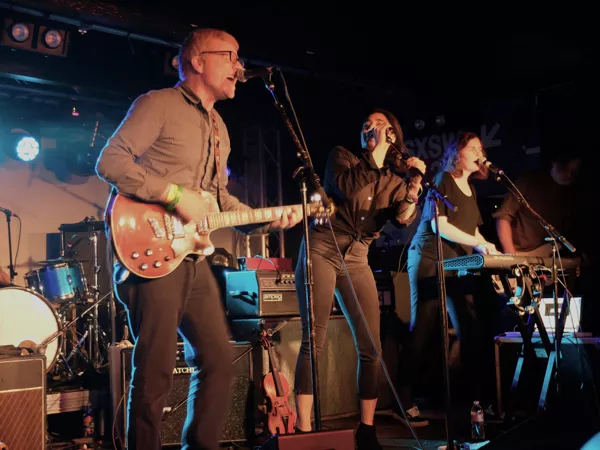 Dana Plonka
The New Pornographers at Main
Management: Carl, the New Pornographers have a new record, and maybe it's time to go back to SXSW.
A.C. Newman: Oh god. Really? I'm almost 50.
Management: It'll be fun.
Newman: You couldn't pay me enough to deal with all that again.
Management: It's SXSW. You're not getting paid.
OK, so that conversation never happened, but a chat at the bar with the band's de facto leader did. When he learned the reporter was from St. Louis, he riffed on William Gass and Stanley Elkin, and gratefully accepted the gin and tonic he was offered. Newman is ever droll and inwardly excited when he's on stage, letting the new material stand sturdily beside the hits and letting the
New Pornographers'
familiar, sweeping but somehow strangely futuristic power-pop do the talking. The band performed sans Neko Case (she would join them later in the week), but I didn't care. The harmonies, melodies and bouncing dynamics sounded terrific.
Spoon
closed out the opening night of SXSW Music, and the first of a three-night stand at Main, with bass-heavy cuts from
Hot Thoughts
, its new album on Matador, and all the tense and taught guitar and vintage keyboard warmth its fans love. Britt Daniel beamed on stage, genuinely loving being back at the small, open-air venue, and delivered the best version of
Gimme Fiction
's "The Beast and Dragon, Adored" I've ever heard. Indie rock is rarely this completely enthralling and exhilarating. It was a hell of a way to end a first SXSW music night.
Dana Plonka
Beach Slang at Waterloo Records
My day parties on Wednesday began outdoors at Waterloo Records, with Philly proto-punk rockers
Beach Slang
, who, it's safe to say, wanted to make believers of the sun-drenched crowd. "Two things have never been said about this band," ironically bow-tied singer Alex James smiled. "That we're professional and that we're influenced by the Santana songs featuring Rob Thomas." The band gamely riffed on "Smooth" in the background. And that was the only smooth thing about its hellacious set, which included an ace cover of the Pixies' "Where Is My Mind." Do not miss Beach Slang next time it hits St. Louis.
Dana Plonka
Robyn Hitchcock at Waterloo Records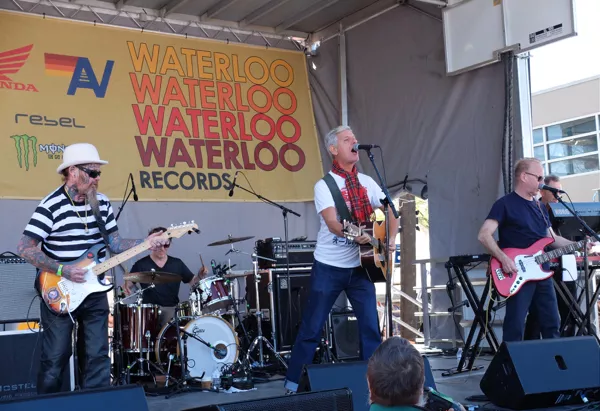 Dana Plonka
Modern English at Waterloo Records
Robyn Hitchcock
(joined by Emma Swift) followed on the Waterloo stage; they looked and sounded at ease, especially on a gorgeous version of "Just Like a Woman." And then came
Modern English
, who relished in the hooky churn of its early 4AD material. The band sounded excellent, and every phone in the crowd went up for "I'll Melt With You." Nostalgic '80s sing-alongs rarely feel better.
Dana Plonka
Mondo Cozmo at Banger's
My South By Wednesday also included a set from
Mondo Cozmo
, who if you haven't heard is Los Angeles-based singer Joshua Ostrander, author of the insanely catchy single "Shine." It's not an earworm. It's a weaponized python. With the swelling chorus of "Let 'em get high, let 'em get stoned, everything will be all right if you let it go," this will likely become
the
song you will hate to love so fucking much. The band is modern-rock slick, but fuck me if they don't take flight, as if Ike Reilly were fronting Dawes.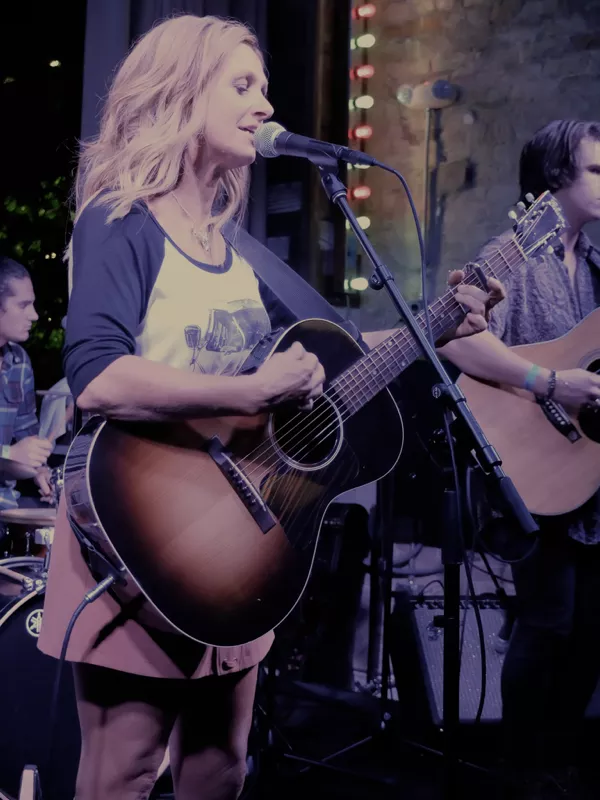 Dana Plonka
Kasey Chambers at Cooper's BBQ
Dana Plonka
Valerie June at Cooper's BBQ
Later that night, at Cooper's BBQ on Congress, the Americana Music Association held its showcase, with the
Secret Sisters
, Laura and Lydia Rogers, harmonizing over country and folk songs so purely and perfectly they created their own serene world of melody.
Kasey Chambers
followed, making a rare state-side appearance (the veteran singer is happy with her life in Australia), and taking the opportunity to rip through trash-punk-gospel rhythms, slide across a dobro's strings or just stand and deliver the Little Feat classic "Willin'." Her voice remains an extraordinarily powerful vehicle. As is
Valerie June
's, who followed dressed in a tight, sparkled outfit, signature dreadlocked hair piled high like brambles. June is a major talent, and her new songs, backed by a full and loose band, rocked with chaotic spirit. She closed out her set with "Got Soul," dousing the stage with water and nearly knocking over every mic stand around her.
Dana Plonka
Holly Macve at British Music Embassy
Dana Plonka
L.A. Salami at British Music Embassy
By comparison, my Thursday evening showcases were modest but still satisfying. At the British Music Embassy, BBC Radio 6 presented young, Irish country-folk singer
Holly Macve
, who sounds like a cross between Angel Olsen and Loretta Lynn. One might wish for a few songs not in a minor key; however, one might not wish for a fresher voice. Her forthcoming album,
Golden Eagle
, on the Bella Union label, will make you a believer. London's Lookman Adekunle Salami, who performs as
L.A. Salami
, followed with "Going Mad as the Street Bins," a furious rock & roll rush of dystopian rapping. It's still his strongest composition, and if the rest of his set didn't quite live up to it — Mr. Salami needs an editor or a good friend who will tell him a song like "Narcissistic Bitch" is a career killer — he still has potential as a live performer.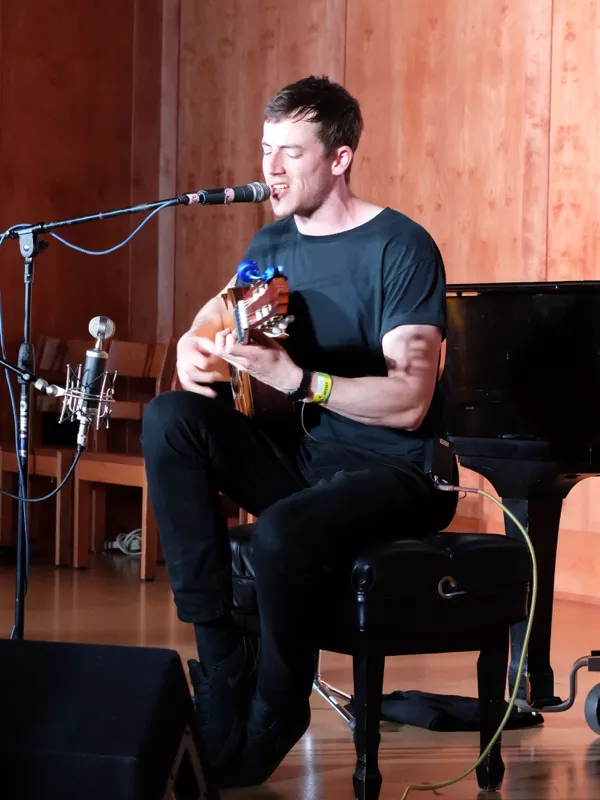 Dana Plonka
Charlie Cunningham at St. David's
Dana Plonka
She Drew the Gun at British Music Embassy
I closed out the evening in one of South By's church spaces, resting my annihilated feet as UK guitarist
Charlie Cunningham
slapped and trilled out quasi-flamenco guitar lines, which sounded lovely but lacked song forms to be memorable. Much better was
She Drew the Gun
, a Liverpool indie-rock quartet performing back at the Brit Music Embassy. Louisa Roach has an unpretentious presence and a cache of strong songs, including "Poem," a heartbreaking protest against the loss of humanity in her homeland — or anybody's homeland for that matter.