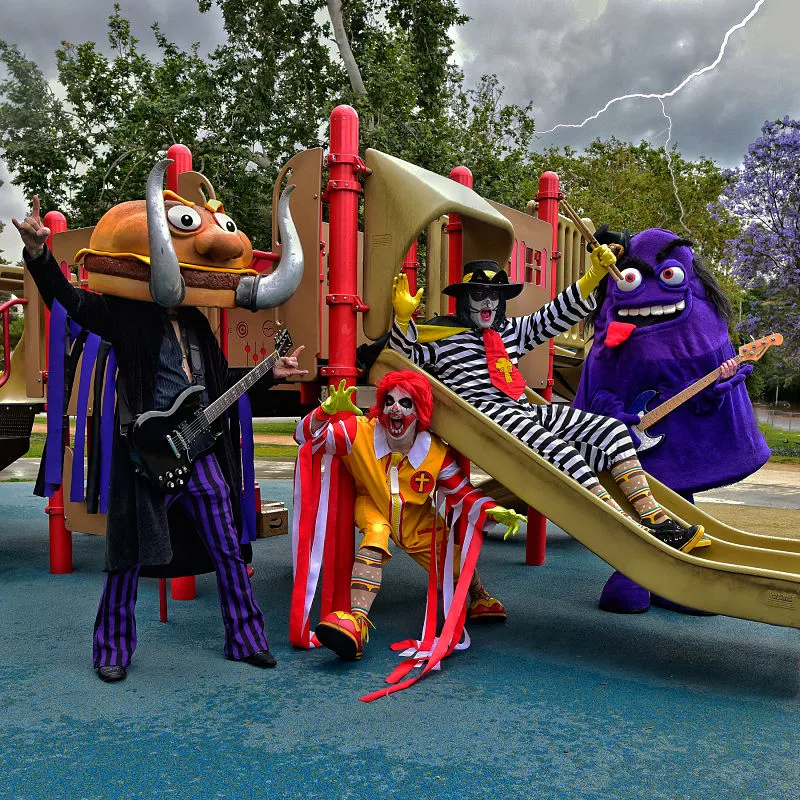 Photo by Paul Koudounaris
Black Sabbath is no more. Having performed its final show on February 4, the pioneering band that helped define the heavy metal sound has laid down its instruments. But have no fear, diehard fans, because Mac Sabbath.... Ha! Nah, just kidding: Fans of the original are likely to find little to love about Mac Sabbath, the parody act that marries Sabbath songs with fast-food themes. Singer Ronald Osbourne can't quite hit the high notes, the parody lyrics render singing along with your favorite tunes a futile effort, and frankly, the entire affair amounts to a kind of blasphemy of the blasphemous. But to those ready to laugh at a clown — or two, even, as Ronald is pals with St. Louis harlequin Clownvis Presley, who joined the band onstage last time it came through — a Mac Sabbath show will surely amount to a gut-busting good time.
Hi-Dilly-Ho Neighborinos: Opening the show is Phoenix's Okilly Dokilly, a metalcore act whose members all dress like
The Simpsons
' Ned Flanders. Sure, why not?
Watch a video of Mac Sabbath performing "Frying Pan" ("Iron Man") live:
8 p.m. Tuesday, March 14. The Firebird, 2706 Olive Street. $20. 314-535-0353.