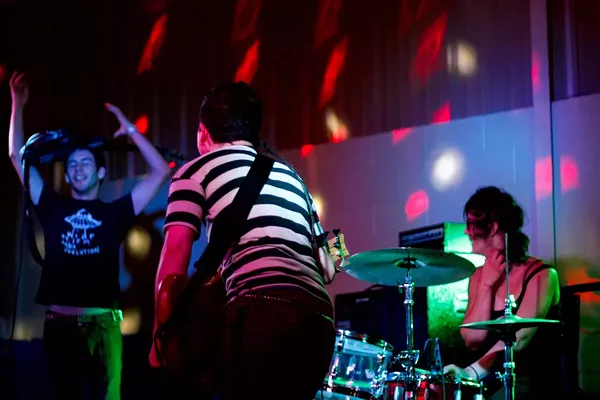 Anybody But The Cops comes from Kalamazoo, Michigan to play Kismet Creative Center this Saturday
"Crazy weather we're having" used to be the hallmark of every forced interaction between strangers and estranged friends. But broaching the topic has become decidedly less banal in recent months. In keeping with the early onset of spring, music in St. Louis has sprung and weekends like these showcase the overgrowth of local and touring acts in and around town.
Look to the list below for a wealth of shows, including yet another NARAL benefit, a few local release parties and a band with one of the worst (best) names ever, Diarrhea Planet.
FRIDAY, MARCH 3

Bassamp & Dano's Record Release Show
w/ Banjo Rat, Anti-Thought, Tracing Wires
8 p.m. El Lenador, 3124 Cherokee Street. $5. 314-771-2222.
Bassamp & Dano play unapologetic pop-punk that double-dog dares the crowd to party even harder. One could try to draw deeper meanings from songs such as "Lemme See Dem Titties" or "Strip Club Buffet," but maybe it's best to take the band at face value. This night doubles as a (tentative) release party for the group's latest record, a split 7" with fellow pop-punkers the Queers — hopefully they receive the vinyl in time for the festivities.
Diarrhea Planet
w/ Bruiser Queen, the Wilderness
8 p.m. Friday, March 3. Delmar Hall, 6133 Delmar Boulevard. Free. 314-726-6161.
By Christian Schaeffer
You might think that employing four guitarists in a bombastic, fuzz-driven garage band is a bit of overkill, but the Nashville-based Diarrhea Planet has never been too hung up on good taste or decorum. Luckily that lovable brashness is a big part of the group's charm offensive; the band's set at LouFest last year was engrossing and smile-inducing even from a football-field's length away. This weekend's performance is a make-up show for the band's iced-out date earlier in the year, and you can hoist a can of local brew as 4 Hands Brewery is throwing it for free to celebrate its fifth birthday.
Love Hz
w/ Cryptonix, Tim Nice, DMY, Brian R
9 p.m. The Crack Fox, 1114 Olive Street. $5. 314-621-6900.
DJ Cryptonix's love affair with drum & bass enjoys a public installation on the first Friday of every month titled Love Hz. He often transforms the Crack Fox with a handpicked lineup of acts that teeter on the edge of electronic music and this March edition is no exception. From the footwork styling of the prolific (and underrated) DMY to touring artist of the night Tim Nice, expect a varied and very intensive audio workout for both the body and the brain.
SATURDAY, MARCH 4
Alan Smithee
w/ Kaliya, Grand Inquisitor, Daybringer, Jr. Clooney
5:30 p.m. Atomic Cowboy, 4140 Manchester Avenue. Free. 314-775-0775.
Singer Tony Saputo leads the mighty Alan Smithee's mutation of prog-metal with his sharp and harrowing vocals. The band headlines an event at Atomic Cowboy in support of Kaliya, a death grind outfit from Dallas, Texas. Sponsored by the New Belgium Brewing Company, the show doubles as a release party for its new Voodoo Ranger IPA, which means new booze and giveaways aplenty.
Anybody But the Cops
w/ Dodecad, B Yr Own Cop, Scribble
7 p.m. Kismet Creative Center, 3409 Iowa Avenue. $5-$10. 314-696-8177.
At 150 miles northeast of Chicago, Kalamazoo, Michigan hides one of America's most overlooked music scenes. In addition to being the birthplace of the awesomely prolific Already Dead Tapes & Records, the city seems to spit out stellar bands in rapid succession and Anybody But the Cops represents the small core of native musicians there who have helped build up basement venues and other show spaces off the mainstream music grid. Kismet provides a cozy enough spot to get up and personal with the band's Fugazi-meets-math-rock aesthetic — just bring your earplugs.
Bad Cover Band Sam Album Release Show
w/ Dino Fight!, Pat Sajak Assassins, Bagheera
9 p.m. The Heavy Anchor, 5226 Gravois Avenue. $7. 314-352-5226.
While Bad Cover Band Sam is not a cover band (and distinctly lacks anyone named Sam), it does offer up a succinct set of pop-ish rock songs. This night celebrates
Blanket Fort
, the band's first full-length effort that also doubles as an aural summary of its songwriting to date, including a re-recording of its debut track "The Lost Cunningham." Fresh off releasing their own new album
Long Time Listener First Time Caller
, the Pat Sajak Assassins round out this locals-only gig with a frantic, synth-laced brand of prog-rock.
Dada
8 p.m. The Firebird, 2706 Olive Street. $25. 314-535-0353.
For a band whose own social media decries "so much more than their once well-known radio hit," Dada sure has no problem booking a 25th anniversary tour around the 1992 release
Puzzle
and its associated single "Dizz Knee Land." Not that anyone can dog the band for riding waves made from its own decades-old hit, especially not when the song was an earworm that infected the airwaves and MTV for much of the early '90s. Dada hopes to build on the legacy of well-crafted power pop with an upcoming studio album that has been in the works for more than five years. For now, fans can revisit
Puzzle
both on record and in person.

International Women's Day Benefit Show
w/ Bates, Cara Louise Band, Duck Brown, Thälmann Girls, Chelsi Webster
7 p.m. St. Louis Workers' Education Society, 2929 South Jefferson Avenue. $7. 314-242-5477.
Many of St. Louis' most active female-fronted (and featured) acts populate a bill in benefit of NARAL Pro Choice Missouri, an organization dedicated to reproductive rights and education throughout the state. In addition to being trans inclusive, this show offers a musically expansive set of performers ranging from hip-hop to folk and sub-genres of rock along with several guest speakers, including 8th Ward Democratic Committeewoman Annie Rice and Alison Dreith of NARAL, among many others. While admission is set at seven dollars a head, the Facebook event firmly states that "NO ONE WILL BE TURNED AWAY DUE TO HARDSHIP."
SUNDAY, MARCH 5
Craig Finn
w/ Japandroids
9 p.m. Sunday, March 5. The Ready Room, 4195 Manchester Avenue. $17 to $20. 314-833-3929.
By Roy Kasten
With the Hold Steady, Craig Finn created a rock & roll band that honored his influences — the Clash, the E Street Band, the Replacements — and made believers out of fans that hungered for a scene rooted in those exhilirating moments that happen anytime a band takes loud, messy, wild flight. As a solo artist, Finn remains a believer: in spiritual redemption in a spiritually stripped world, in the unfathomable paradoxes of human connections, in the leap of faith behind the simple act of going to a show. He's one of our best rock & roll songwriters; make that leap with him when he opens for Japandroids this week.
Inferni
w/ I Could Sleep in the Clouds, Disney 69, C is for Cadaver
7 p.m. Kismet Creative Center, 3409 Iowa Avenue. $5-$10. 314-696-8177.
Springfield, Missouri's Inferni spews punchy punk with borderline bleeding heart vocals that sway between impassioned singing and propulsive howling. While the band gives off an aesthetic befitting late '80s emo, its injection of sharp stops and stuttering riffs make for generally inventive songs. On record, Inferni opts to go the lo-fi route and smooths out some of its more intricate edges as a result. Its latest album
four or five swords
spins a web with bands like Slint, Braid and American Football stuck in the strands.