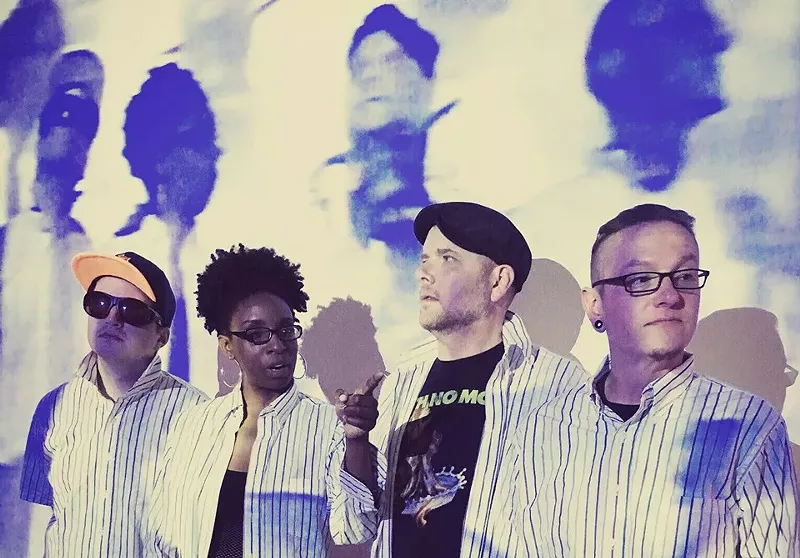 Pat Sajak Assassins leads an all local show at Foam on Saturday Night.
Those looking for a romantic getaway inside city limits won't have to venture far, as K-Ci & JoJo will perform the soundtrack to every lovestruck teen's life in the late '90s live and in-person. Zigo offers up a live stage show of acrobatics and densely packed folk fare crafted by a young married couple. If the lovey-dovey vibe is a turn off for you and yours, scope out heavier bands at the Sinkhole and the Ready Room on Saturday.
<!——StartFragment——>Since the weekend ahead precedes Valentine's Day by just a hair, consider the ten shows below as an excuse to treat your better-half ahead of time.<!——EndFragment——>

FRIDAY, FEBRUARY 10
Phutureprimitive
8 p.m. The Ready Room, 4195 Manchester Avenue. $12-$15. 314-833-3929.
With attention to texture, Bay Area producer Rain merges natural and synthetic sounds to great effect while bending the aesthetics of modern electronic music. With a penchant for the hidden bliss in tape hiss and the subtle scratchiness found on vinyl, Phutureprimitive looks at melody with tunnel vision while dressing songs up in the kind of fuzz that pulls on the hairs on the back of your neck.
Prince Isa The Black Messiah
w/ Syna So Pro, Powder River, Musth Bardo
9 p.m. El Leñador Bar & Grill, 3124 Cherokee Street. $5. 314-875-9955.
While El Leñador served as something of a punk rock haven in 2011, the Mexican bar with a (leftover) German pub facade has since re-upped its role as a low-key spot on Cherokee Street for the city's more underrated bands. Booked by drummer Drew Gowran, this night combines hip-hop with experimental pop, dark Americana and free-jazz for a mixed bill that breaks the glass ceiling for musical diversity. If this show was the model for a new trend of genre blending and bending, we wouldn't complain.
Zigo Album Release
7:30 p.m. The Ivory Theatre, 7620 Michigan Avenue. $25. 314-631-8330.
It's easy to imagine Becky and Josiah Zigo living in a house where instruments practically hang from the ceiling, as the pair clearly lives entrenched in music and performance art. Instead of focusing on one central role, each member attempts to squeeze every ounce of its collective talent into Zigo, transforming the bog-standard rock show into an exhaustive exercise in multi-disciplinary arts. This night celebrates the release of the project's self-titled album, which features the two teaming with Evan Pitchers and Dustin Abell across ten tracks that showcase the breadth of the band's expansive sound with respect to strong folk roots.
SATURDAY, FEBRUARY 11
Anodes 7" Release Show
w/ Alan Smithee, Handsaw and Staghorn
8 p.m. The Sinkhole, 7423 South Broadway. Free. 314-328-2309.
Anodes debuted in 2012 as a screamo super group of sorts, pairing members of now-defunct bands Iron Hills and Orion Pax with bassist Katie Brown. The crew hit the road running with a tour to SXSW followed by a self-titled EP released on all three major formats: vinyl, CD and cassette. While its efforts toward touring and performing have slowed, Anodes has kept a steady stream of releases since its inception by sharing split records with Laika, Dessa Sons, Coma Regalia, Enta, Canyons and Gas Up Yr Hearse! among many others.
Harm's Way
w/ Every Time I Die, Knocked Loose, Eternal Sleep
7 p.m. The Ready Room, 4195 Manchester Avenue. $20-$23. 314-833-3929. <!——EndFragment——>
By Daniel Hill
Harm's Way has come pretty far since its humble beginnings. The Chicago act was founded as a side project to the straight-edge punk band the Few and the Proud, and in its early days served mostly as an excuse for its members to play short, fast powerviolence songs while its enormously musclebound singer James Pligge wore a mask and scared the shit out of everyone. (Case in point: the band's performance at Lemp Arts Center for Hardcore Halloween, roughly a decade ago, featured multiple Infest covers and a jack-o-lantern pulled over Pligge's head.) Since signing with Deathwish Inc. in 2013, Harm's Way has matured past those early antics, slowing its sound and incorporating elements of death metal and even industrial music into its heavier-than-uranium songs. One thing remains the same, though: Pligge is a giant monster who will crush you and eat your bones.
K. Flay
w/ Paper Route, Daye Jack
8 p.m. Delmar Hall, 6133 Delmar Boulevard. $15-$18. 314-726-6161.
2017 stands smack-dab in the center of an electronic music renaissance where even dubstep acts have started to walk away from the wobble of its warbling forebears. K. Flay represents a kind of shot across the bow, offering the grit of a punk band inside the confines of synthetic pop. Her vocals offer a vicious cadence that recalls modern rap made more prim and proper. Think genre splicing in a Petri dish made from melted down cassette tapes of early Beastie Boys demos.
<!——StartFragment——>
Pat Sajak Assassins
w/ Acelerando, Buttercup
9 p.m. Foam, 3359 South Jefferson Avenue. Free. 314-772-2100.
By Christian Schaeffer
From
Pat Sajak Assassins' Long Time Listener First Time Caller Shoots for the Stars
:
For much of its nearly twenty-year existence, the rhythmically dexterous band the Pat Sajak Assassins has had a hard time staying in one lane — certain albums pushed toward math-rock, others dabbled in horn-led fusion, and nearly all recordings were instrumental. But for a band built around some level of well-controlled chaos, PSA finds itself in a rare groove of consistency, as the same lineup recorded both 2014's
Motherboard
and the brand-new
Long Time Listener First Time Caller
. Alongside longtime members Harold Covey (drums) and Brian Fleschute (bass), the quartet is rounded out by keyboardist Chris Eilers and vocalist/synthesist Syrhea Conaway.
Wayside
w/ Codework, Tyler Samuels
7 p.m. The Firebird, 2706 Olive Street. $12. 314-535-0353.
Wayside is an otherwise unassuming rock band with major roots in the mainstream — its cited influences include Red Hot Chili Peppers and Rage Against the Machine. Yet its brand of arena-ready rock (with a subtle funk injection) carries an intangible edge that propels beyond '90s alt-rock worship: Wayside hails from the city of Chennai, located in India.
SUNDAY, FEBRUARY 12
K-Ci & JoJo
8 p.m. The Pageant, 6161 Delmar Boulevard. $35-$55. 314-726-6161.
More than a one-or-two-hit wonder, the duo of K-Ci & JoJo came to St. Louis almost exactly two years ago for a '90s throwback event with other soul and hip-hop acts of the era. Clearly the two have graduated beyond the novelty of a bygone time but fans will no doubt clamor for "All My Life" and "Tell Me It's Real." Welcome to high-school homecoming circa 1999.
Susto w/
Cereus Bright
8:30 p.m. Off Broadway, 3509 Lemp Avenue. Free. 314-773-3363.
By Roy Kasten
A literal translation of the Spanish term "susto" would be something like "soul-crushing panic" – and that's about as far as the allusion goes when it comes to the mellow and melodic country-rock band Susto. Led by songwriter Justin Osborne, the Charleston, South Carolina band specializes in the kind of cosmic American music Gram Parsons made, only with zero aversion to grandly mixed piano chords and strings, and zero fear of dicey, existential themes — as represented by the wonderful character sketch "Gay in the South" and the equally salutary "Wasted Mind," a dusty hymn to getting high just because a good trip brings people together. If that's not cosmic, nothing is.