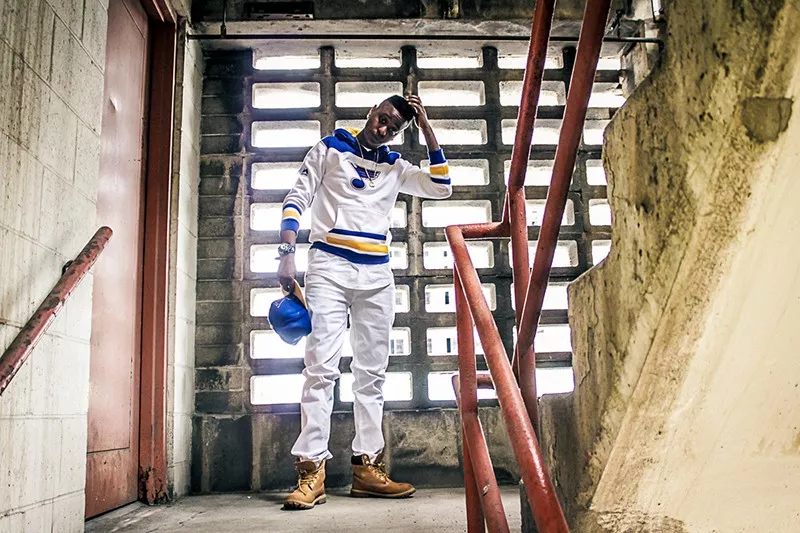 Photo by Roach
Bates leads more than twenty female performers at FEMFEST 3 this Saturday.
This weekend pits a jazz-infused tribute to Pink Floyd against an unabashed King Crimson cover band, and deciding between the two is no small task for the hungry prog-rock fan. On Saturday, 2720 Cherokee offers both Fashogan Fest and FEMFEST 3 split between its downstairs and upstairs stages, respectively. Split Lip Rayfield returns to town to make up that canceled January 16 concert, offering an album release show in lieu of its former date.
The ten shows below reinforce an age-old adage for music fans living in St. Louis: if you're bored, you're boring.
FRIDAY, FEBRUARY 3
The People's Key
8 p.m. The Stage at KDHX, 3524 Washington Avenue. $12. 314-925-7543.
Sure, Pink Floyd's
Dark Side of the Moon
has infamy as a stellar piece of sound art, but the seminal record has also become the butt of cover song jokes the world over. Teasing a crowd with threats of playing side B incites many groans, but what happens when a class-act in St. Louis' rich jazz scene pulls the trigger? With members from Blank Generation, Southern Exposure and Pink Floyd tribute act El Monstero, the People's Key intends to answer that question with an unabashed attempt at transforming one of the most renowned rock albums ever made.
The Maness Brothers
w/ Brother O' Brother, Mark "Porkchop" Holder & MPH, Rick Steves
8 p.m. Gaslight, 4916 Shaw Avenue. $5. 314-496-0628.
As repeat winners of the Blues category in our now-defunct RFT Music Awards, the Maness Brothers still opt to open for independent acts over playing paid gigs in Soulard and the like. The pair's dedication to DIY leaks into the sound itself, which feels mostly non-denominational in regards to punk, rock and blues. With howling vocal leads and the kind of rough edges that feel carefully placed, the pair's songs resonate with skill and a sense of scale without a single trace of snobbery.
Riff Raff
8 p.m. Pop's Nightclub, 401 Monsanto Avenue. $20 to $23. 618-274-6720.
By Daniel Hill
After a short stint on Soulja Boy's label SODMG, human internet meme Riff Raff signed a ludicrous eight-album deal with EDM giant Diplo's Mad Decent label in 2012, releasing his official debut album,
Neon Icon
, in 2014. Most artists sign deals for two or three albums at a time — Riff Raff's situation is highly unusual, and would be daunting for a lesser artist. As it happens he'll likely be able to hit that number rather quickly, as the artist also known as Jody Highroller had already dropped no less than sixteen mixtapes in the time between his 2009 debut and
Neon Icon's
release. Riff Raff is largely recognized for his bright, outlandish style and colorful braids, as well as his logic-defying free-association raps. Also, he has MTV's logo tattooed on his neck.
Sarah Borges
8 p.m. Off Broadway, 3509 Lemp Avenue. $12 to $15. 314-773-3363.
By Roy Kasten
Sarah Borges emerged from the Boston alternative-country scene of the 2000s, but she has always been a rock & roller at heart. On her latest release, the terse and elemental EP
Good and Dirty
, the wild rasp of her voice, the rhythmic drive of her songwriting, the thrill at popular culture — whether a punk-rock single on repeat or a purple GTO — has never sounded so alive. Borges throws all her wit and wicked swagger into every track, every performance. For a bar-tested veteran, Borges shouldn't sound so excited about the promise of rock & roll. Every time she takes the stage she renews that promise, and her audience testifies right in time.
THRAK: A King Crimson Tribute
8 p.m. Old Rock House 1200 S. 7th Street. $5. 314-588-0505.
With regards to the People's Key's rendition of
Dark Side of the Moon
on this same night, THRAK provides a Fripp-flavored alternative. And that's just as well, as King Crimson has always offered an altogether odder shade of progressive rock. Expect over two hours of covers and augmented jams with 1981 release
Discipline
as the focal point.
SATURDAY, FEBRUARY 4
Aaron Carter
8 p.m. The Ready Room, 4195 Manchester Avenue. $17-$50. 314-833-3929.
While most have written off Aaron Carter as well beyond his prime, clinging to a childhood that was forced through the meat grinder of American pop culture,
an article penned by VICE's Noisey staff back in 2013
makes the best case for the kid who "beat Shaq" coming back. In the piece, Carter is depicted as a self-aware hopeful bent on offering an unyielding show — nevermind the setting of a Mexican restaurant. While the Ready Room offers up a stage fit for the former teen dream, the venue itself is still intimate enough to bribe him into signing your copy of
Aaron's Party (Come Get It)
.
Fashogan Fest

2:15 p.m. 2720 Performing Arts Center, 2720 Cherokee. $10. 314-875-0233.
By Christian Schaeffer
People use the phrase "music scene" often to describe the intertwined network of artists, fans, promoters and professionals that give our city its boogie and bounce, but "music community" is the more apt choice. At least that's the animating spirit behind this weekend's Fashogan Fest, a nine-band bill that aims to help defray the medical bills of its quasi-namesake, Nick Hogan. At age 29 he was diagnosed with Non-Hodgkin's Lymphoma; the subsequent treatments (six rounds of chemotherapy, 23 doses of radiation, spinal taps and a whole host of other procedures) left him unable to work and in debt. The good news is he's cancer-free; the bad news is those bills haven't disappeared yet. Thankfully acts like the Mighty Pines, the Hillary Fitz Band, Jack Grelle and others will play an all-day benefit in celebration of Hogan's recovery. Other acts include the Scandaleros, the Grass Fed Mules, Break Night and Oak, Steel & Lightning.
FEMFEST 3
6 p.m. 2720 Cherokee Performing Arts Center, 2720 Cherokee Street. $10. 314-276-2700.
Since 2015
RFT
has featured Bates twice: Once as an
act to watch in 2016
and once in a candid
interview about her then-new record For Colored Folk
. If winning S.L.U.M. Fest awards wasn't proof positive of her ability to incite excitement in St. Louis hip-hop, consider her status as the figurehead for FEMFEST, an annual event showcasing the scene's strongest women. While Bates alone is worth the $10 ticket price, more than twenty handpicked artists and performers will populate the upstairs stage at 2720, which also hosts the
newly opened RKDE
.
Split Lip Rayfield CD Release Party
w/ Muddy River Ramblers
10 p.m. Old Rock House, 1200 South 7th Street. $20. 314-588-0505.
Don't scoff at the terms punkgrass or thrashgrass, just blame Split Lip Rayfield for getting its wires crossed when deciding to be a punk or country band in 1995. Not that its fusion of styles wouldn't rile the stray Metallica fan (or at the least the one attentive enough to trace the similarities). The lyrics here sneer at political correctness but the band is awfully self-aware — it once scored songs for Adult Swim's
Squidbillies
. This concert is technically a makeup show for January 16, therefore tickets purchased for the original date will be honored.
SUNDAY, FEBRUARY 5
Leggy
w/ T-rextasy, Mirror Mirror, Babe Lords
9 p.m. The Sinkhole, 7423 South Broadway. $5. 314-328-2309.
Maybe the lo-fi nature of most garage rock paints a picture that bands such as Leggy lack the virtuosity to reach a wider, maybe mainstream audience. The Kansas City power trio offers up a punkish pop vibe steeped in just enough fuzz. Infectious riffs still manage to poke through the blanket of sound like little needles aimed at the pleasure centers of the brain.