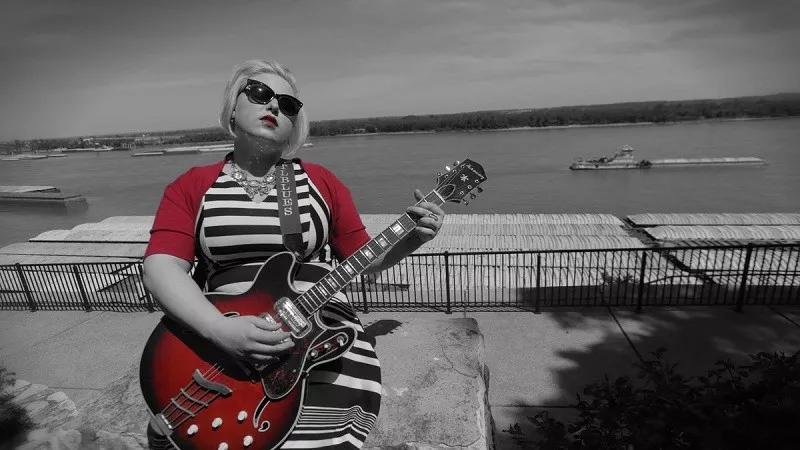 Press photo provided by Miss Molly Simms
Miss Molly Simms headlines the Livery's FREE New Year's Eve bash on Saturday night alongside the Meadow Sisters and more.
Known mostly for its widespread disregard for livers, the animal called New Year's Eve has become an entirely new beast in 2016. So strong is the feeling that these past twelve months have been the absolute worst (
contrary to this week's feature
) that we propose you do absolutely nothing on January 1, 2017. Start those resolutions late, because there's no cure for the hangover you're about to endure.
Here's some helpful advice for all your Facebooks and Twitters: It's New Year's Eve, not New Years' Eve. The apostrophe goes before the S. Here are our recommendations for the weekend ahead:
FRIDAY, DECEMBER 30
A Tribute to Leonard Cohen
8 p.m. Off Broadway, 3509 Lemp Avenue. $10. 314-773-3363.
By Roy Kasten
Barring some excavation of the Columbia Records vaults, Leonard Cohen's tower of song is complete. His material — sex, God, mortality and the secret life where every man and woman tries to make sense of it all — isn't stuff for timid interpreters. A Cohen song requires a steady heart and, as the bard once sang, a voice as focused as the light that slips through the crack in everything. His rakish and wise couplets have inspired five generations of songwriters and song lovers, even those who may only know "Hallelujah." At the close of this despairing dumpster fire of a year, it's heartening to know that a cohort of St. Louis musicians, from veteran Americana band Prairie Rehab to newcomers Andrew Ryan and the Travelers, will give their all to a songwriter whose like we won't see again.
No Thanks
w/ Hussies, Little Big Bangs, Shady Bug
9 p.m. CBGB, 3163 South Grand Boulevard. $5 donation. 314-773-9743.
No Thanks and Hussies come by way of Omaha, Nebraska to pack the narrow hallway stage of CBGB with ethereal post-punk. This New Year's Eve Eve ruckus on south grand comes with local openers in Little Big Bangs and Shady Bug, a new super band with members from Dubb Nubb, I Could Sleep in the Clouds, Yonsei and Persh.
Phat Buddha Holiday Ball
w/ Marc L, Looprat, Oak Steel Lightning, Tree One Four
8 p.m. The Bootleg, 4140 Manchester Avenue. $5. 314-775-0775.
Rarely do recording studios stand in the limelight, but Phat Buddha has been one of St. Louis' secret weapons for nearly two decades. Nelly, Black Eyed Peas, Son Volt and even Chuck Berry have all done work with the studio, so it's no wonder that when Phat Buddha books a holiday ball, they grab some of the city's most prolific acts, including Looprat,
who is featured in this week's print edition.
Quintron & Miss Pussycat
w/ Benni
9 p.m. The Firebird, 2706 Olive Street. $10-$12. 314-535-0353.
Miss Pussycat has the kind of back story that one might expect, given her name. The puppeteer cofounded New Orleans nightclub Pussycat Caverns and runs Rhinestone Records, a label that mostly releases records of her puppets' many bands. Her husband, Quintron, performs an odd kind of zydeco noise-rock fusion through a pair of synthesizers and a self-made, spinning drum machine called The Drum Buddy.
SATURDAY, DECEMBER 31
Bass Amp & Dano
w/ Kid Scientist, Bad Cover Band Sam
11 p.m. Mangia Italiano, 3145 South Grand Boulevard. Free. 314-664-8585.
If one is seeking the same party on both New Year's Eve and New Year's day, Mangia Italiano is not only open until 3 a.m., but the south city spot will be free of any pesky cover fee. And while the show itself starts just an hour shy of midnight, our sources (actually we're just being presumptuous) tell us that the party will get started well beforehand, so expect every seat to be sat in even if you arrive on time.
The Infamous Livery NYE Party
w/ Miss Molly Simms, The Meadow Sisters, Kyle Aiko & Friends, Tom Blood
8 p.m. The Livery, 6728 South Broadway. Free.
While we couldn't find a real reason why the Livery's NYE parties carry such infamy, maybe it's safe to assume that something special happens in the barroom at midnight. Maybe the free champagne will help grease up the gears for heavier drinking as the night goes. The rock & roll lineup hearkens back to the Livery's glory days on Cherokee Street where such shows were commonplace. Let's hope live music is much less of a rarity at the new Livery
(which opened on Broadway this past Halloween)
.
Jake's Leg New Year's Eve Celebration
9 p.m. Old Rock House, 1200 South 7th Street. $15-$20. 314-588-0505.
With more than four decades of shows under its belt, Jake's Leg spends the end of 2016 running yet another victory lap around St. Louis as one of the city's best and most consistent jam bands around. Old Rock House keeps a classy New Year's with a champagne toast followed by a breakfast buffet after midnight.
Kid Rock
9 p.m. Scottrade Center, 1401 Clark Avenue. $17-$146. 314-241-1888.
By Daniel Hill
To be clear, we are not trying to make the case that Kid Rock plays good music. That would be downright irresponsible. But a Kid Rock New Year's Eve celebration right here in our fair town is sure to offer amusement, and perhaps, even enlightenment. Alongside Motor City Madman Ted Nugent, Rock is one of the only well-known musicians in the entire country that has expressed a willingness to perform at Donald Trump's January inauguration ceremony (presumably because Detroit is a strange place that produces equally strange celebrities). Given Trump's habit of rewarding loyalty over competence, it seems very likely that Mr. Bawitdaba will soon find himself with a spot to fill in the incoming president's cabinet, becoming the first such appointee with a history of only wearing a shirt roughly half of his life. If you aim to understand Trump's America in the days to come, this show will offer invaluable insight.
GutterGlitter's New Queer's Eve
w/ Sofie de Sade, Maxi Glamour, DJ Vinca Minor
8 p.m. Foam, 3359 South Jefferson Avenue. $5. 314-772-2100.
GutterGlitter is a self-proclaimed group of quierdo feminists who, as stated on group's social media, call for "tuff femmes, soft butches, sassy fatties, qtpoc cuties, bi pals, trans dykes, riot grrls, sissy bois, lipstick lesbians, bull daggers, crystal witches, scissor sisters, poly divas, sapphic lovers, sexy studs, big brown beavers, kinky bitches, power switches, timid tops, bossy bottoms, pillow queens, makeout sluts, silver foxes, flannel hunx, chubby hotties, sister wives, shy guys, gender queers, power suits, leather mommies, hairy bearbies, gay dandies, cross dressers. fags and softball teams!" This show promises to be packed with drag queens and beats, all for an optional cover of $5. We say support the acts and pay the paltry door price, though.
Pokey LaFarge
w/ Jack Grelle
9 p.m. Delmar Hall, 6133 Delmar Boulevard. $30-$35. 314-726-6161.
On December 31, 2011, St. Louis native Pokey LaFarge performed overseas at the BBC's Hootenanny, hosted by Jools Holland. And on the same day in 2012, LaFarge and his south city three played the Ryman Auditorium in Nashville, TN, so believe that this particular show is something special to the diehard fans that have been with the band since its start in 2009. Sure there is a Friday night bill, but what better way to ring in the new year?