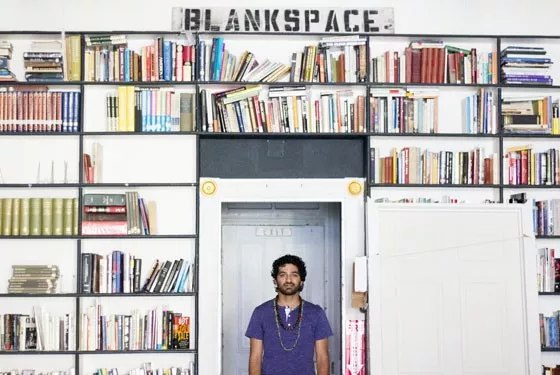 Photo by Mabel Suen
Blank Space owner Kaveh Razani
Since opening in 2012, Cherokee Street's Blank Space has stood as an unmarked canvas on which local artists and musicians alike can display their creativity without curatorial oversight. Indeed, the building's identity has long been rooted in the fact that it
ha
s no official identity. Is it a music venue? A bar? An art gallery? A reading room?
The truth is, the chameleonic space is all of these things — and starting next week, it will be a pub with daily hours of operation as well.
Blank Space is currently open only for events, but starting Monday, December 19, it will be open to the public Monday through Saturday from 5 p.m. to 1:30 a.m. The bar will offer an expanded beverage menu with craft beers, cocktails and housemade infusions such as butterscotch whiskey and blackberry lavender vodka. In addition, the venue plans to partner with local restaurants and chefs to provide pop-up food options.
"We're gonna be the same thing we always are, we're just gonna be open regularly," says owner Kaveh Razani. "It's not so much that we're shifting our focus, per se. We're still gonna do as many events as we have on our calendar now, it's just going to be a matter of we'll be open every day as well."
The expanding of Blank Space's business into regular hours and pub fare is part of a larger goal for the venue. In time, Razani says, he hopes to have regular hours in the daytime also.
"We will eventually get to that point. I think it's important for us to first get in the habit of being open every day and rocking that," Razani says. "I think that there will certainly be interspersed daytime hours to start, but I think our goal is by spring/summer to be working toward more daytime hours."
Razani says the bar has already begun experimenting with infusions, starting a couple months ago. He says they've been going over very well. As for food, he mentions Master Pieza, located right across the street, as one restaurant whose food will be served in the bar. There will be no cover from Monday through Friday, but due to a string of regular monthly gigs already on the books, Saturdays will see a $5 admission charge.
Even as the always-amorphous venue adds yet another identity to its name, Razani says Blank Space's overall mission remains unchanged. In addition to bringing in a more regular flow of income, the regular hours will help provide a gathering place for friends and neighbors alike.
"It's part necessity, part wanting to pull the trigger on this, and partly like, this is what I always have believed Blank Space to be — open and accessible," Razani says. "I think we're killing two to three birds with one stone here."